Journey, the popular journaling app, has just released its latest updates for Android, introducing exciting new features, enhanced design elements, and several bug fixes. With an ever-growing user base, Journey continues to evolve and provide its users with an exceptional journaling experience. In this blog article, we will explore the notable updates introduced in November 2023.
Offline Journal Templates
One of the highlights of this update is the introduction of offline journal templates. Journey now allows users to access customized journal templates even when they have no internet connection. This feature is useful in situations where there is limited or no internet access, such as during remote adventures or when you prefer to journal without distractions. To access offline templates, follow these steps: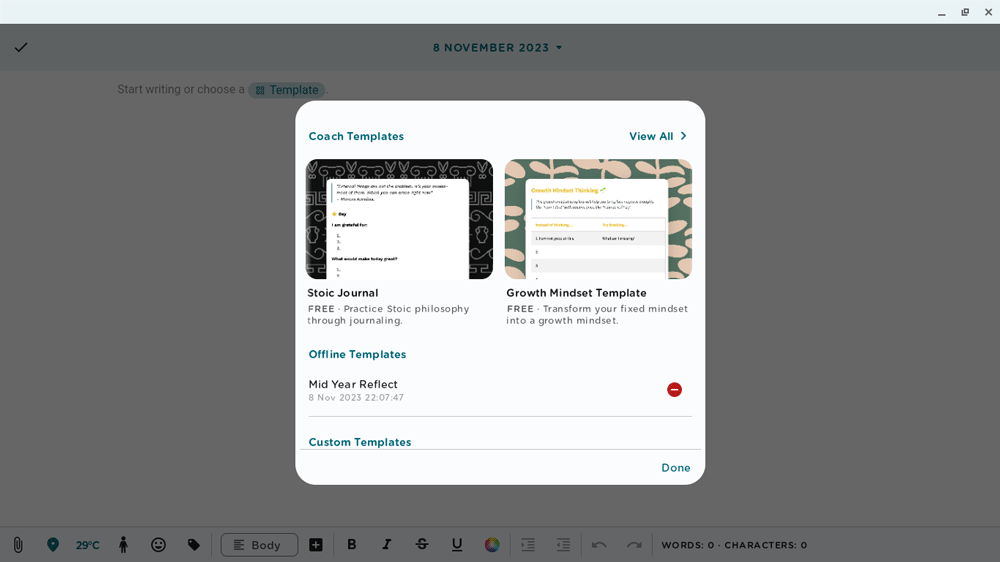 Open the editor in the Journey app.
Press the "Templates" button located at the top of the screen.
From the available options, select an offline template that suits your needs.
Start documenting your thoughts and experiences based on the selected template.
With this new feature, you can enjoy the convenience of using customized journal templates anytime, anywhere, regardless of your internet connectivity.
Enhanced Design Elements
In terms of visual enhancements, Journey has made some noteworthy changes to elevate its user interface. The once familiar "#" icon for headings has been replaced with the more recognizable "H1" styling. This change not only enhances the app's aesthetic appeal but also ensures greater uniformity and coherence with Journey on other platforms.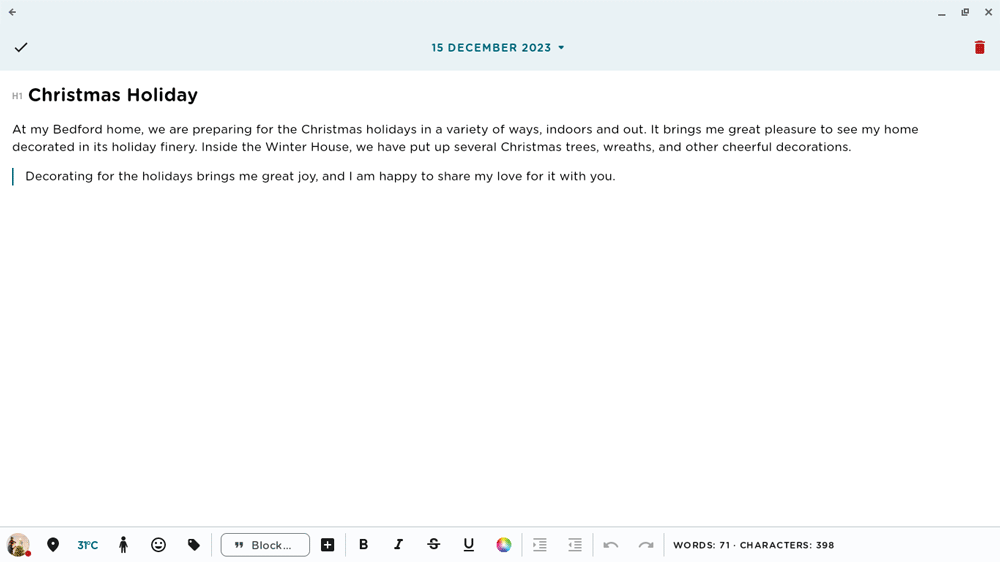 Additionally, the settings page receives a sleek and modern makeover. The redesign incorporates rounded colored icons in the settings section, offering an aesthetically pleasing experience for users. The enhanced design not only improves accessibility and ease of use, but also adds a touch of visual appeal to the app's interface.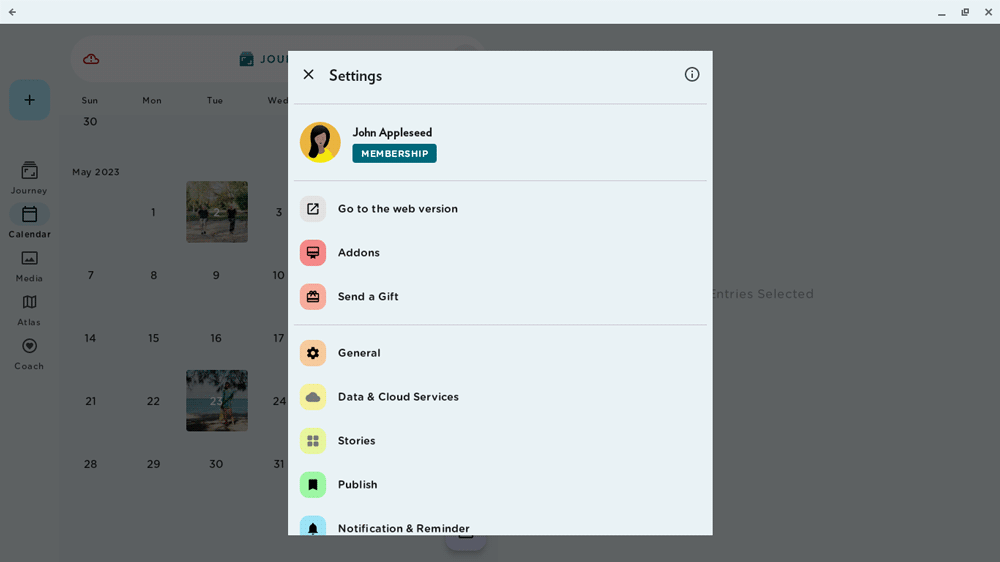 Furthermore, to make it more convenient for users, the export and import functions for journal entries have been moved to the "Data & Cloud Services" section. This reorganization ensures that users can easily locate and manage their journaling data, allowing for a seamless experience when transferring or backing up their entries.
Account Deletion Compliance
Journey deeply values user privacy and security. As part of its commitment to ensuring the utmost control and transparency for its users, Journey's latest update includes the ability to delete a Journey account directly from the Android app, in compliance with Google Play's app account deletion requirements.
Google Play's app account deletion requirements are put in place to safeguard user data and provide users with the option to request the deletion of their account. Journey adheres to these guidelines by offering a readily discoverable option within the app, enabling users to initiate the account deletion process seamlessly. Additionally, Journey also provides an option to delete the account outside of the app, allowing users to visit the Journey web app and follow the necessary steps to delete their account.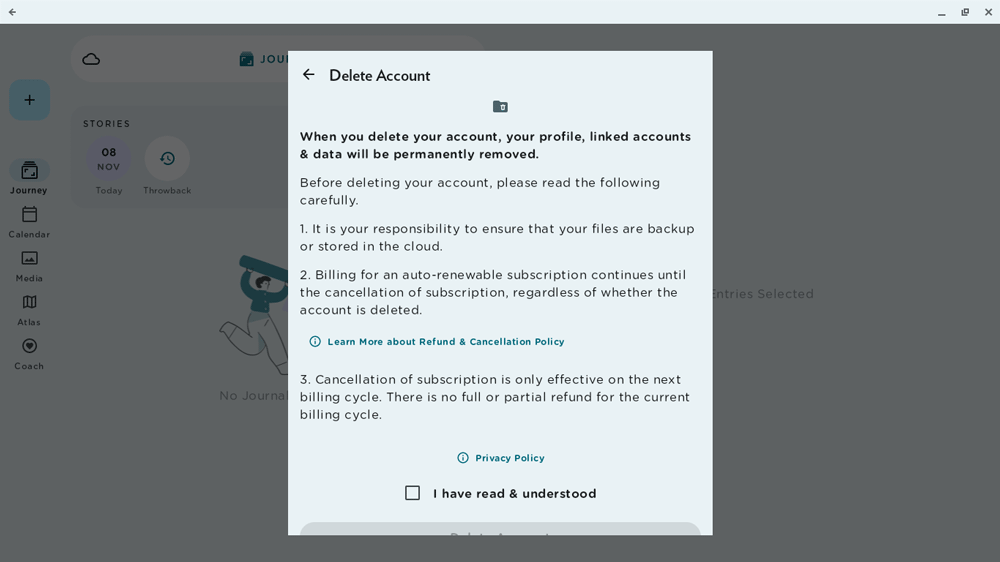 When a user requests the deletion of their Journey account, the associated user data is also deleted. This includes the journal entries stored in Journey Cloud Sync and the associated Google Drive account.
Journey may retain certain data for legitimate purposes, including security, fraud prevention, and regulatory compliance. According to its established data retention practices, Journey typically retains specific data such as web server logs for a limited period, usually a few months. Furthermore, before permanently deleting all journal entries, attachments, and user account data, Journey incorporates a 30-day recovery window to provide users with the opportunity to retrieve their data if necessary. This approach emphasizes Journey's commitment to safeguarding user data while offering a reasonable time frame for data recovery.
By implementing this account deletion feature in alignment with Google Play's requirements, Journey empowers its users with full control over their data. Deleting an account has now become a hassle-free process, allowing users to manage their Journey accounts effortlessly while maintaining peace of mind regarding their privacy.
Detects Date, Time and Location of Video Attachments
Journey's latest update incorporates the ability to extract EXIF data from attached video files. When a user uploads a video, the software decodes the embedded EXIF information, which consists of metadata detailing aspects such as geographical location, date, and time when the video was captured. This prompts the user to modify the original details of the entry and provides an easy way for a user to alter the entry's date, time, and location to match the precise data obtained from the video's EXIF information. This feature streamlines user interaction by eliminating the need for manual entry, enhancing Journey's user-friendly and intelligent usability.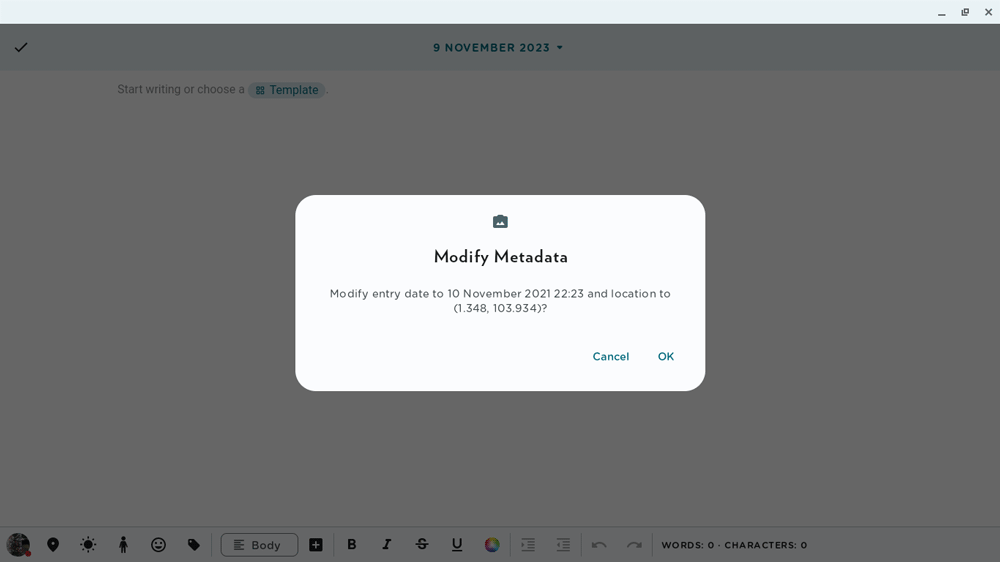 Bug Fixes on Importing Journal Entries
In response to user feedback, Journey has addressed a significant bug related to importing journal entries with tags. Previously, tags may not have been properly imported. In the recent update, Journey ensures that imported entries retain their corresponding tags, facilitating a seamless transition for users transferring their journaling data.
---
Journey continues to evolve and impress with its commitment to enhancing the journaling experience. The November 2023 update introduces offline journal templates, enabling users to journal without an internet connection. The redesigned interface features a new heading style and a sleeker settings page for improved usability. Additionally, users can now delete their Journey accounts directly from the Android app, ensuring compliance with Google Play's requirements.
With bug fixes addressing the import of journal entries with tags, users can trust that their journaling data remains intact and organized. As Journey continues to evolve, it remains a trusted companion for digital journaling enthusiasts, offering a user-friendly and feature-rich platform to document and reflect upon life's meaningful moments. Update your Journey app to the latest version, 5.2.1E, today.