One of our goals as a cross-platform journaling app is to ensure that users get to enjoy a seamless, hassle-free journaling experience, regardless of the platform.
And that is why we're delighted to show you what the Journey Mac and iOS update has in store for our Mac users!
A Whole New Look with Apple's Swift UI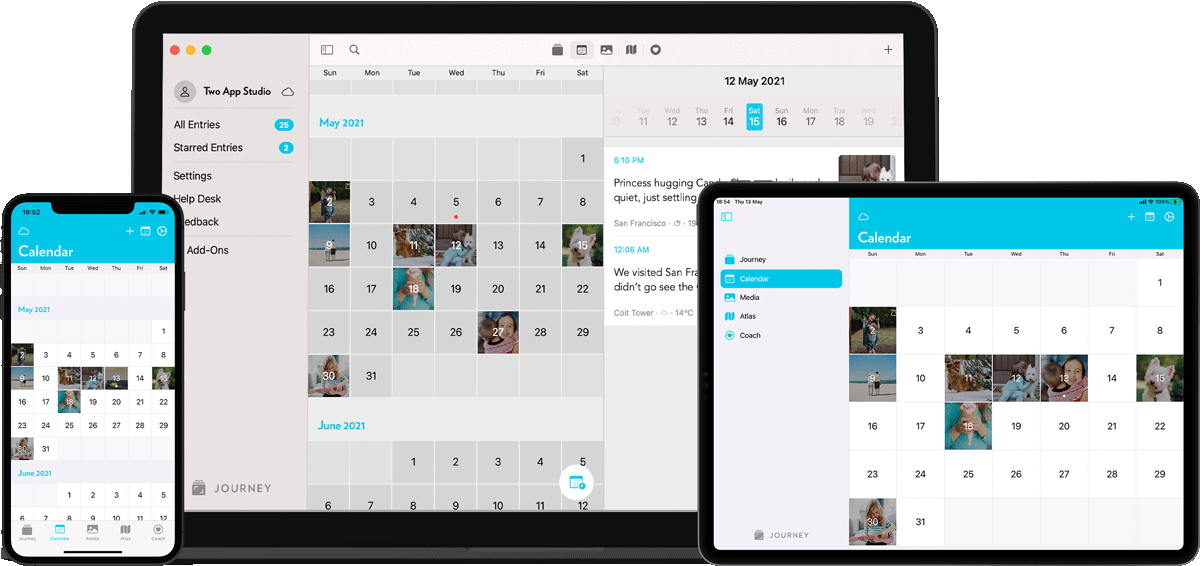 We've undergone a user interface (UI) revamping! We're now adopting Swift UI across all our Apple platforms, from iOS to iPad OS and Mac OS.
We want all our Apple users, regardless of platform, to enjoy the newest and most improved versions of Journey. And with Swift UI, we're now able to give our Apple users a more unified and coherent experience. Being single code-based, it's now much easier for us to distribute any updates to all Apple platforms collectively.
This means that with Swift UI, you will be able to receive new updates and features much quicker, regardless of whether you're using iOS, iPad OS or Mac OS!
1. Enhanced security with Apple ID sign-in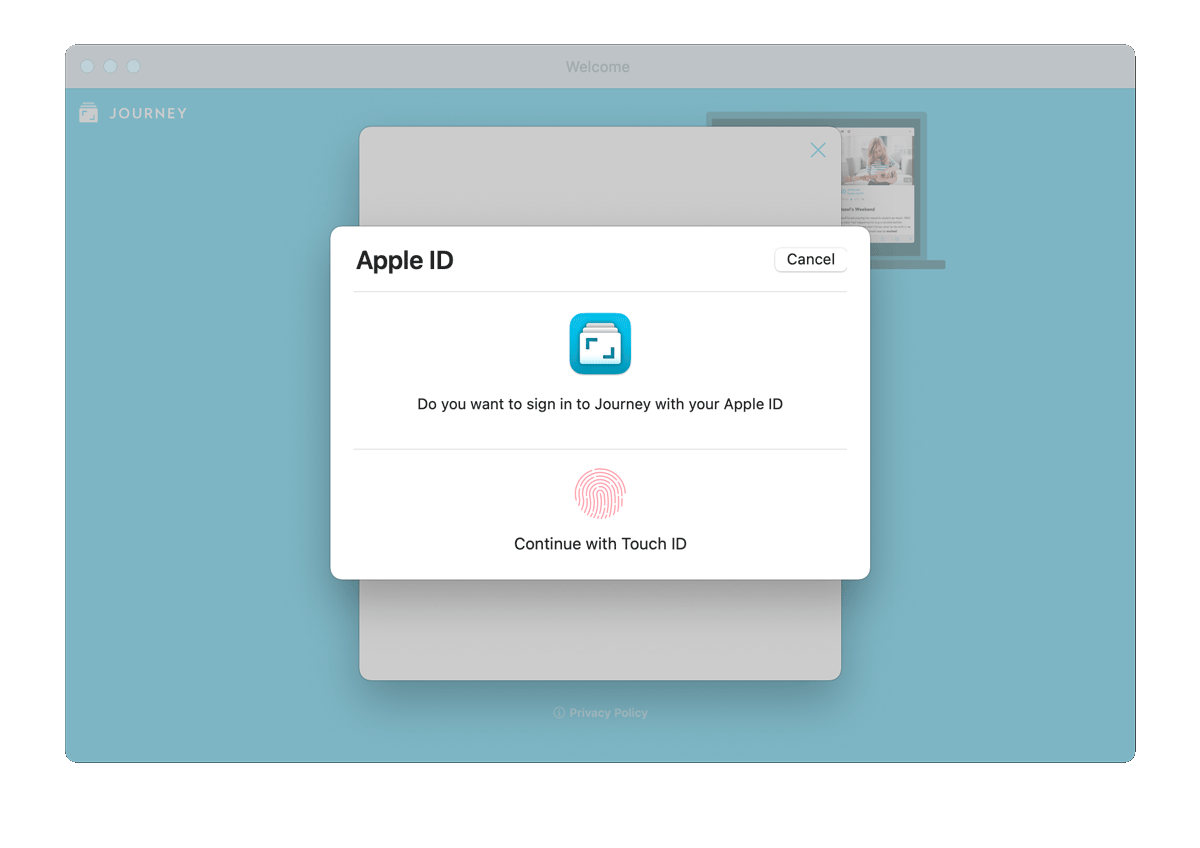 A journal holds one's most private thoughts, dreams, hopes and worries — which is why we've stepped up our security efforts to help keep your journals private.
Upon opening the app, you now have the option to sign-in via Apple ID, alongside the regular option to sign-in using Google. After signing in via Apple ID, you'll be able to use your cloud service of choice.
Do keep an eye out in the future for an expanded list of cloud sync services to choose from!
2. Cloud services
We've now brought all our cloud services from Journey's web app to the Mac and iOS app! These services include cloud sync, e-mail services from Zapier – all of which you can access under settings for a greater quality of life.
E-mail services
Using Journey's e-mail services, you can now write your journal entries via e-mail. The contents of your e-mail will be downloaded into Journey app as a new journal entry which you will be able to edit later.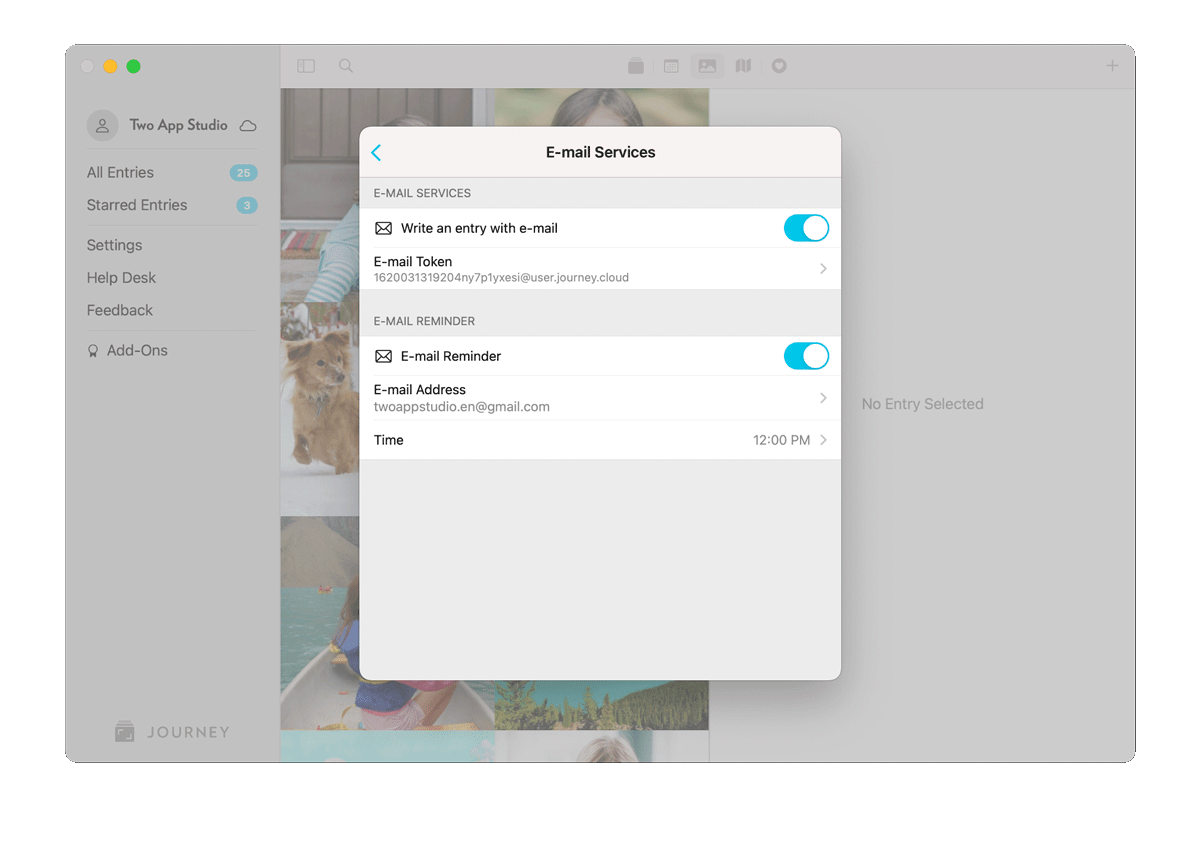 With the e-mail reminder feature, you can set daily e-mail reminders for journal writing. All you need to do is reply to the e-mail reminder, and the reply will added to your Journey app as a journal entry.
Zapier automation
With Zapier, you can now create recipes and connect Journey to more than 3,000 apps, including Instagram, Twitter, Ghost and Google Docs.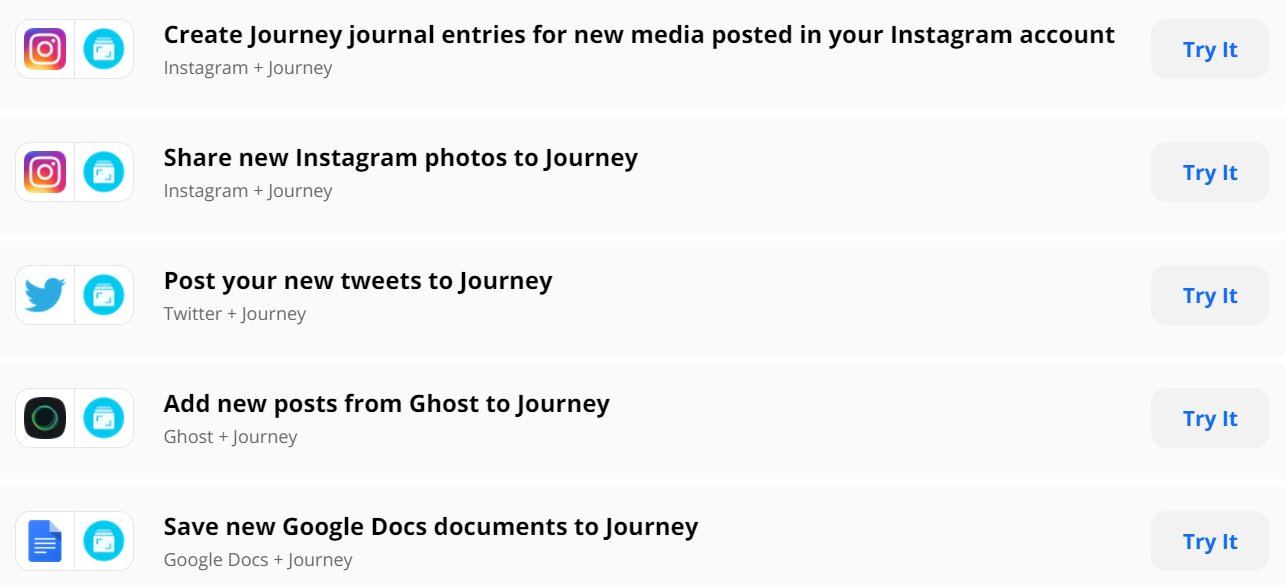 Any content you publish in a connected app will be downloaded onto the Journey app as your journal entry! You can now write your journal entries even without opening the Journey app.
3. Reduce clutter with a single window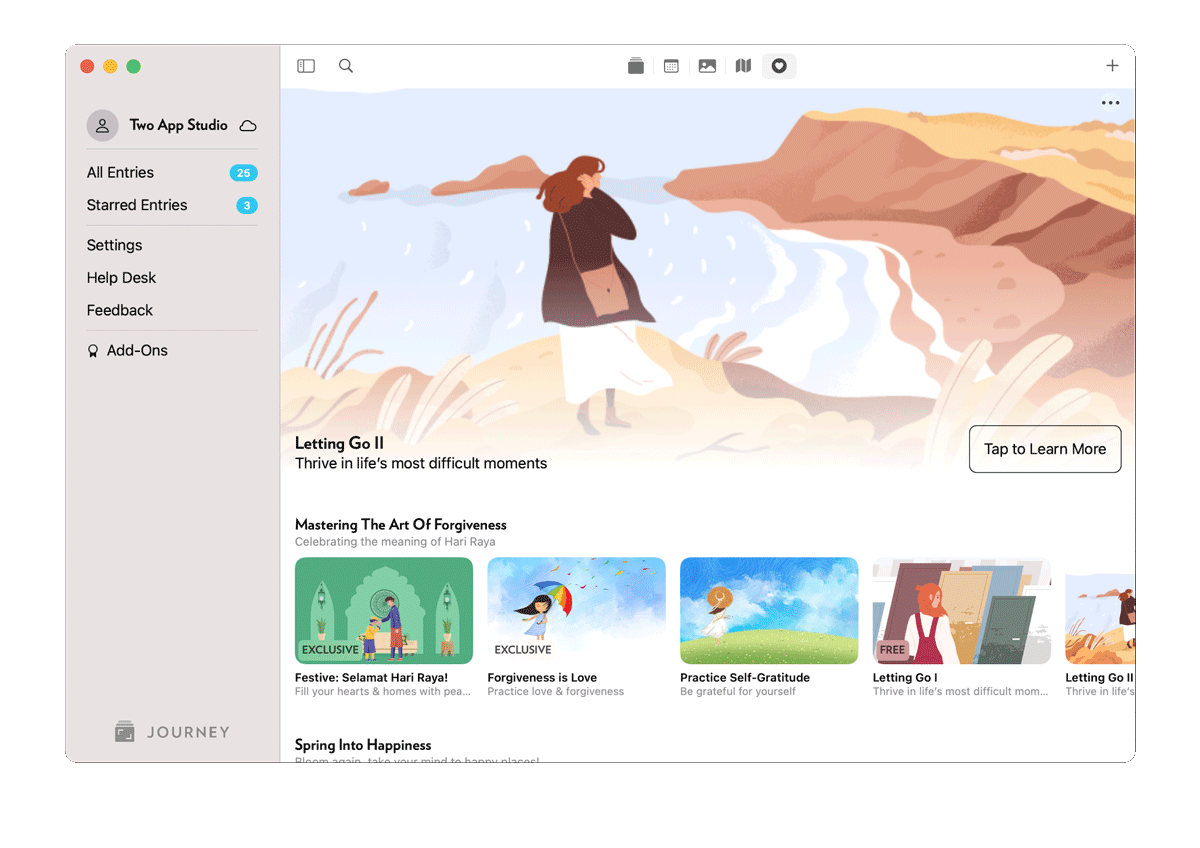 In the past, Journey operated on multiple windows. Opening settings, Coach, or even the editor would create a new and separate window.
But now, that has changed. In order to reduce clutter and enhance ease of navigation, Journey will now operate on a single window!
4. A new and improved Calendar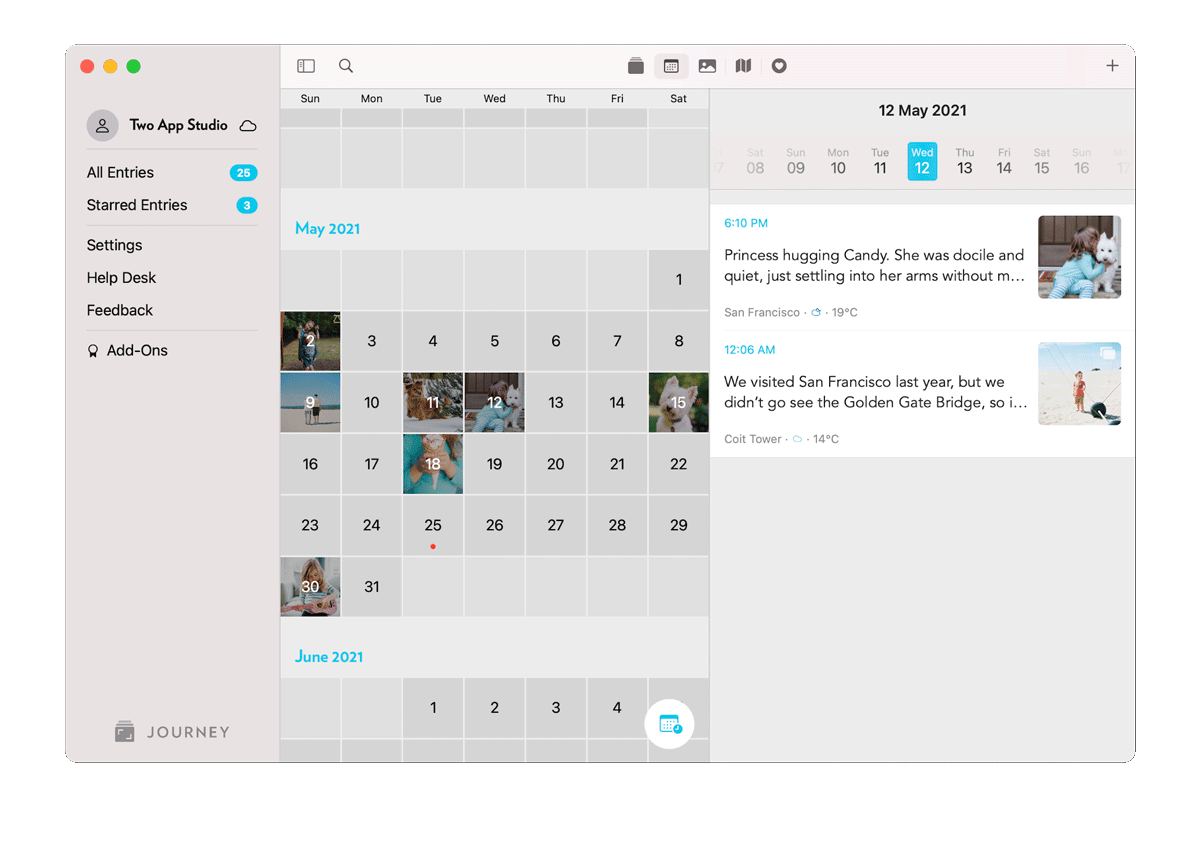 Your feedback is precious to us, and we hear you! That is why we're now rolling out the new infinite scroll calendar! Gone are the days of clicking endlessly to find your desired month; all you need to do now is scroll.
And if the date in question is simply too far away to scroll to, no worries. Simply input the month and date in order to snap to your desired month.
Selecting a date will open up a List View panel on the right, where you'll be given options to make a new post, star, or edit an existing post. These features are now all in one place for much easier access!
Finally, to switch between entries from different days, you can simply swipe through the horizontal scroll at the top of the panel.
5. Adjustments to Atlas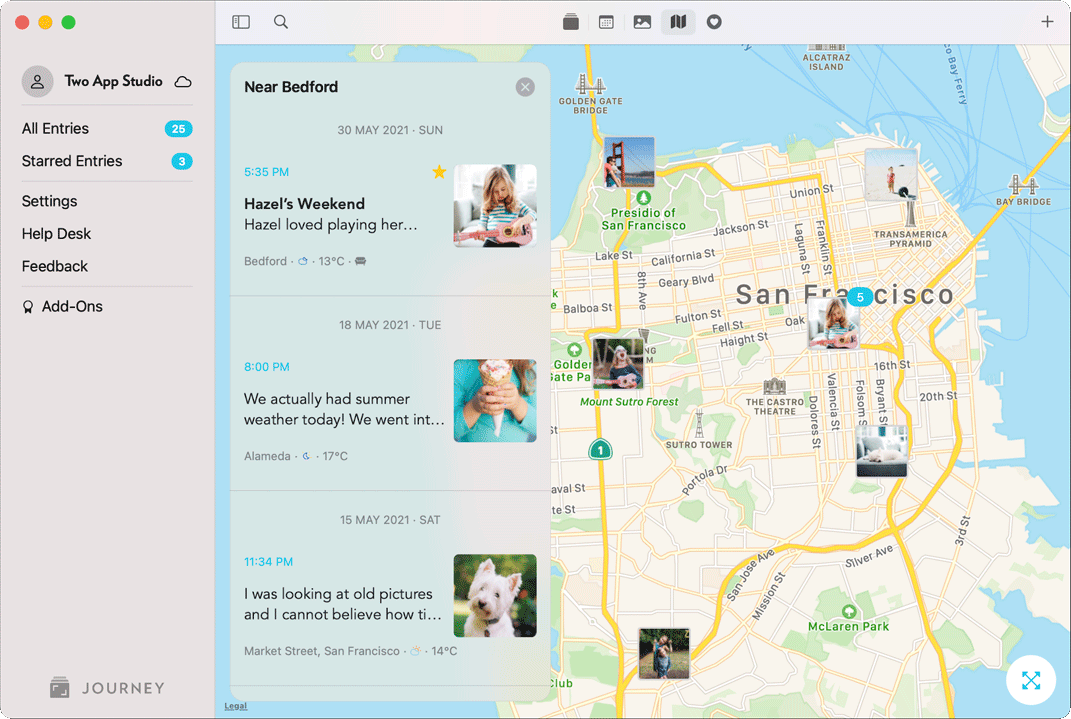 While it once took up only half the screen, the Atlas is now full-screen for a more immersive experience!
Instead of a popover, clicking on a post on the Atlas now opens up a List View panel, which functions similarly to that of the Calendar.
Atlas will also now give you more information about the locations! The app will now indicate if your tagged location is near a particular address or landmark in the area.
6. Easier access to Coach
We want to put more focus on guided journaling and mental wellness, which is why we've decided to make Coach more accessible on the app! We've given Coach its very own tab on the main page so that you can access and enroll in these programs with just a few clicks!
7. Now with a Stories feature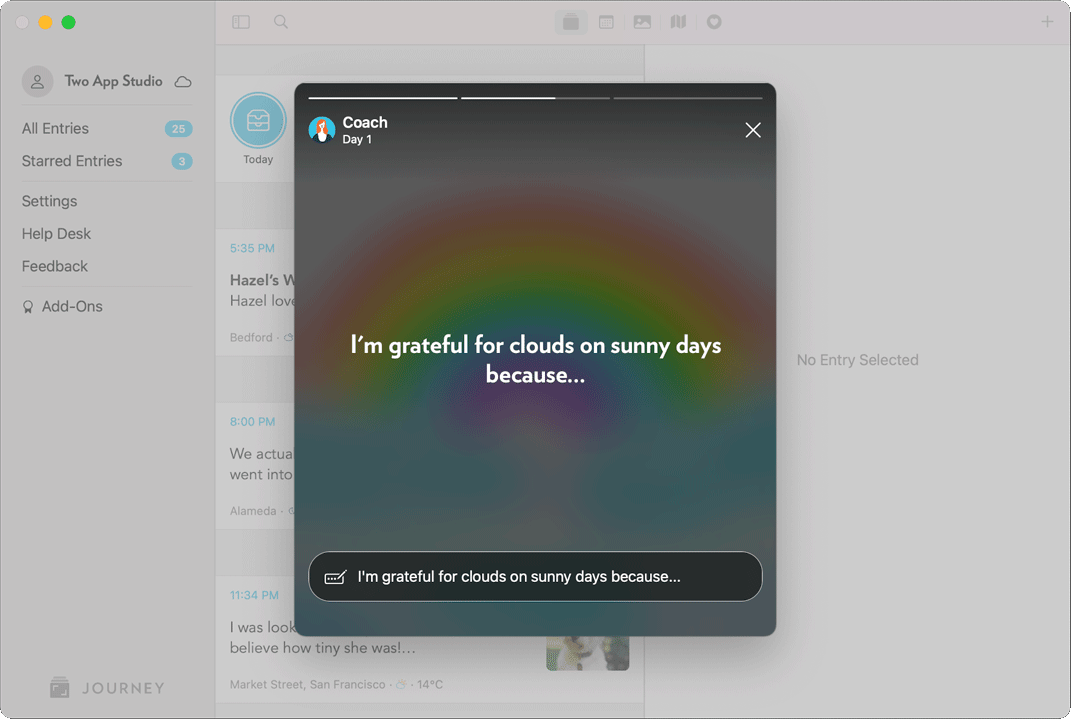 Journey offers you a wealth of features that help you enhance your journaling experience. And now, we're putting it all in one place! We want your journaling experience to be as effortless as possible, which is why we've come up with our new Stories feature!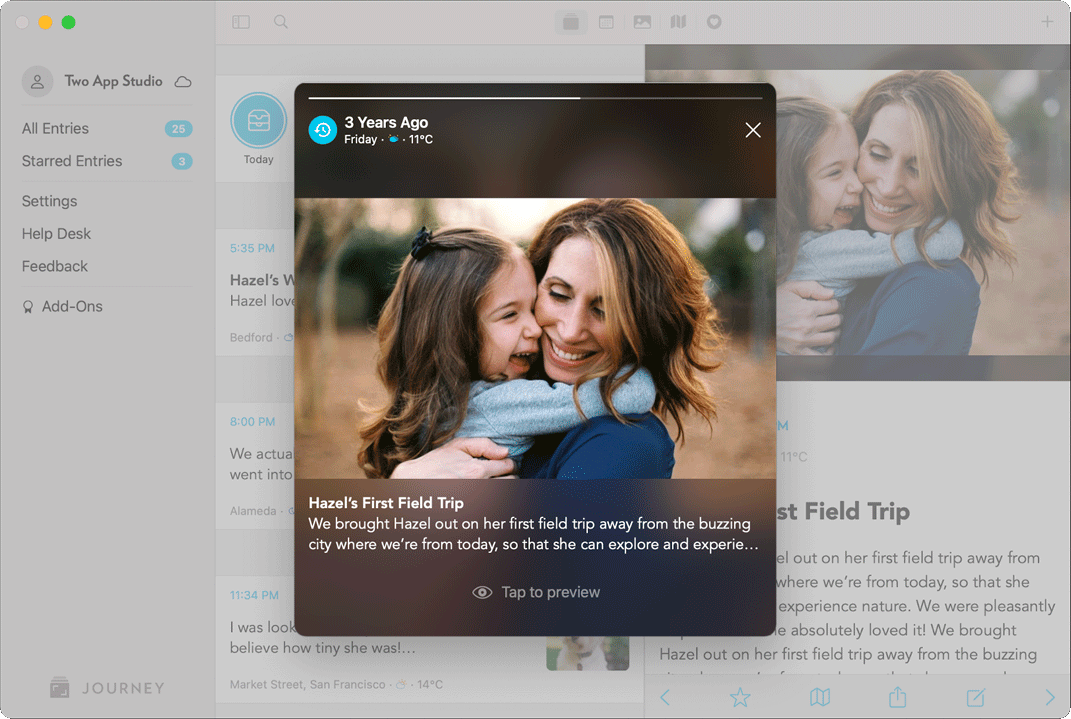 With Stories, all your highlights can be easily accessed at the top of the home screen. With a single click, you'll be able to look through your Fitness Tracker, Mood Chart, Throwback, and even any of your enrolled Coach programs!
8. Publish to blog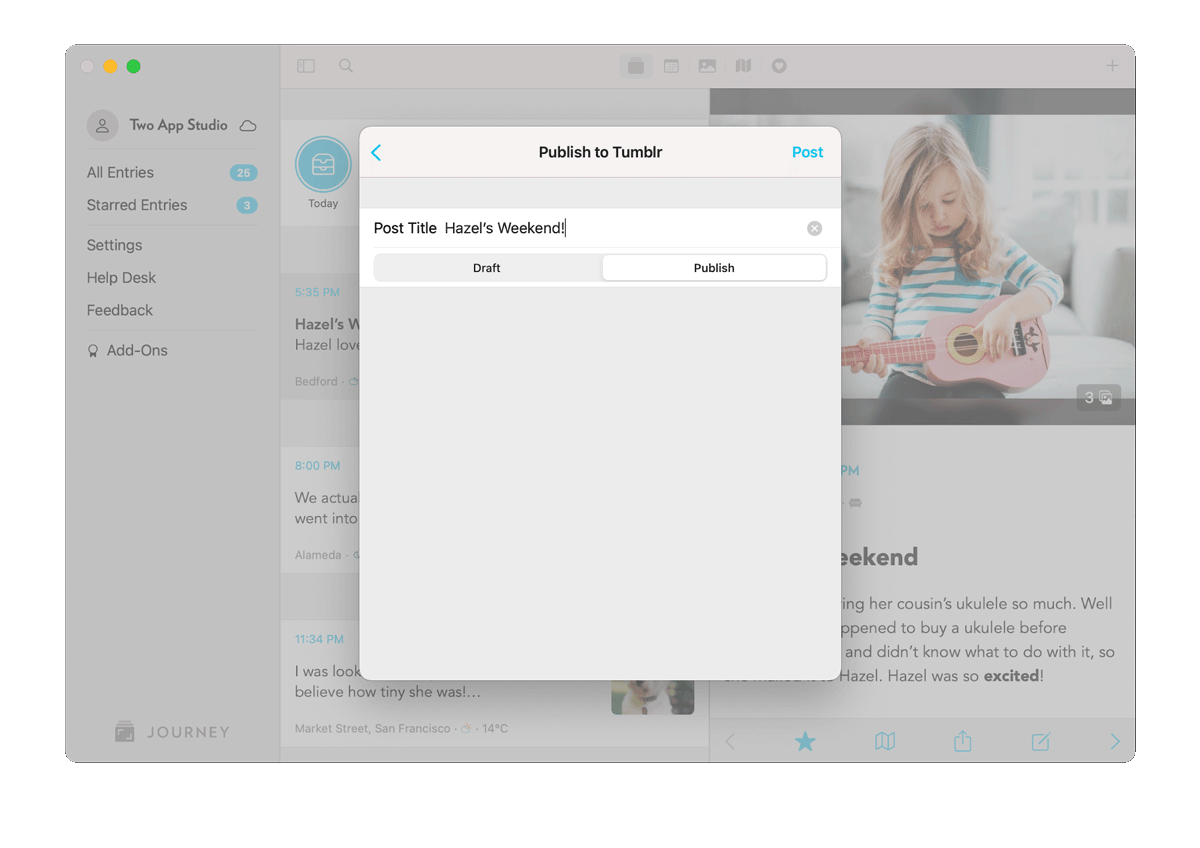 Many of us use Journey not just to journal in private, but to craft thoughtful blog pieces as well! To make things easier for you, we've rolled out a blog publishing feature. You will now be able to publish your journal entries to blog services such as Tumblr, Wordpress and Ghost.
Things to look forward to
iOS users, we've not forgotten about you! We plan to release the iOS version later this week, so stay tuned for that!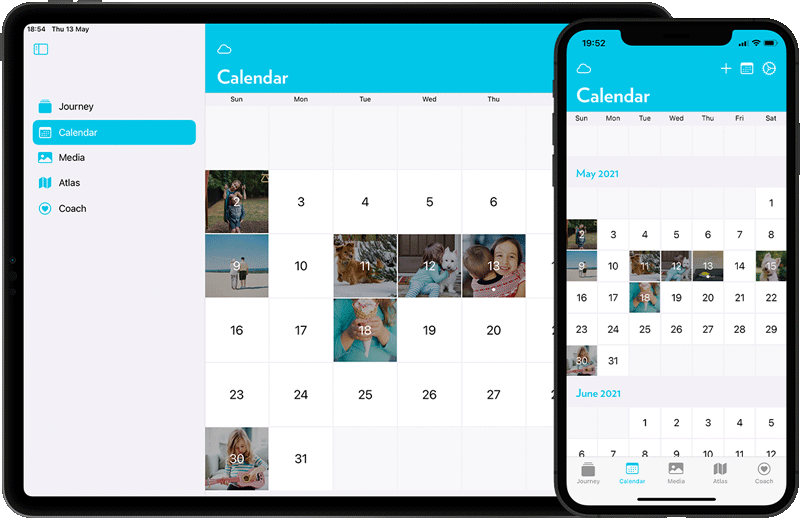 ---
Thank you for supporting Journey, and we hope you enjoy this update!