How fast time flies!
The end of the year just around the corner, and we are only about a month away from 2023.
With the time we have left in 2022, set time aside to reflect on both the good and bad days that 2022 has brought your way, what you have achieved this year, the setbacks that you pulled yourself through, and how all these experiences have shaped you.
At the same time, make time to look at what 2023 could have in store for you, and you can bring these lessons into the new year. There is no harm in planning ahead for the new year, and collecting your thoughts about the responsibilities, major life events, and commitments you could have next year. Our hectic lives requires us to plan and look ahead in order to be more organized, more efficient and less stressed.
If you're looking for a means to start planning the year ahead, Journey's brand new 2023 Digital Planners would be the perfect tool to get you on track!
What Is a Digital Planner?
A digital planner is a digital version of the traditional paper planner. Usually in the form of an interactive PDF that can be written on using a tablet and a stylus, it functions just like a traditional paper planner. It can help you manage your goals, tasks and important appointments to get more organized.
While physical or paper planners can be carried around, notebooks can be easily misplaced and they can clutter up your space. To avoid this, getting a digital planner that you can access anytime, anywhere may be a more convenient option.
Journey's Digital Planners
Journey's Digital Planners are interactive digital PDF planners that are equipped with fuss-free and efficient tools that allow you to plan your life however you would like. While they are digital planners, they still make space for you to customize, decorate, and personlize your writing and planning space; all while still enjoying the benefits of a digital interface.
1. 2023 Planner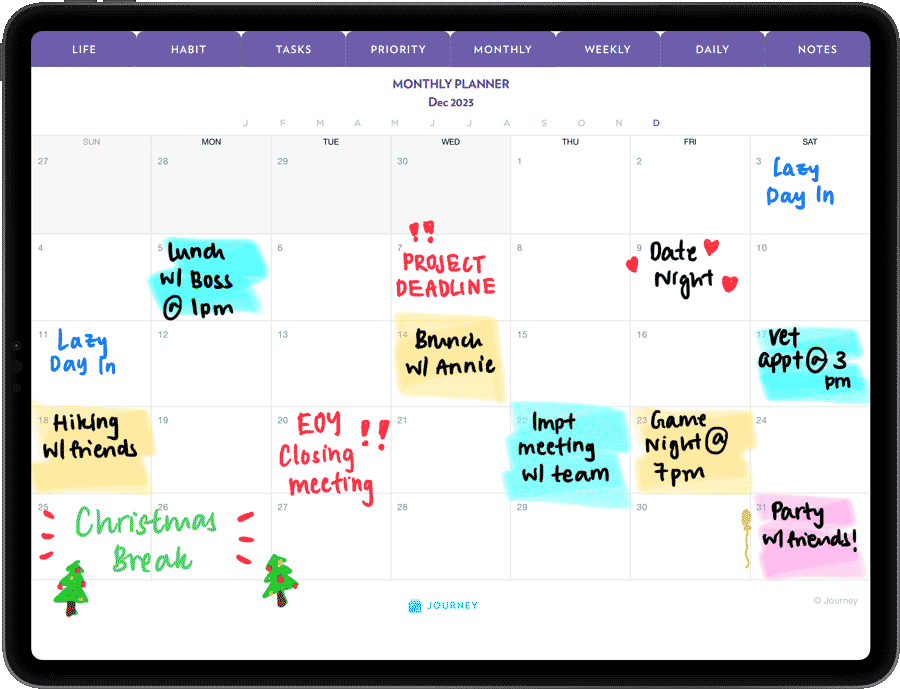 With it's simple and distraction-free interface, the Journey's 2023 Digital Planner allows you to stay on top of multiple aspects of your life. It has features that include:
Set both long-term and short-term goal in this section. You can write down your 3-month, 5-year and lifetime goals in various areas of your life, including financial, career, personal and more.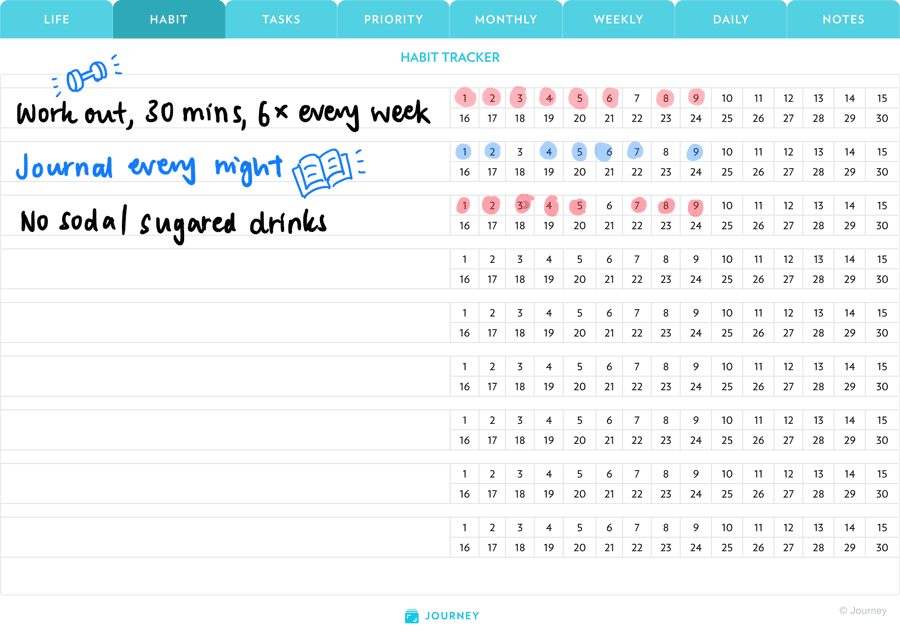 Write down the habit that you want to pick up or maintain, and shade in or circle each time you've managed to complete the habit.
Otherwise known as the urgent-important matrix, the Eisenhower Matrix allows you to sort your tasks into the matrix to figure out what best to prioritize and become a more productive person. When you break your tasks down with the Eisenhower Matrix, you'll get a better idea of which one to prioritize and what to do with them, helping make busy and hectic days more manageable
With your tasks sorted in the Eisenhower Matrix, you can put the priority tasks and tasks that should be delegated into the Priority planner. You can indicate the order in which the tasks should be tackled, the person it should be delegated to, and their deadlines.
Monthly calendar & planner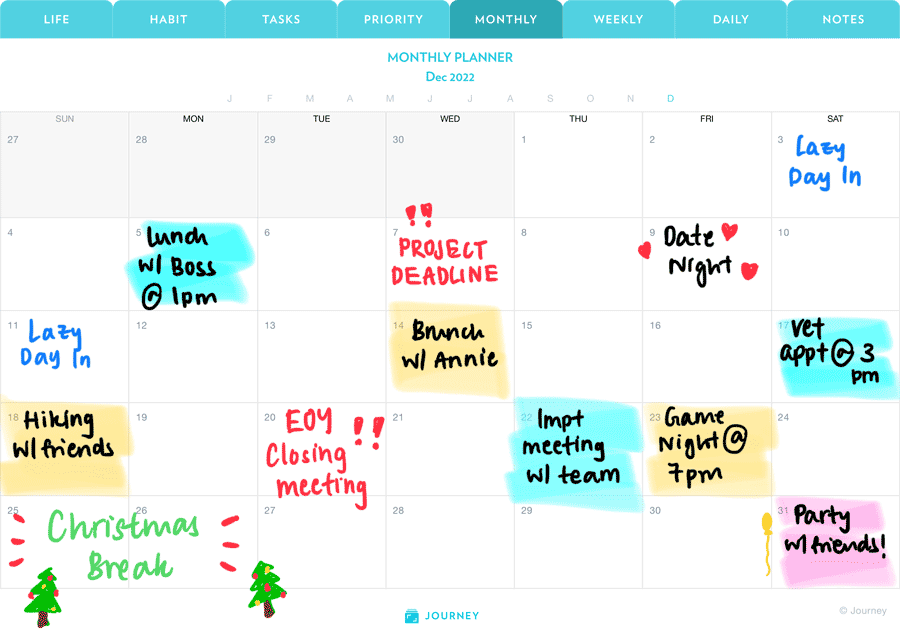 For an overview of all your important tasks, deadlines and appointments in the month, simply jot them down on the calendar spread. In addition to that, clicking on the dates on the calendar will bring you to the daily planner page for that date. Right after the calendar spread, you have the monthly planner of the corresponding month which includes:
A space to reflect on last month's wins and areas of improvement
Setting monthly goals and creating actions plan
Setting rewards for each goal
The weekly planner is broken up into 2 parts. In the first, you are given an overview of every week in the year, where you can write down some of your most important weekly tasks and goals. In the second, similar to the monthly planner, you can reflect on the past week's wins and areas of improvement, set goals, create an action plan and incentivize yourself with rewards.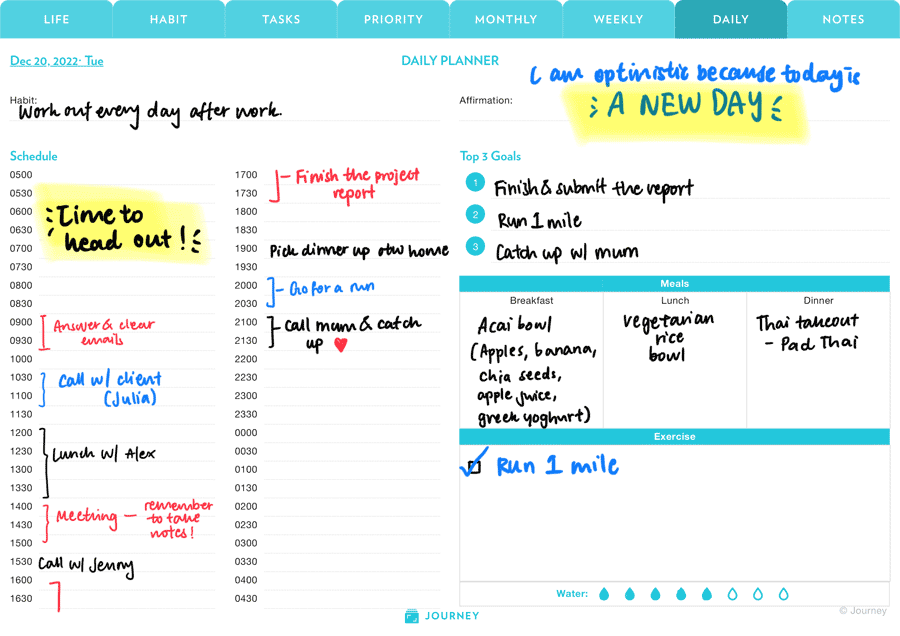 The daily planner allows you to set a habit you want to commit to today, write down daily affirmation to get motivated, state your top 3 goals for the day, plan your meals, exercise and keep track of your water intake, and reflect on the day's wins and improvements
Note-taking section (with 4 different designs)
After selecting from our 4 different page layouts: blank, grid, dotted grid and lined, you can draw, doodle, and scribble in the space provided.
This planner also comes in both light and dark themes, and in 4 bright colors for you to choose from: blue, purple, orange and pink.
2. Gratitude Planner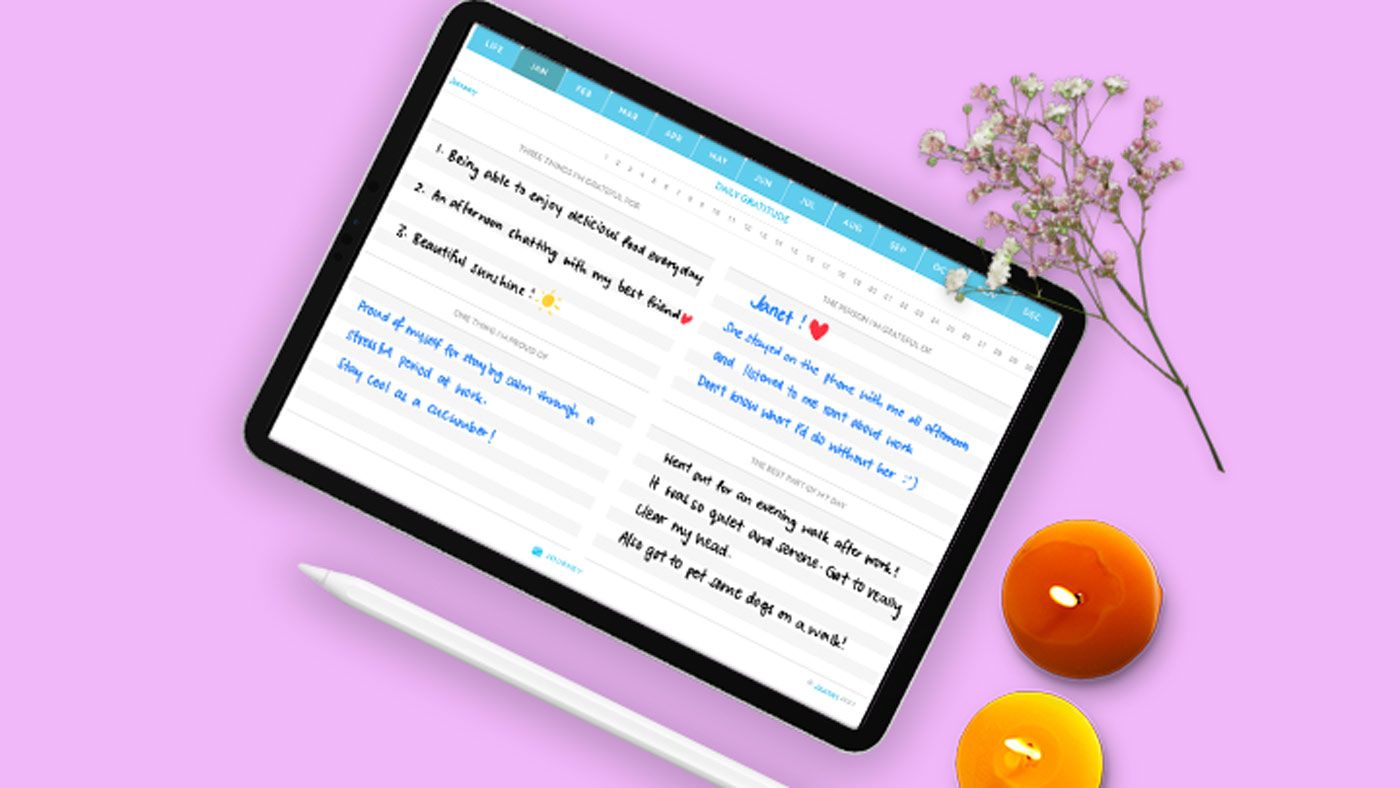 Journey's Gratitude planner offers you selection of gratitude worksheets and exercises that help you set yearly, monthly and daily gratitude intentions and to reflect on your everyday.
Some of the features you can enjoy with this planner include:
"Before the Year" intention-setting worksheet
This space in your planner allows you to reflect on and set your personal intentions for the year. You can think about some things you're looking forward to, things you want to accomplish, how you want to improve yourself, and brainstorm an action plan that would make these happen.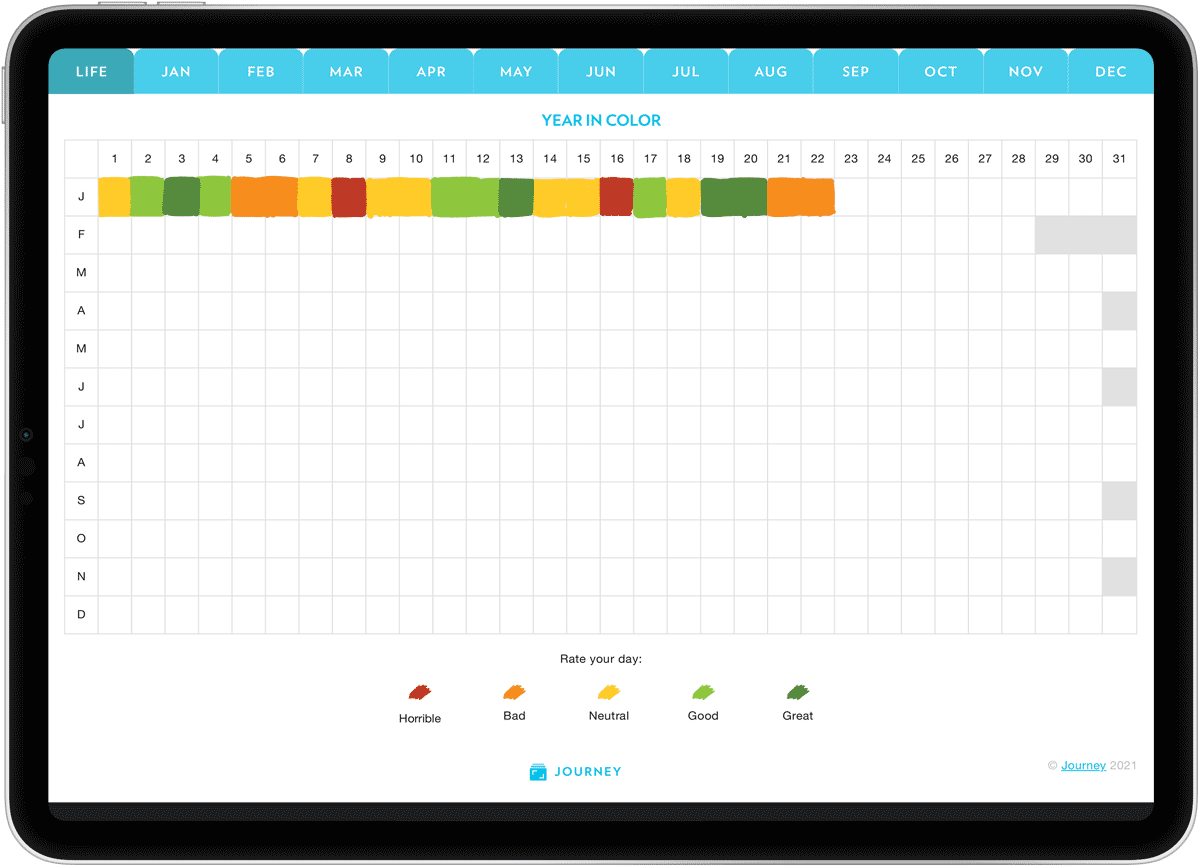 Use colors to get a visual overview of how the year goes. Use the colors red, orange, yellow and green to get a gauge of how many bad and good days you had.
After The Year reflection worksheet
Use this space to look back at 2023 at the end of the year to reflect on what you achieved, the lessons you learned, the skills you picked up, your lowest points, and if you had achieved what you had set out to do throughout the year.
Monthly Gratitude worksheet
This worksheet offers a space for you to put mindfulness and gratitude into practice. Use this space to write down all the things you are grateful for in life and should give thanks for; the big and small things. Remind yourself of the goals you want to accomplish, who you want to spend time with, and how you want to feel this year.
Morning Gratitude worksheet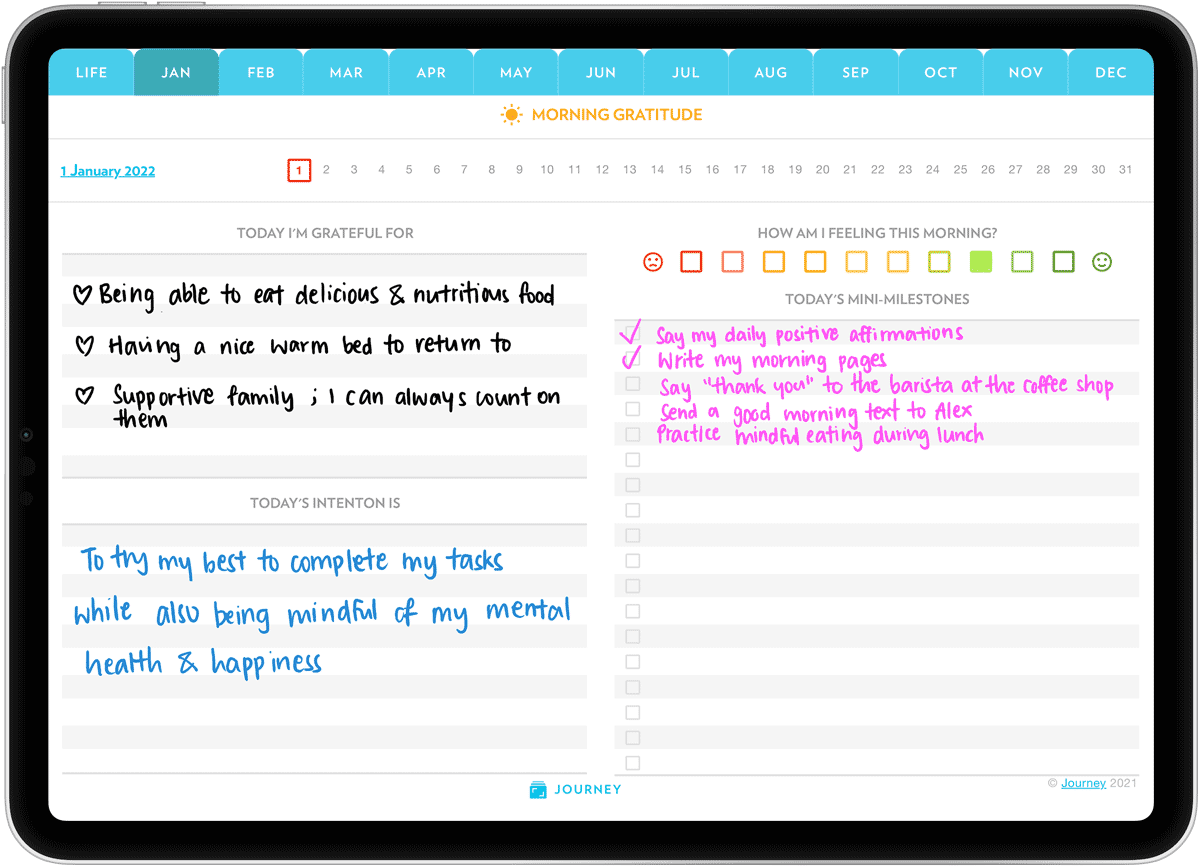 Use the morning gratitude worksheet for intention-setting, mood-tracking and keeping track of mini-milestones
Bedtime Gratitude worksheet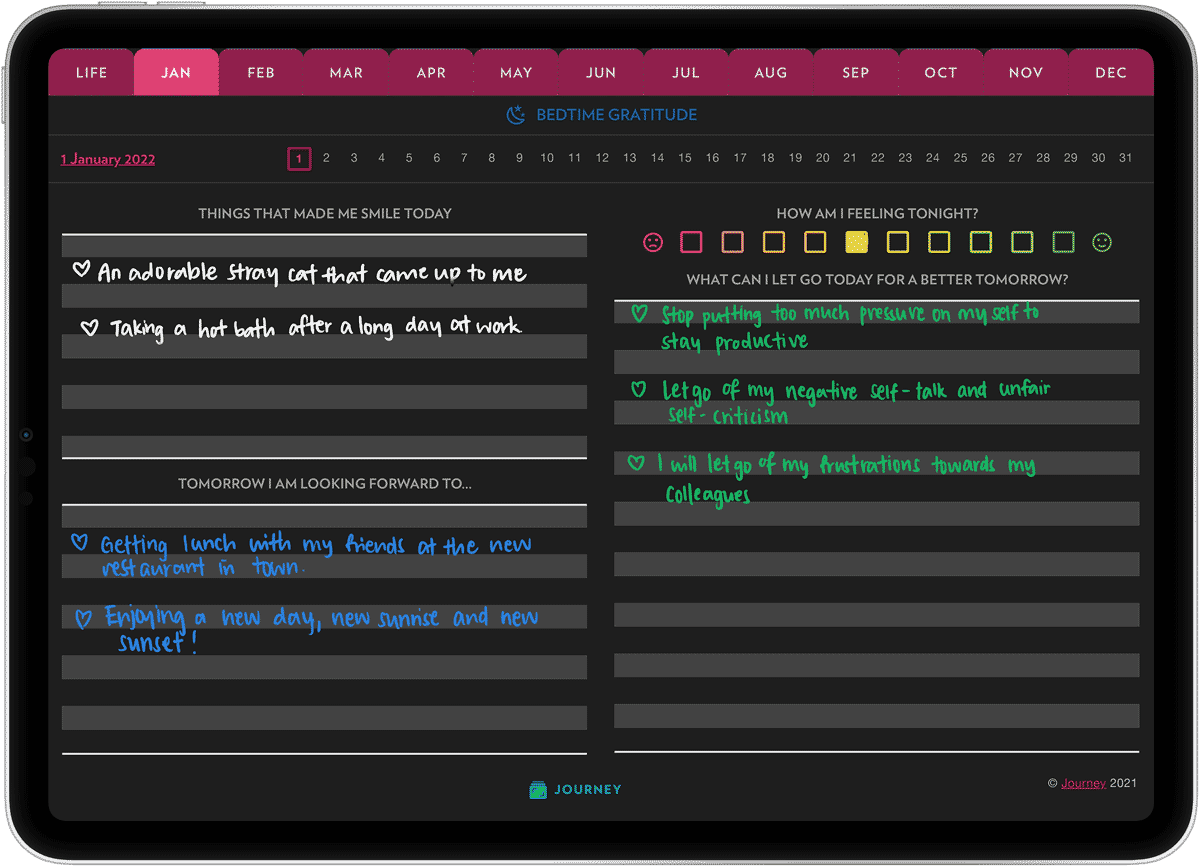 These worksheets allow you to set time aside before bed for daily reflection; to think about the good that happened that day, what made you smile, how you're feeling about how the day played out, and what you want to let go off before a new day.
This planner also comes in both light and dark themes, and in 4 bright colors for you to choose from: blue, purple, orange and pink.
3. Fitness Planner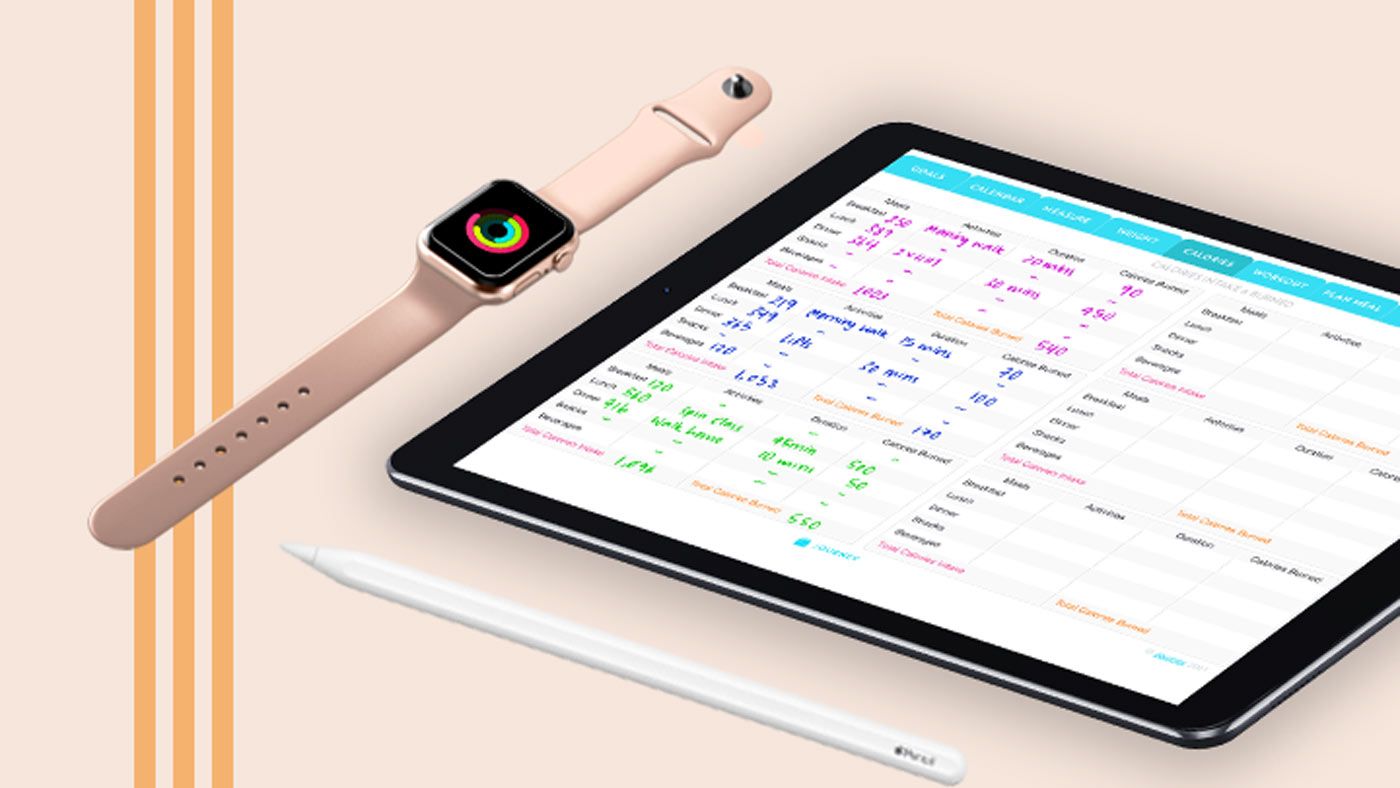 Journey's Fitness Planner allows you to plan your year's fitness goals and milestones, track your progress in terms of weight loss, calories and measurements and start a healthy diet with meal plans, grocery lists and water trackers.
This planner comes with multiple of the features that can help you stay on track with your fitness such as: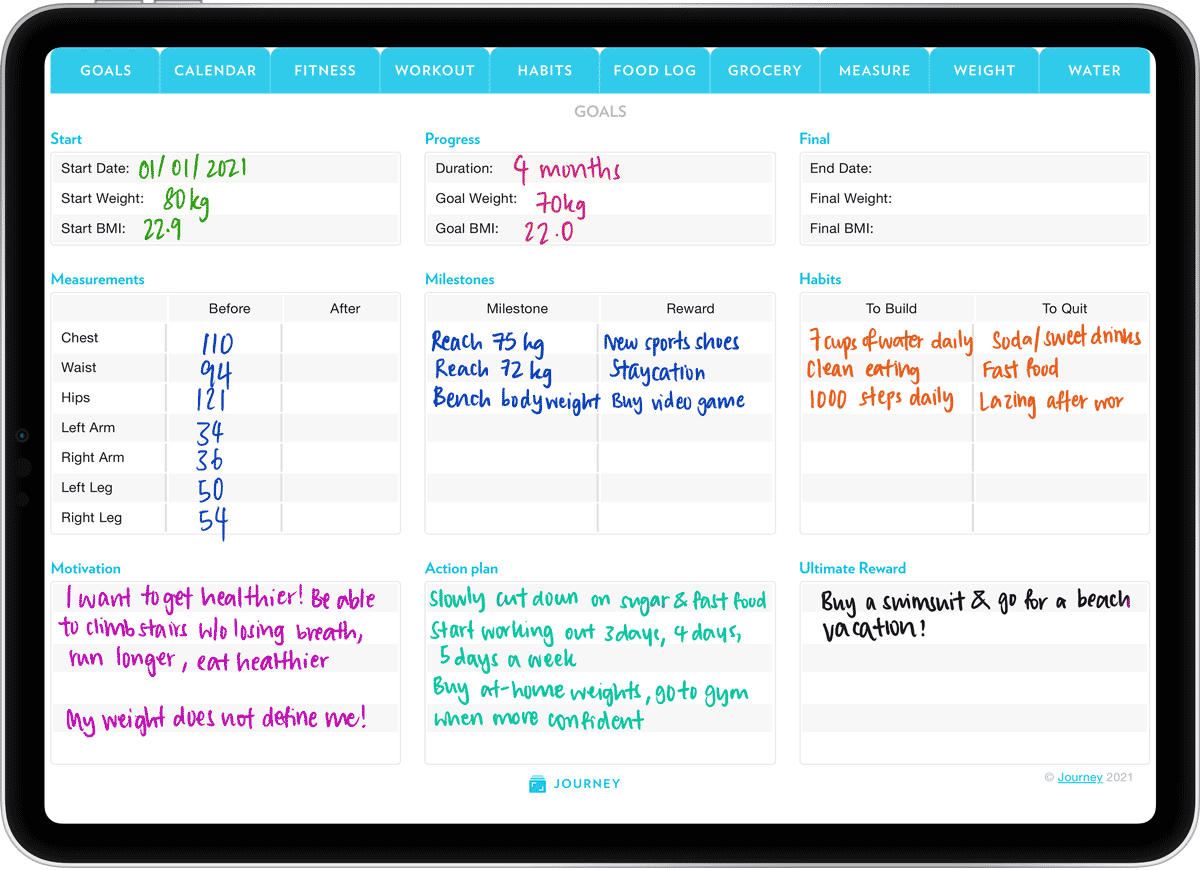 Set your start date, weight, and BMI goals with this sheet. Together with this, the sheet guides you along starting this journey with motivation setting, crafting an action plan, setting milestones, planning healthy habits, and also has space for you to come back and record your results.
Monthly calendar spreads for 2023
Use this calendar to get an overview of your year.
Record your measurements and body proportions weekly in a diligent and clear manner with this tracker.
Weight loss progress tracker
Record your starting weight, goal weight, end weight consistently across the year with this tracker to keep track of your weight loss and overall progress.
Calories Intake & Burned tracker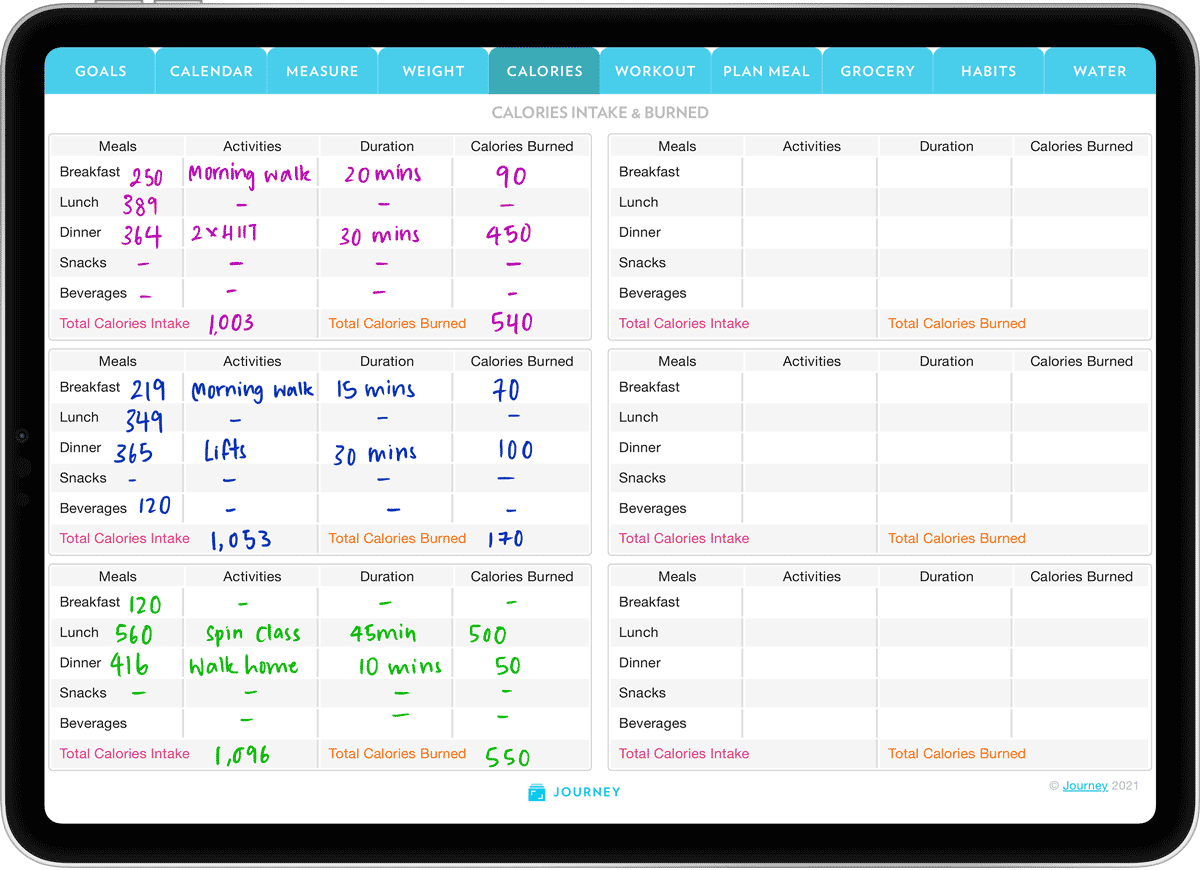 A huge part of one's weight loss journey is ensuring you're in a caloric deficit. Keep track of your meals, their calories, and how much you're burning through exercise and healthy eating habits.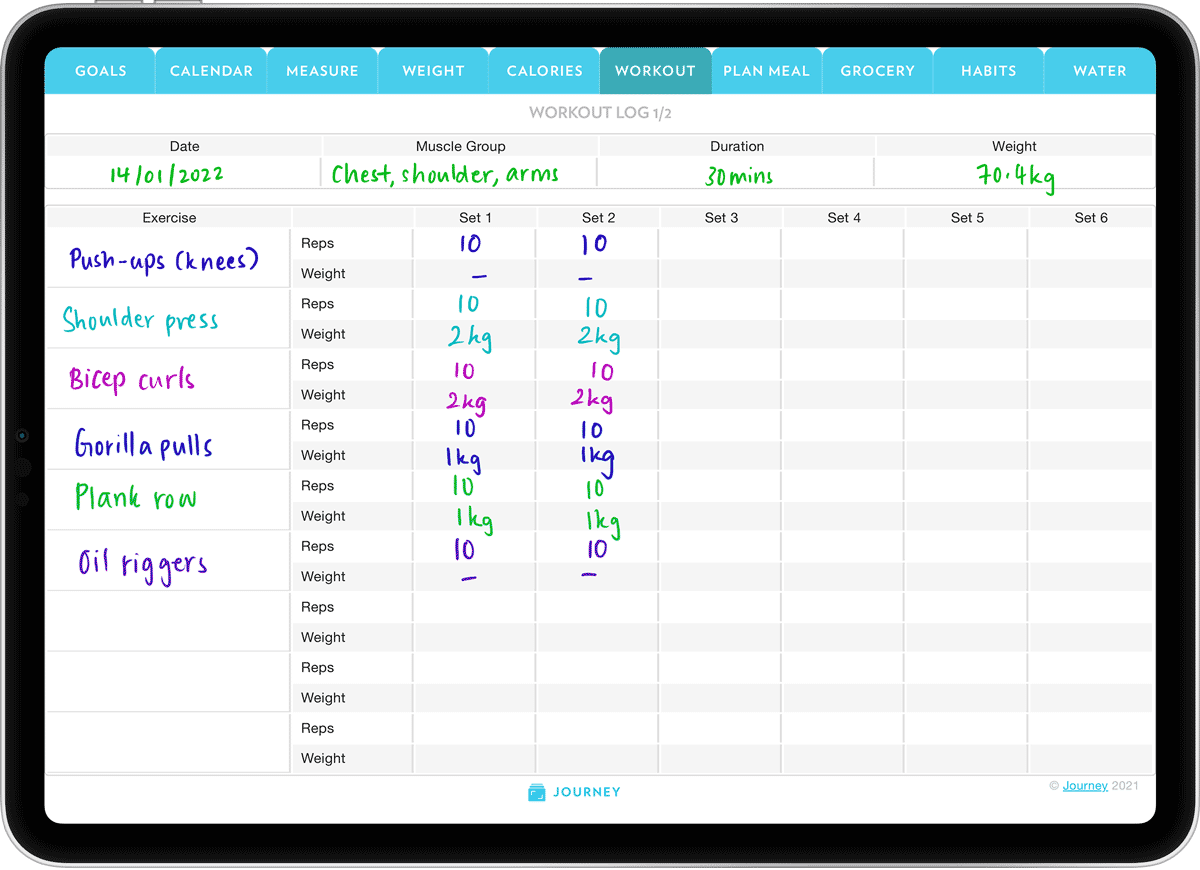 Log your daily workouts, the muscle groups you're targeting, how long you work out for, and the weights you're working with to ensure you're getting all-rounded and efficient work outs in.
Weekly meal planning sheet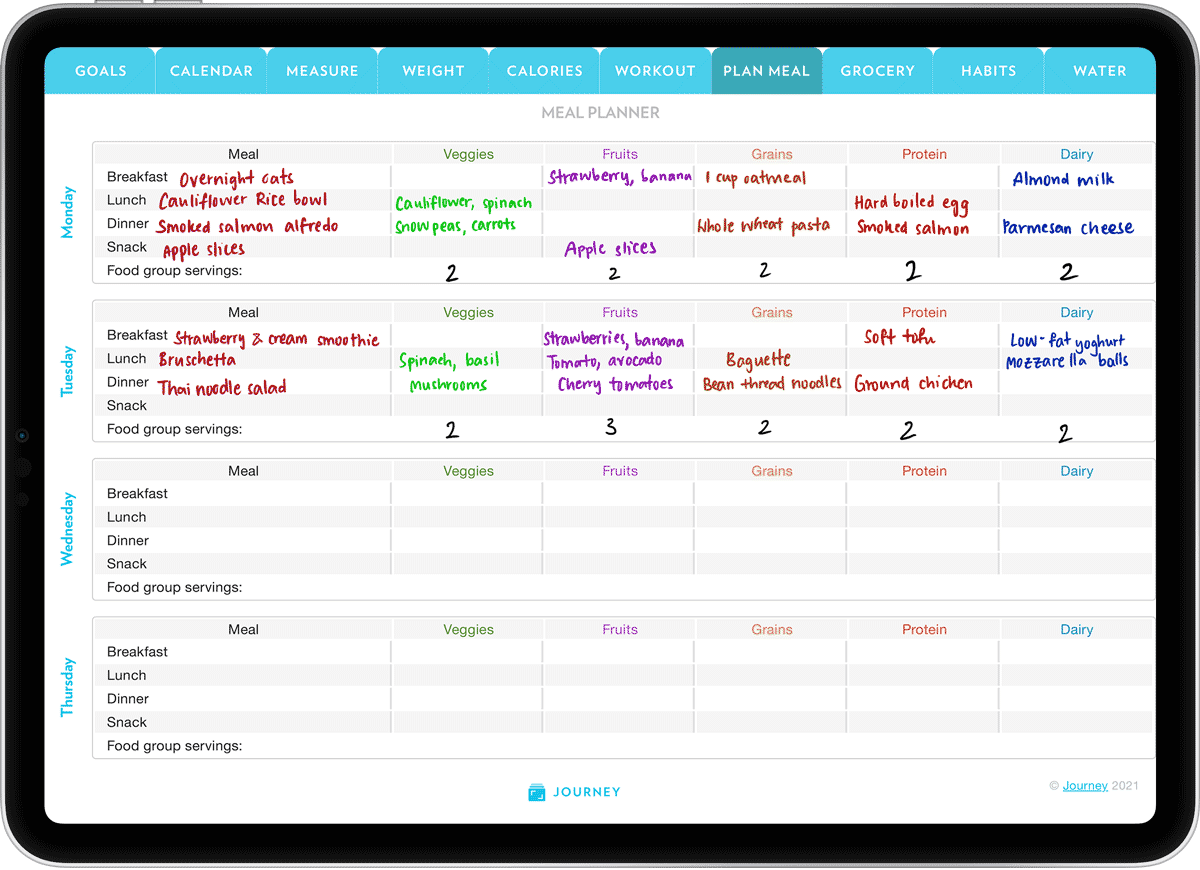 Plan your meals and work a meal plan out that would work for your energy and lifestyle needs. This sheet also recommends that you have a wholesome and nutritious diet with sections that remind you to consume your fruits, veggies, grains, proteins and dairy!
Categorized grocery shopping list
Make buying groceries simpler with this shopping list that covers a variety of food groups.
Develop healthy habits with this tracker by consciously reflecting on the routines and patterns you've been engaging in. The water tracker helps you stay on track with your daily water intake as well.
This planner also comes in both light and dark themes.
4. Budget Planner
Journey's Budget Planner can empower you by helping you stay forward-looking on your financial planning. With this planner, you can set your financial goals, make saving plans, track your budget, spending activity and credit scores.
Some of the features you can enjoy with this planner include:
Reflect on your top 5 foals and an action plan that you can that would allow you to achieve them. Set these goals on a weekly, monthly, yearly, or even on a 5-year or 10-year time frame.
Plan your budget on a monthly basis by calculating your expected and actual income, savings, fixed and variable expenses, and plan and adjust accordingly to make sure you can manage your finances.
Track the activities that you engage in monthly that would require you to fork out money. Keep track of the things you spend money. The category breakdown that includes transport, food, insurance, utilities, savings, medical expenses and more can guide you along.
Saving planner and tracker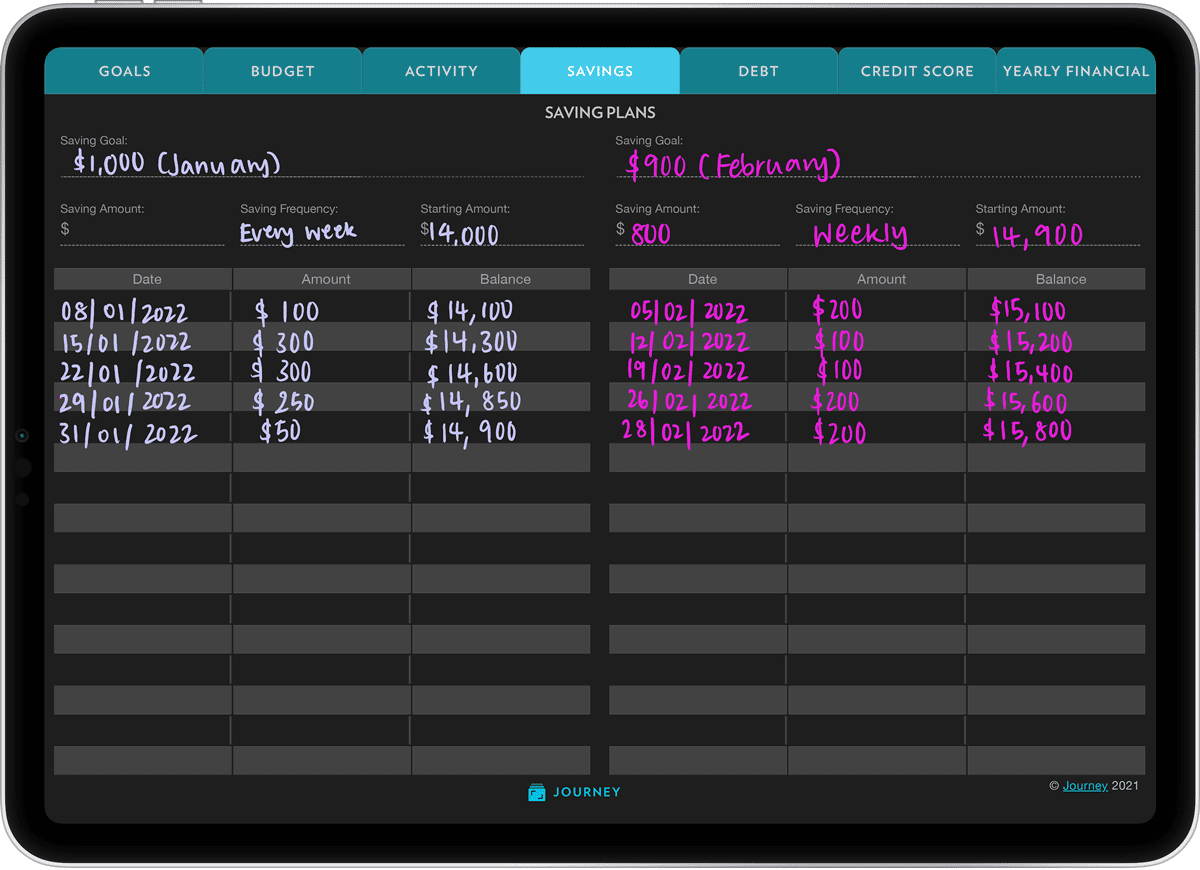 Start a savings plan with savings goals, and record how much you're able to save and at what frequency.
If you have debts to clear off, use this planner to straighten out your debts, where you have to make payments, the interest rates, minimum payments, and the time you have to settle them.
Keep track of your credit score monthly so that you don't spend unconsciously, and use the chart to plot your scores to be able to get an overview.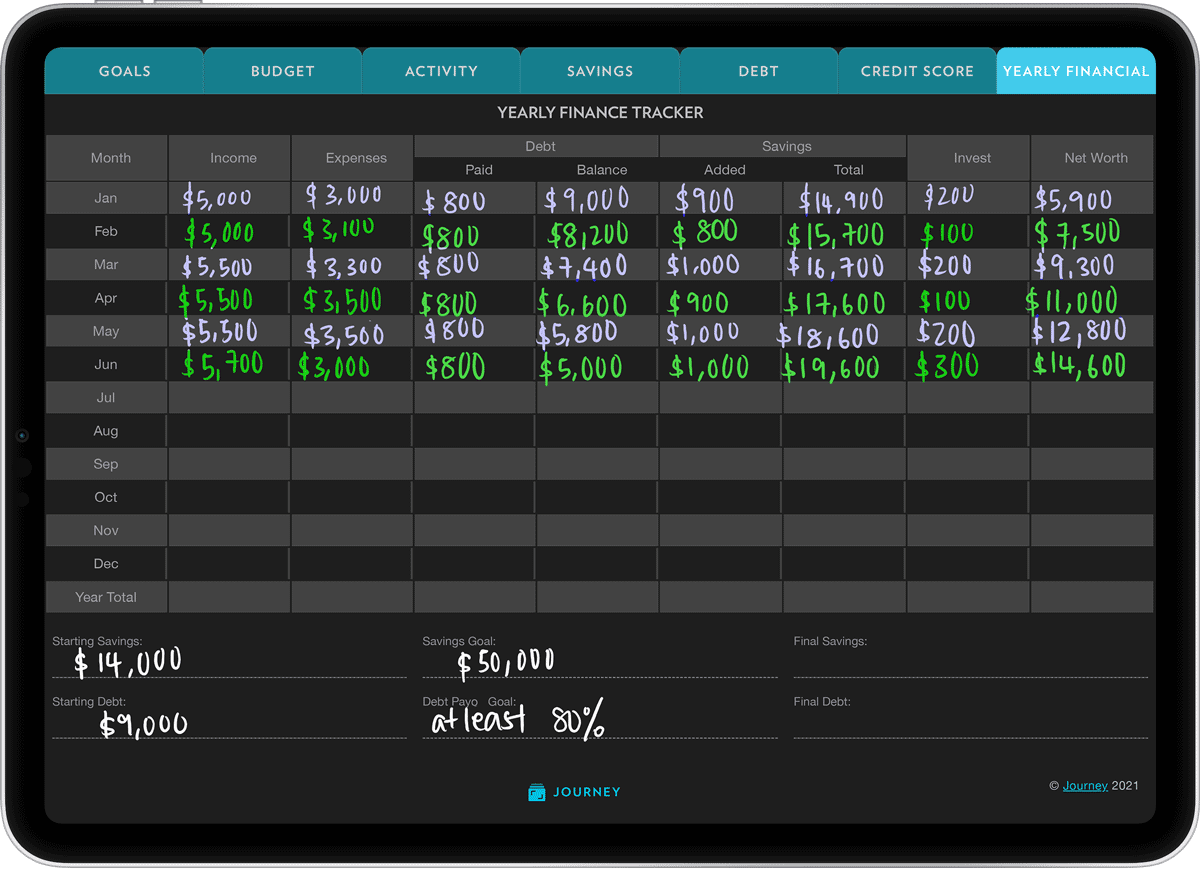 At the end of 2023, come back to track your income, expenses, paid and balance debt, savings, investment and your net worth with overall monthly tracking. Calculate if you've met your savings goals, how much of your debts you've cleared, and how you've done with your financials in all.
This planner also comes in both light and dark themes.
Using Journey's Digital Planners
Using these Journey's various digital planners could not get easier. All you have to do is to download and open the planner in a PDF annotation app, and you can use a pen to start doodling, writing, and planning.
The steps include:
1. Download and open the planner in a PDF annotation app.
2. Open the planner in the app.
3. Across the top of the planner, you will see tabs for easy navigation. These will take you to the different sections.
Navigation is also made easy on this interface. There are links throughout the planner that will help you navigate it conveniently, as well as tabs on the top of every page.
You also do not have to worry about running out of pages or space. You can duplicate the page of your choice in your PDF annotation app and you've can write to your heart's content!
---
We hope the past few months have been fruitful, productive, and invigorating. As we approach the end of 2022, set some time aside to start planning for 2023. There is no better way to get ready for the brand new year than with a digital planner that can help you organize, schedule, and stay on track for your 2023 goals.
It's never too late, or too early, to start getting organized. Let 2023 be the year where you reclaim your power and control over your time!
Happy Planning!