As one of the few cross-platform journaling apps available, our aim was to make Journey your essential journaling companion that you could bring with you wherever you go, regardless of the device you're using. Retreat into your mental sanctuary and express yourself whenever you want!
With these major updates to Journey.Cloud Web, we are proud to announce the beginning of our transition to a Progressive Web App (PWA).
What is a PWA?
A Progressive Web App is a combination of web and mobile app technologies — it allows you to use Journey.cloud on web browsers exactly as you would in a mobile app.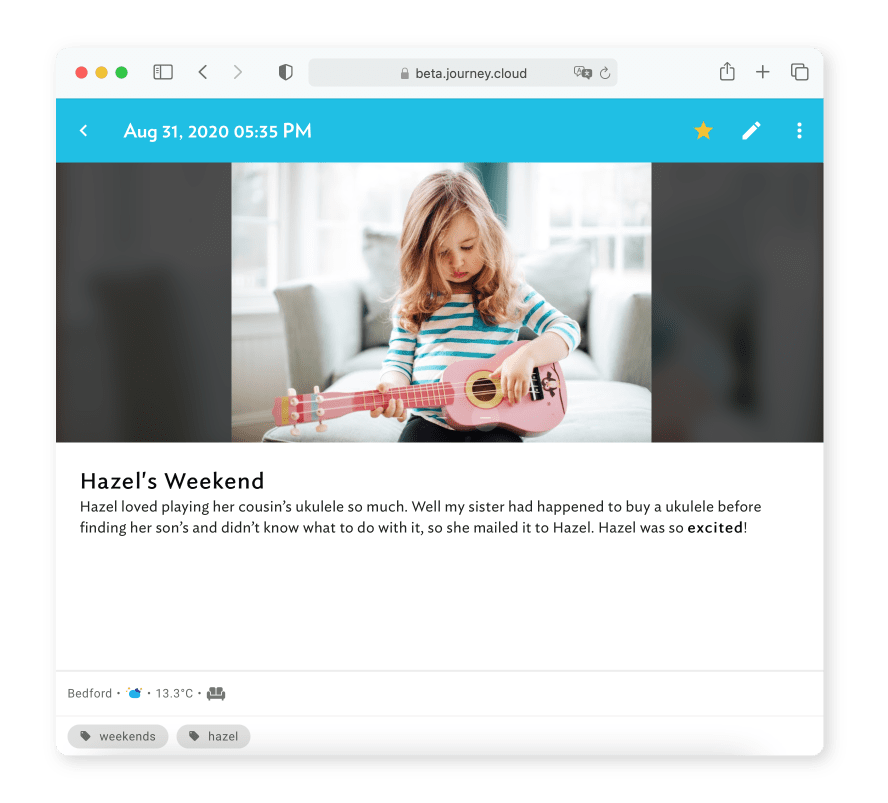 1. Redesigned to Make You Feel Like You're Using an App
One of the biggest advantages you'll have is that you can create entries and access them even while offline.
These changes will greatly improve your user experience by making cross-platform journaling all the more effortless and smooth-sailing. Make your journaling experience universal across all platforms and devices!
Read on to find out what the updated Journey.cloud Web can do for you.
2. Light Theme and Dark Theme Support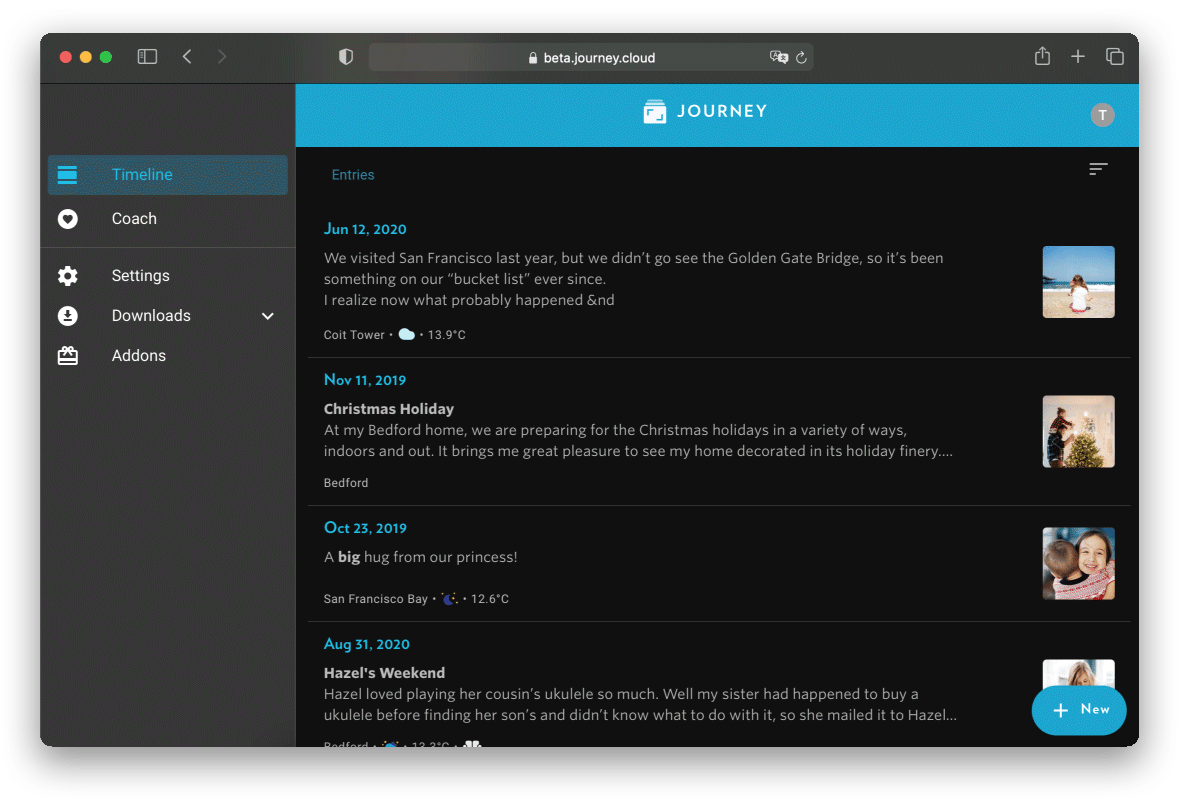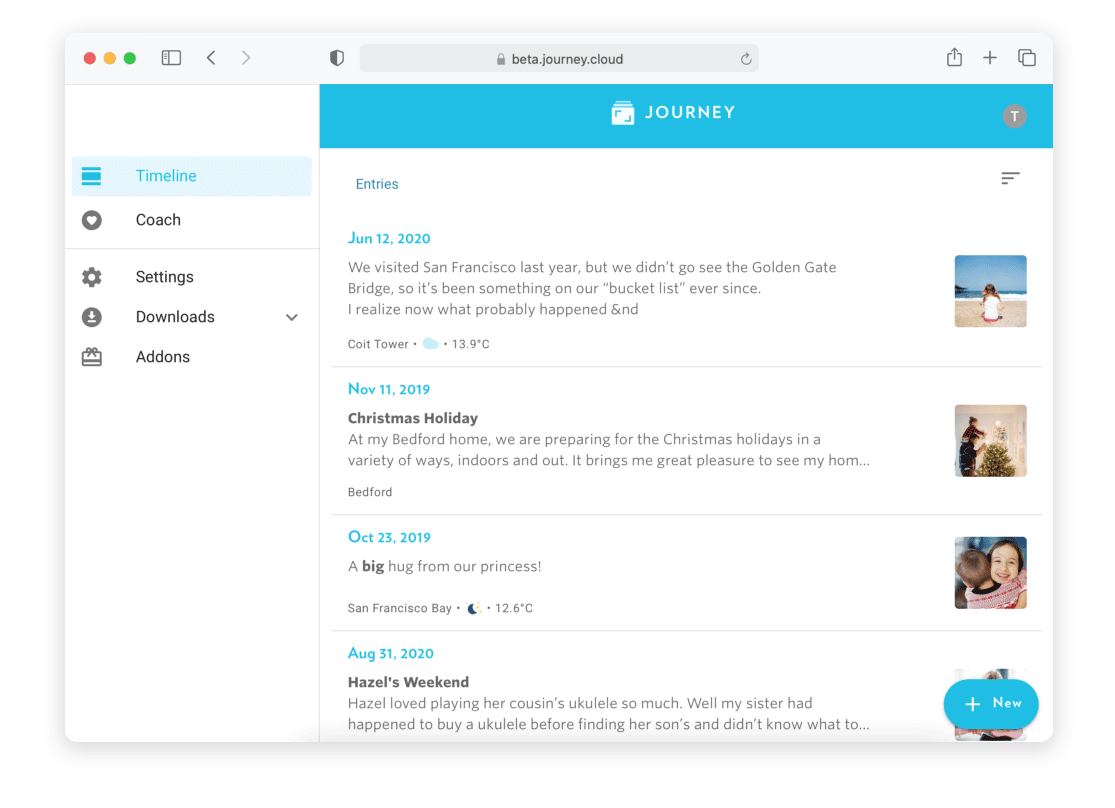 You can now toggle between using light mode and dark mode in your settings. The default settings will follow the one you've set in your own system.
3. Works well on any screen size, any platform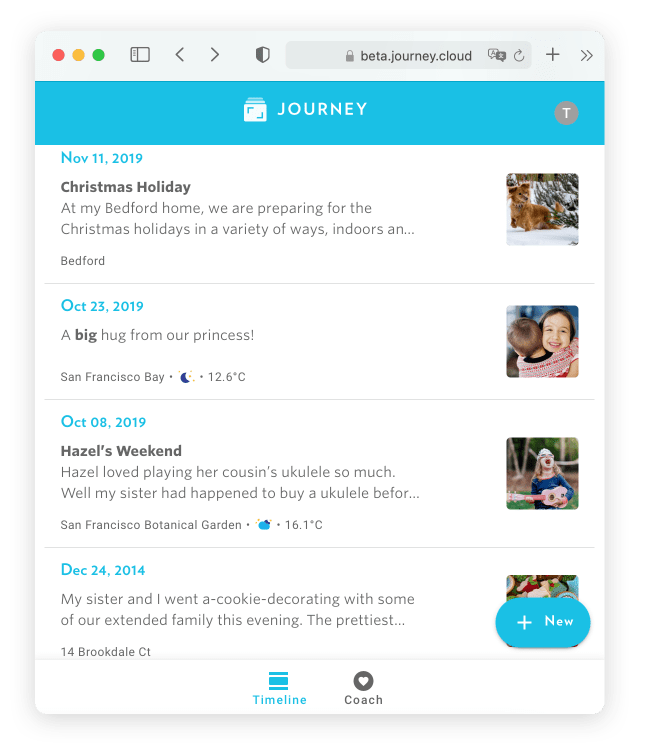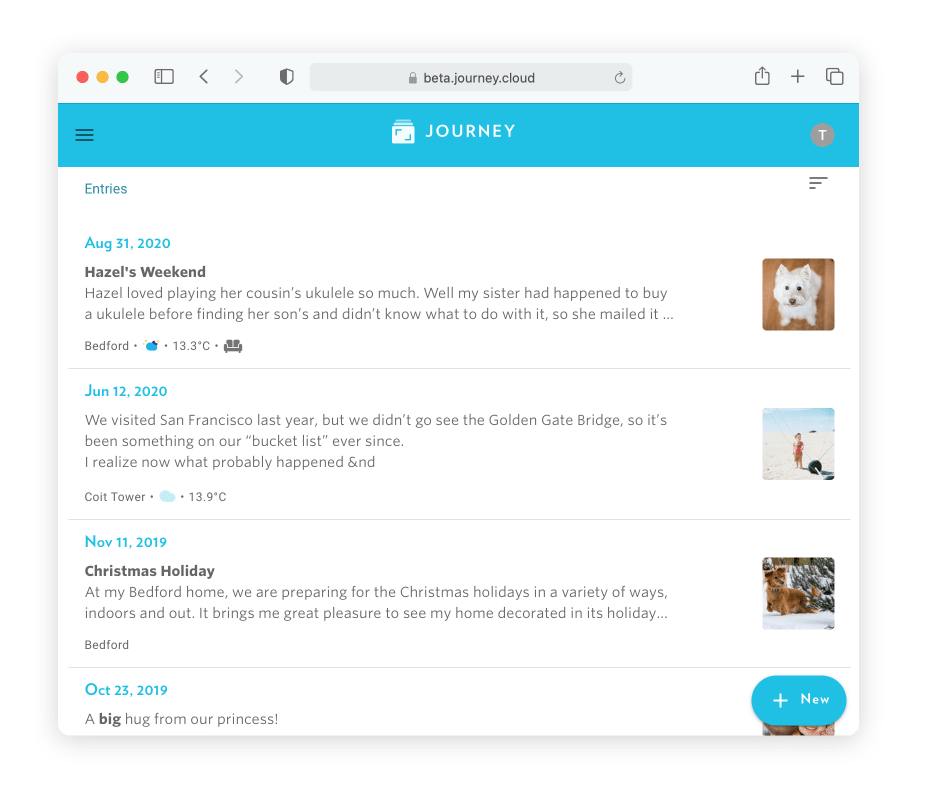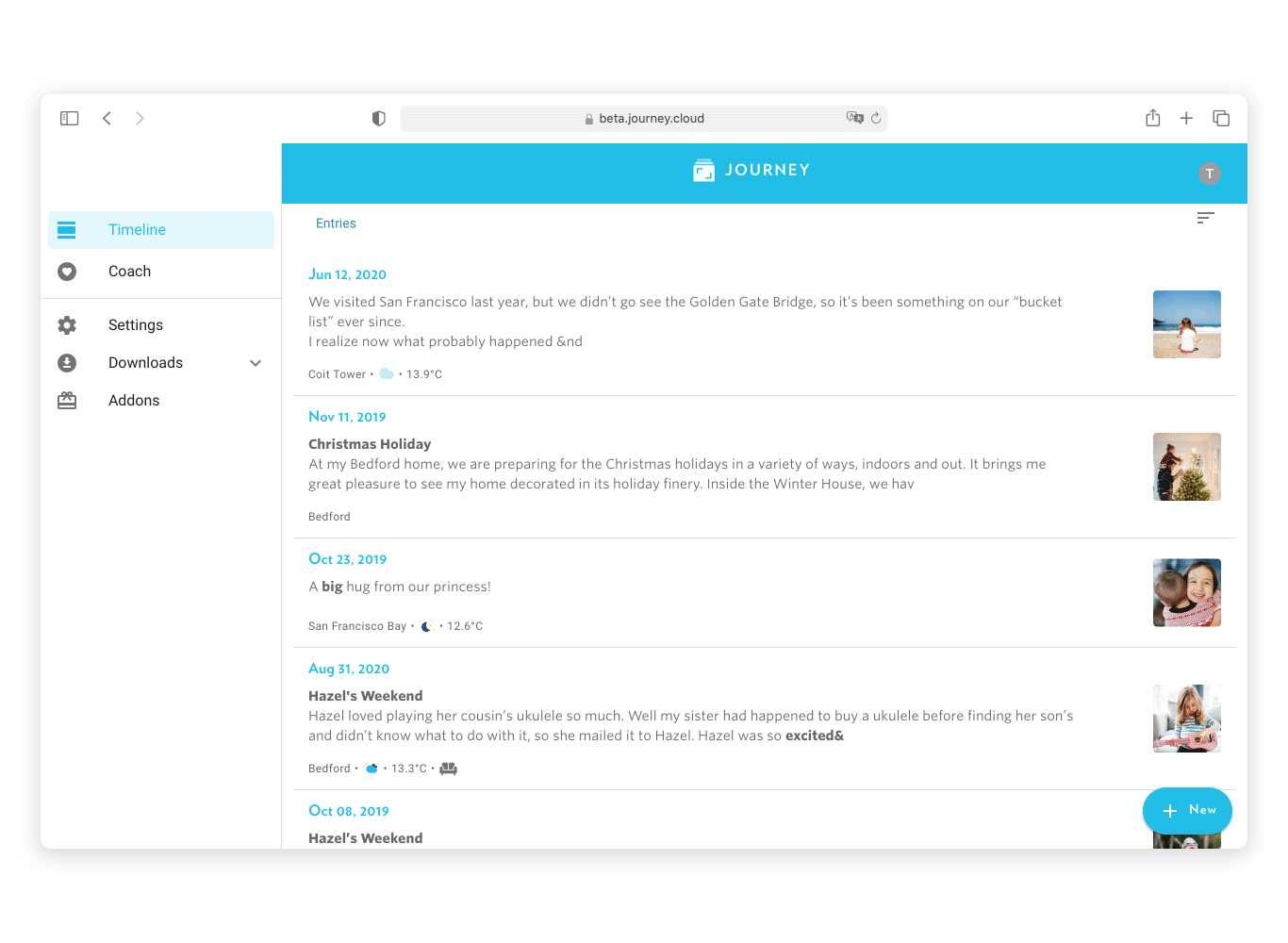 Journey.cloud Web now comes with responsive design. It has been optimised for any screen and browser size! Enjoy a better user experience, even on small browsers. The navigation bar will also shift from the left to the bottom for smaller screen sizes to make for easier navigation.
4. Now With Full Screen Editor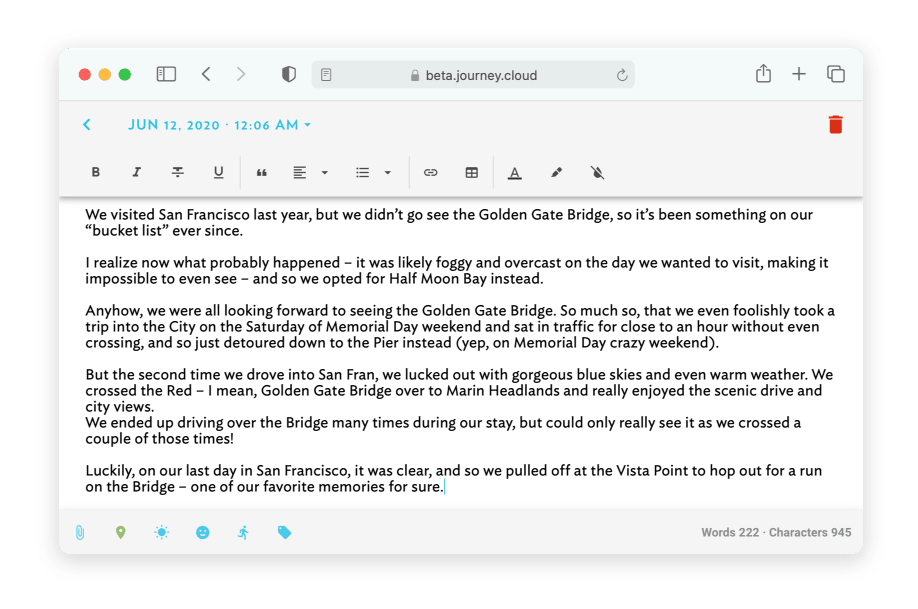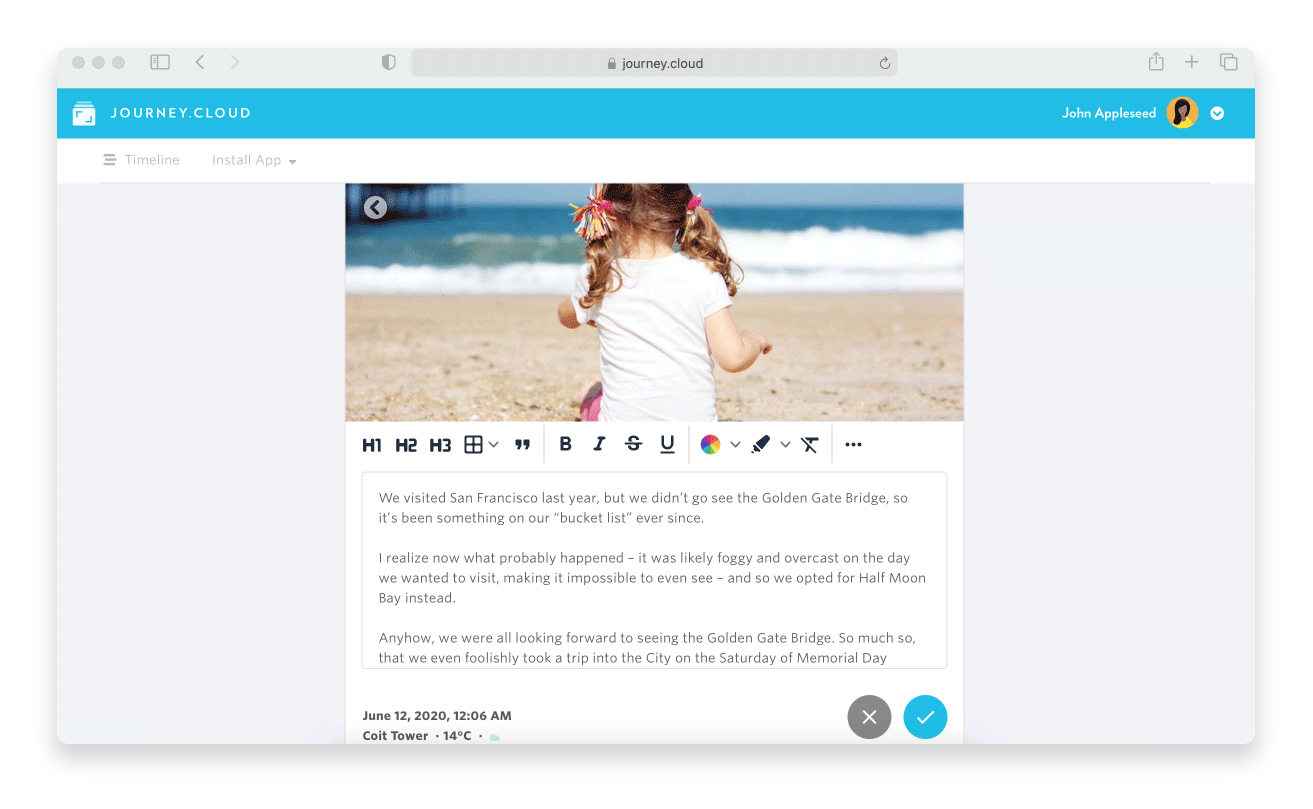 We've listened to your feedback about wanting a bigger editor. Our newest editor is now fullscreen and the home page itself is also larger and in list view. Create, edit and view the beautiful journal entries you've written in its full glory!
Our new web editor also comes with several new features including:
Customizable font sizes and line height
Allow changing of date and time for entries
Word count and character count
Adding of location, activities, tags, mood, weather and multiple images in entries
Coach Now Available On Web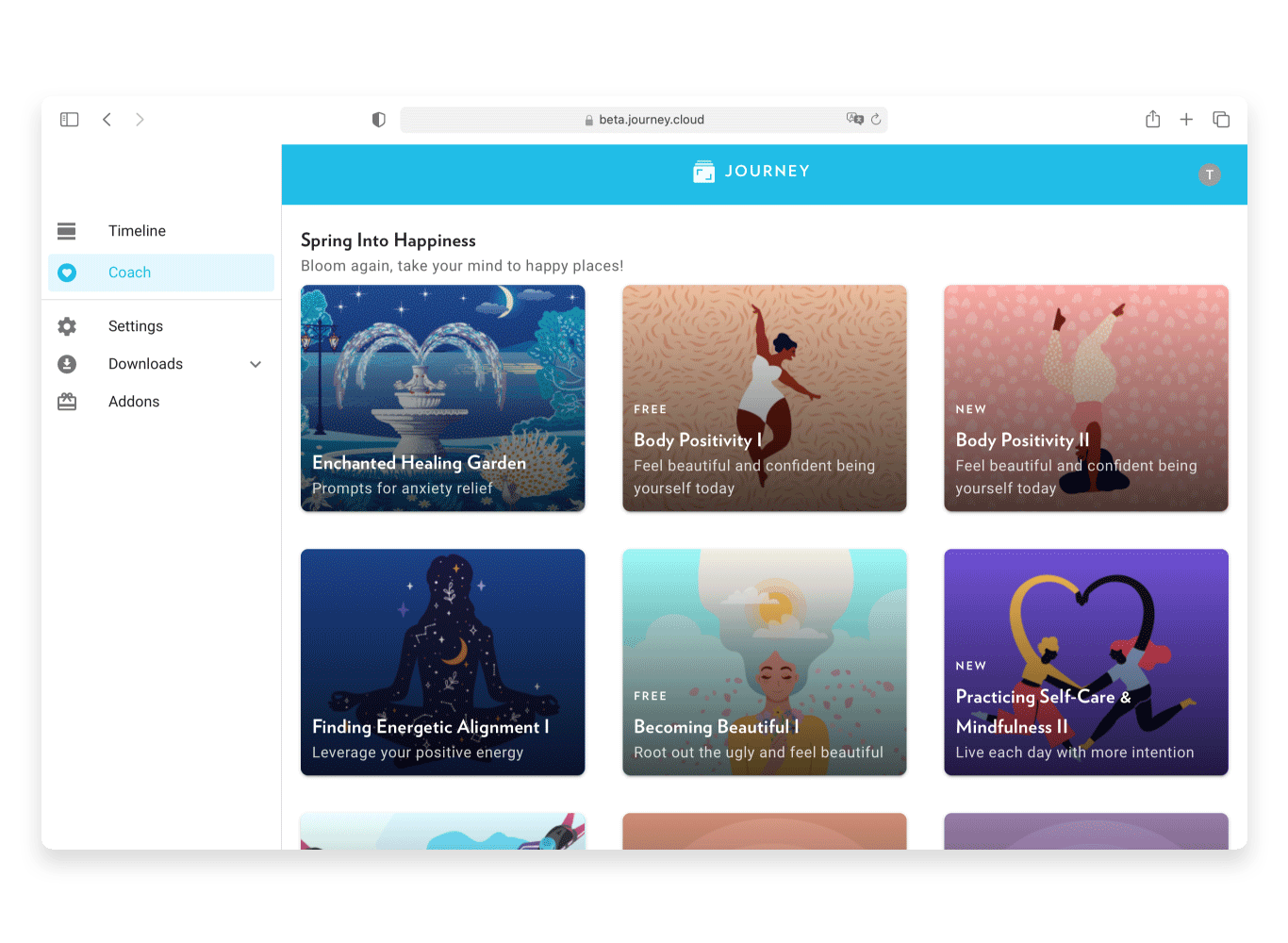 For those of us that were new to journaling, we collaborated with multiple life coaches to provide you with coach programs that allowed you to do guided journaling based on self-care topics of your choosing.  Currently, we have over fifty different Coach programs available.
Previously, Coach was only available on iOS and Android. With the recent update, Coach is now also available on Journey.cloud Web!
Try out our Coach programs now!
Simply select the program you're interested in and click "enroll". Our Coach programs will send you daily journaling prompts relating to the theme of the program. You will also be given articles to read, written by the coaches themselves.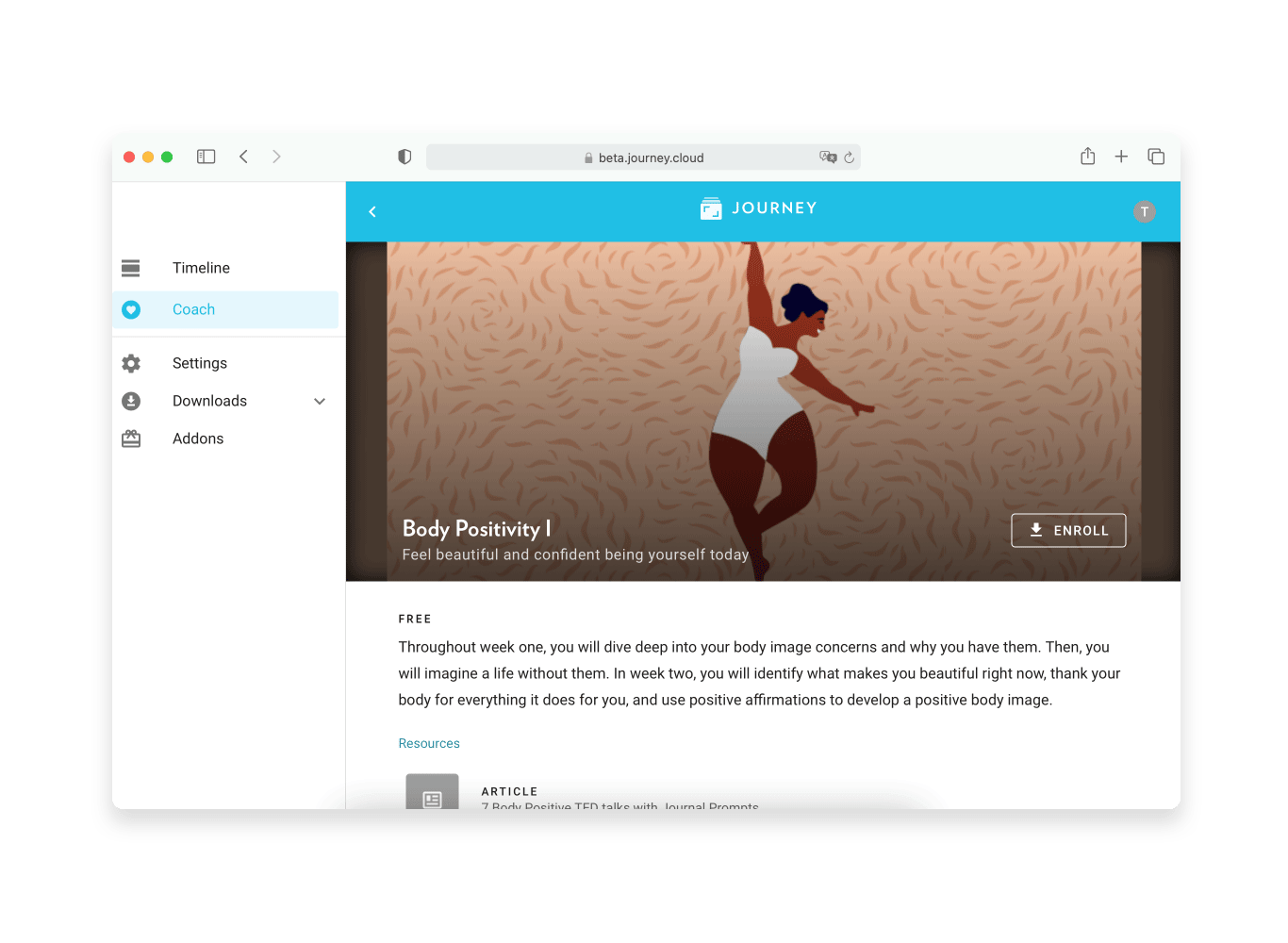 After enrolling, simply head back to your Timeline. The program that you have enrolled yourself in will be on the top, under "Stories".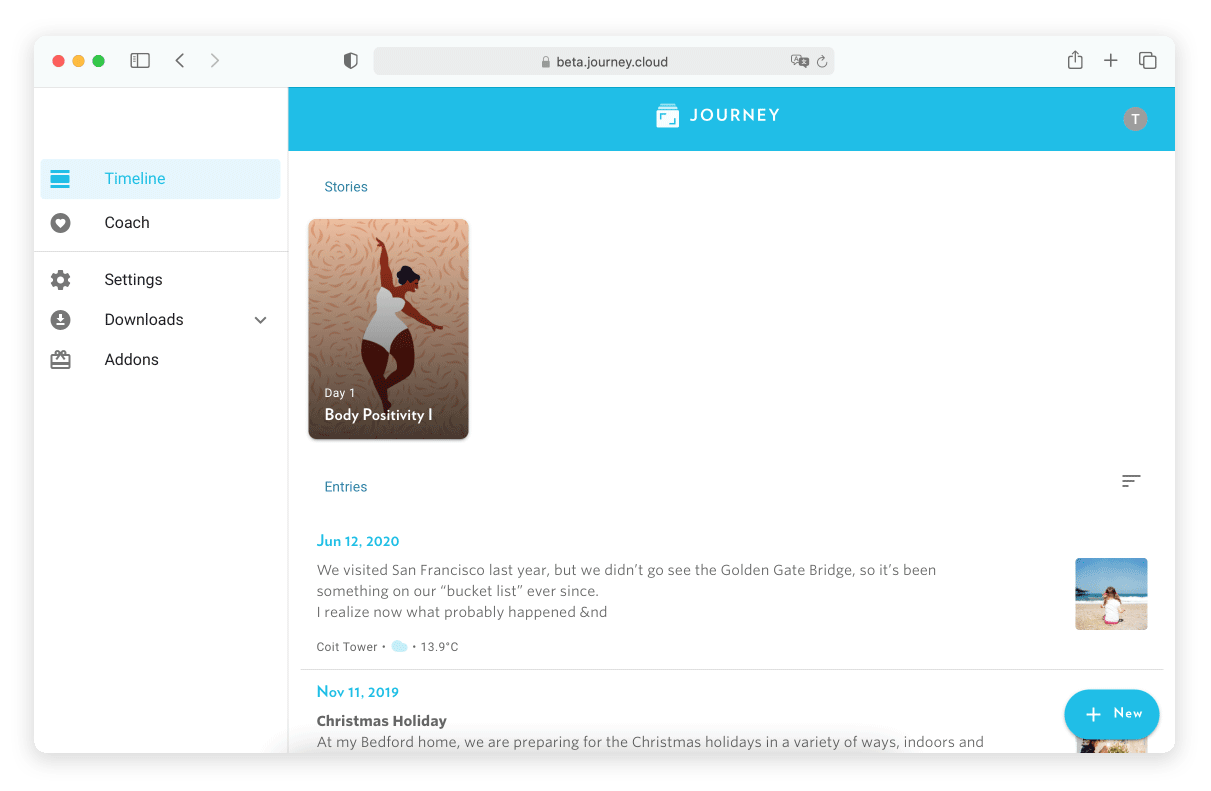 Simply click on the program to open it, and answer the prompts accordingly. Your progress in these Coach programs will be saved on your device.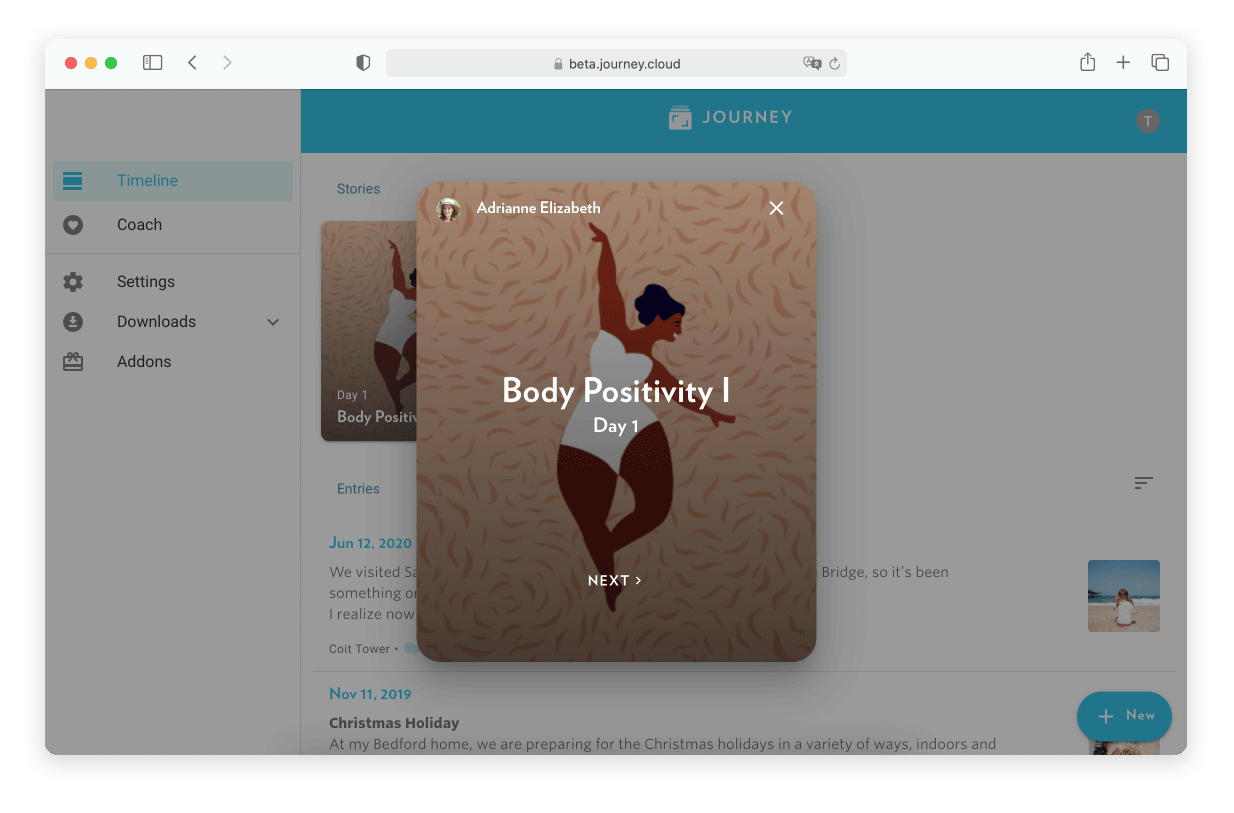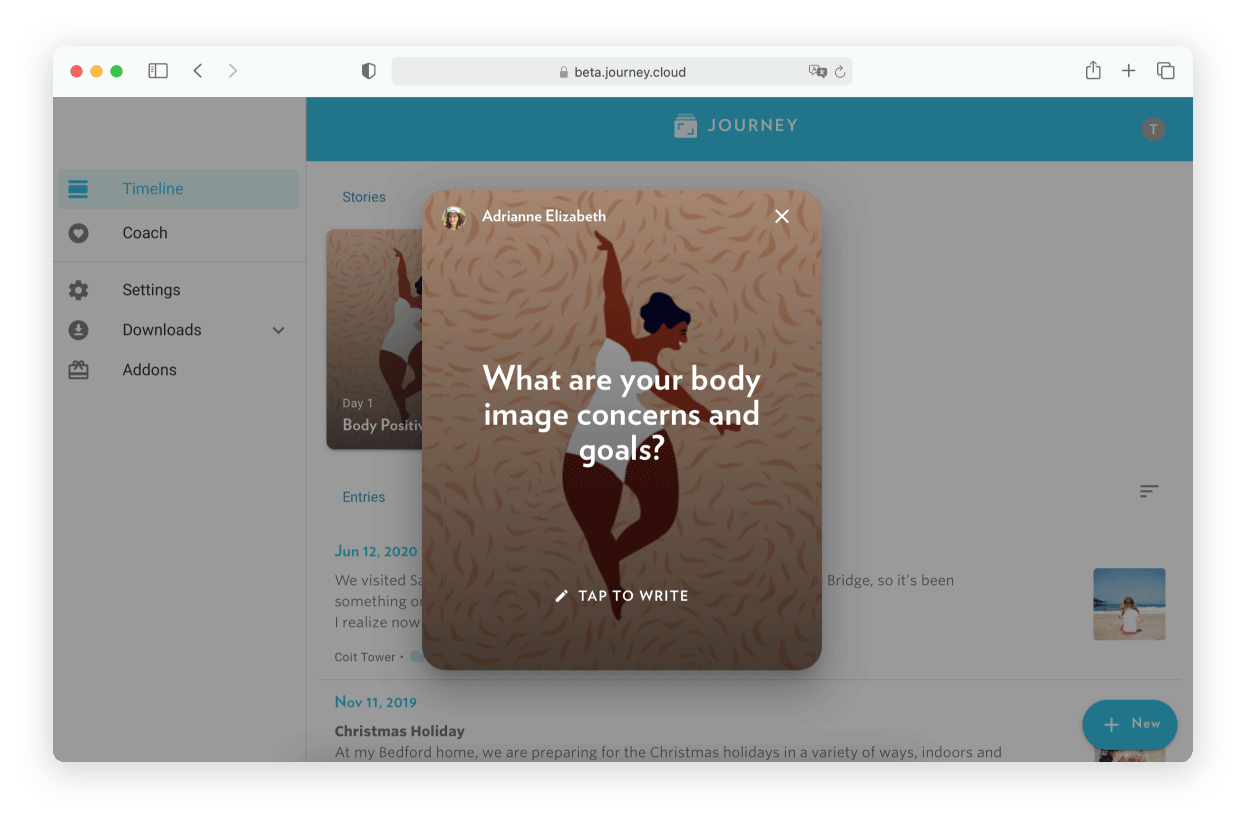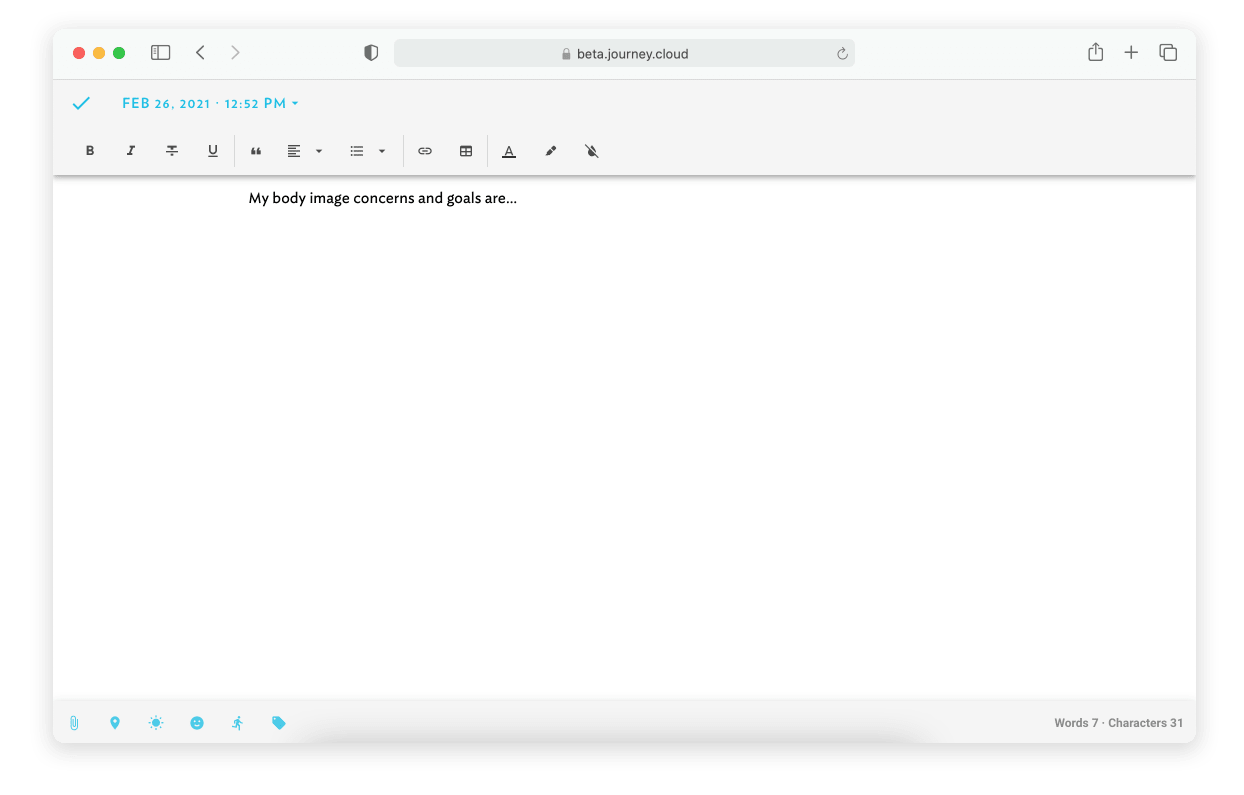 What to Look Forward to
This year, we aim to include more features such as enabling support for multiple journals, Calendar, Atlas and proprietary cloud syncing. Stay tuned for these features!
---
Thank you for loving and supporting Journey.