It's said that motherhood is the most difficult full-time job of all. Mothers have to change diapers, feed and keep a keen eye on their child at all times — all while juggling other responsibilities like housework, cooking meals and their own careers. And not to mention the brutal sleepless nights that come hand-in-hand with caring for an infant.
With all this work, it's no wonder that many mothers also suffer from mental and emotional fatigue alongside their physical exhaustion. That's why it's more important than ever for mothers to carve out time for self-care and "me time".
The importance of "Me Time"
It may seem counterproductive to rest and relax when there are just so many things to do. After all, every mother wants to put their best foot forward and take care of their child as best as they can. But that should never come at the expense of herself.
During any flight safety announcement, parents are always advised to put on their own oxygen masks before helping their child — and this applies to daily life as well! When you're exhausted and stressed, you may not be able to give your 100% to taking care of your child.
So, to give yourself a much-needed break from the hectic pace of motherhood, here are some ways you can enjoy "me time" as a mother!
5 Simple "Me Time" activities for mothers
1) Have outdoor family outings
After the past year in lockdown, you may be going a little stir-crazy. If the pandemic rules in your country allow it, consider going outside if only for a short while.
For mothers of young children may find it difficult to leave their child behind for some alone time outdoors. So, instead, why not make it a family outing? Ideally, try to have weekly walks or picnics in the park with the whole family. Basking in the sunlight can give you lift your spirits, and you can still spend quality-time with your child.
Of course, if that's simply too time-consuming, simply lounging on the balcony or going out on a grocery run can give you a quick mental reset as well.
2) Get some exercise (with your child!)
Healthy body, healthy mind! Exercise helps you stay fit and healthy, and it also releases endorphins that reduce stress. However, many mothers don't often have the time nor the energy to stay active.
Thanks to the Internet, you can now do home exercises instead! These exercises are readily available on video-hosting sites like Youtube, so you can stay active with just a simple click of a button. With home exercises, you can stay active while also keeping an eye on your child at home.
You may even want to consider involving your child in your exercise as well! There are many home exercises that you and your child can do together. This makes for some excellent parent-child bonding time as well.
Yoga, Pilates, dance… Pick an exercise that appeals to you and let it work its magic!
3) Pamper yourself once in a while
Mothers are often so busy taking care of their families that they have no time left for themselves. So, once in a while, why not take some time off to thoroughly spoil yourself? Let yourself decompress and book a spa or massage session every month or so.
Alternatively, you can also hold an at-home spa day or night just for yourself. Run yourself a warm, scented bath and relax with a sheet mask and a TV show. Giving yourself time to yourself is important
4) Read a book at night
Want a simple yet therapeutic activity? Try reading!
Reading is a great way to wind down for the night and also offers a variety of benefits for tired mothers. Forget about your worries and delve into a different world with fantasy books, or enrich yourself with self-improvement books. There's something for everyone.
And if reading isn't for you, don't give up just yet! Consider trying out audiobooks instead. With an audiobook, you can sit back and relax your eyes while still immersing yourself in the book, which makes it excellent for tired mothers.
5) Try an adult coloring book
Yet another simple and therapeutic activity, consider trying out an adult coloring book instead!
Adult coloring books often consist of intricate and beautiful patterns that are very satisfying to color in, and many report that the activity is mindlessly soothing. Plus, the act of coloring is nostalgic to many, and brings back good childhood memories. Try to do some coloring at night to wind down and collect your thoughts.
If you're a busy mother, why not make coloring an activity you and your child can do together? As your child colors in his own children's coloring book, you too can do the same in your adult coloring book. This way, you can spend time with your child, cultivate his creativity, and soothe yourself all at the same time!
6) Destress and record precious memories by journaling
Motherhood is an incredibly hectic and stressful experience, which makes it even more important that you declutter your thoughts via journaling! For example, writing down your worries and your stressors can bring you some form of stress relief. Just a few minutes every night can make a difference.
Children grow up so fast — blink, and you might miss it. Journaling is another way to record down important childhood milestones. Their first word, first step, first day at school… these are all precious moments that you can retain forever by journaling.
This is where a digital diary can come in handy! With a digital diary, you can simply whip out your phone or device to record down an important event no matter where you are; after all, you never know when your child calls you "Mama" for the first time.
Plus, digital diaries allow you to supplement your writing with pictures and videos to fully capture the moment. Journey, the #1 digital journal app, allows you to do just that and more, anytime and anywhere.
---
Reappreciating motherhood
As a mother, you now have a newfound appreciation for your own mother and her hardships. But it's never too late to send her your love and appreciation!
In fact, this Mother's Day is an excellent time to reappreciate her. With our Mother's Day coach program, receive journal prompts that will help you reflect on precious memories and moments with your mother. It's time to tell her how much you love her.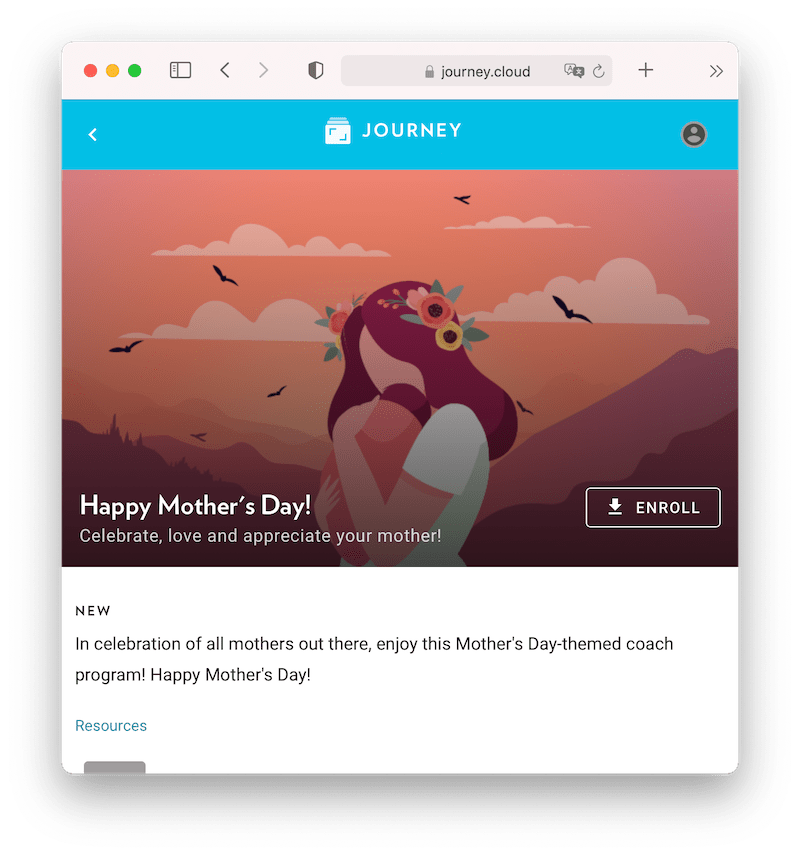 So to all our busy mothers, both new and seasoned, have a lovely Mother's Day!