December is just round the corner, which means that the time for festivities and celebrations is nearly upon us! Are you looking forward to a month of joyful Christmas tunes, festive lights and gatherings with your friends and family?
But with all that said, it can also be a stressful time for many. That is why we shouldn't forget about taking care of ourselves in the midst of things!
Aside from being a time to celebrate the festive season, it should also be a time for you to celebrate yourself! You've worked hard for the past 12 months; you deserve a break and some self-care.
To help you commit to giving yourself some much-needed self-care while also getting you into the festive mood, why not have fun and create a DIY self-care advent calendar tailored just to you?
What is a self-care advent calendar?
An advent calendar is a Christmas-themed special calendar that helps you countdown to Christmas. With every day that passes, you can open a "door" on each day on the calendar. Some calendars give a piece of chocolate, a toy or a gift for each "door" opened.
For a self-care advent calendar, you can plan a form of self-care to engage in for each day (e.g, taking a bubble bath, going for a spa day) or a daily positive reminder. This is entirely up to you and your preference!
And since advent calendars are a countdown to Christmas, it may be fun for you to think about making your self-care advent calendar Christmas or winter-themed.
Starting a self-care advent calendar will help put you in a more positive mood for the holidays, feel more appreciative for all the things that you have, and gives you the pampering that you need.
Creating your own self-care advent calendar
We hope that we've gotten you interested in trying out a self-care advent calendar this festive season!
But since self-care can be an incredibly personal journey, we recommend that you flex your creative muscles and try your hand at creating your own self-care advent calendar!
Here's how you can do just that.
1. Decide on your medium
To begin with, decide on whether you want to create a physical or a digital self-care advent calendar! Each have their own pros and cons, so it's entirely up to you to decide which gels with you better.
2. Decide on your content
As mentioned earlier, your advent calendar can either showcase a variety of self-care activities that you can do everyday, or a set of daily self-care reminders and prompts to read or write about.
For the latter, here are just some Christmas-themed example prompts and questions that you can use in your self-care advent calendar.
What is your gift-giving philosophy?
What defines the holidays for you?
What are your feelings about Christmas?
What is your favorite Christmas childhood memory?
What parts of Christmas do you celebrate everyday, even off-season?
If you could give one gift to the world, what would it be?
Write a goodbye letter to this year?
What are you thankful for this year?
That said, there's no need to restrict yourself to these 2 options. You can even create a self-care advent calendar that is a hybrid of these 2 options, or even come up with something completely unique!
3. How do you want your calendar to look?
Since you have full control of how your self-care advent calendar to look, you can truly let your creativity flow!
To truly emulate a traditional advent calendar, you can use a monthly calendar spread for December for your self-care advent calendar.
In each box of the calendar, you can simply write or type in your plans or prompts for each day, and it is up to you to decide how elaborate you want your calendar spread to look.
For those of us who prefer more minimalistic styles or may not have the time to design a full advent calendar, you may want to go for a checklist-style advent calendar instead.
While it may not look like a traditional advent calendar, it certainly gets the job done with little clutter as well as little fuss.
In Journey, you can simply create a checklist in a journal entry, and check off each day after completing it. It's quick, easy and simple.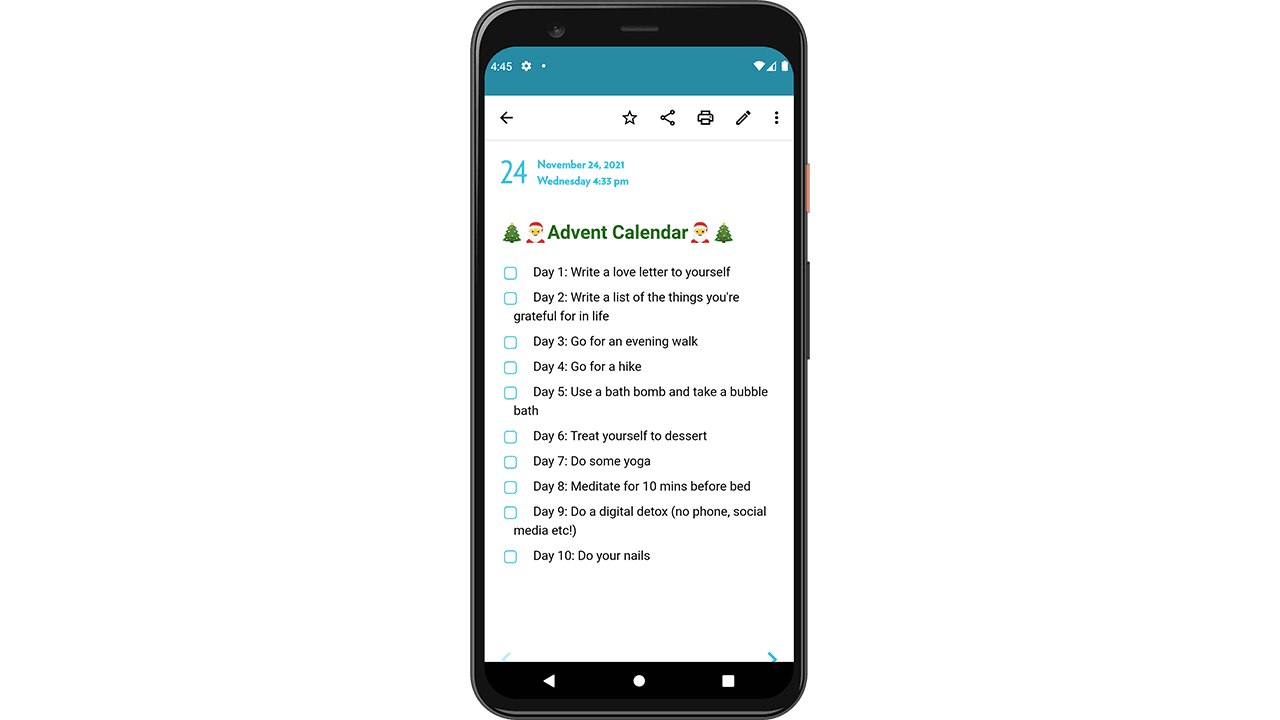 A daily self-care advent calendar program
Even though December is the time for festivities, it can also be the busiest time of the year. Rushing to finish work before the holidays, preparing for feasts and gatherings, buying presents... there's just so much to do during the holiday season!
So if you are already juggling several responsibilities, it may not be feasible for you to not only create your own self-care advent calendar, but to even engage in self-care activities every single day.
But we have an alternative for you — a self-care advent calendar prompt program on Journey Coach!
With our Advent Calendar Program, you will receive daily Christmas-themed prompts and questions to answer. They are fun, unique and quirky, so you can be sure to get into the Christmas spirit while also mixing in some prompts and questions for self-reflection.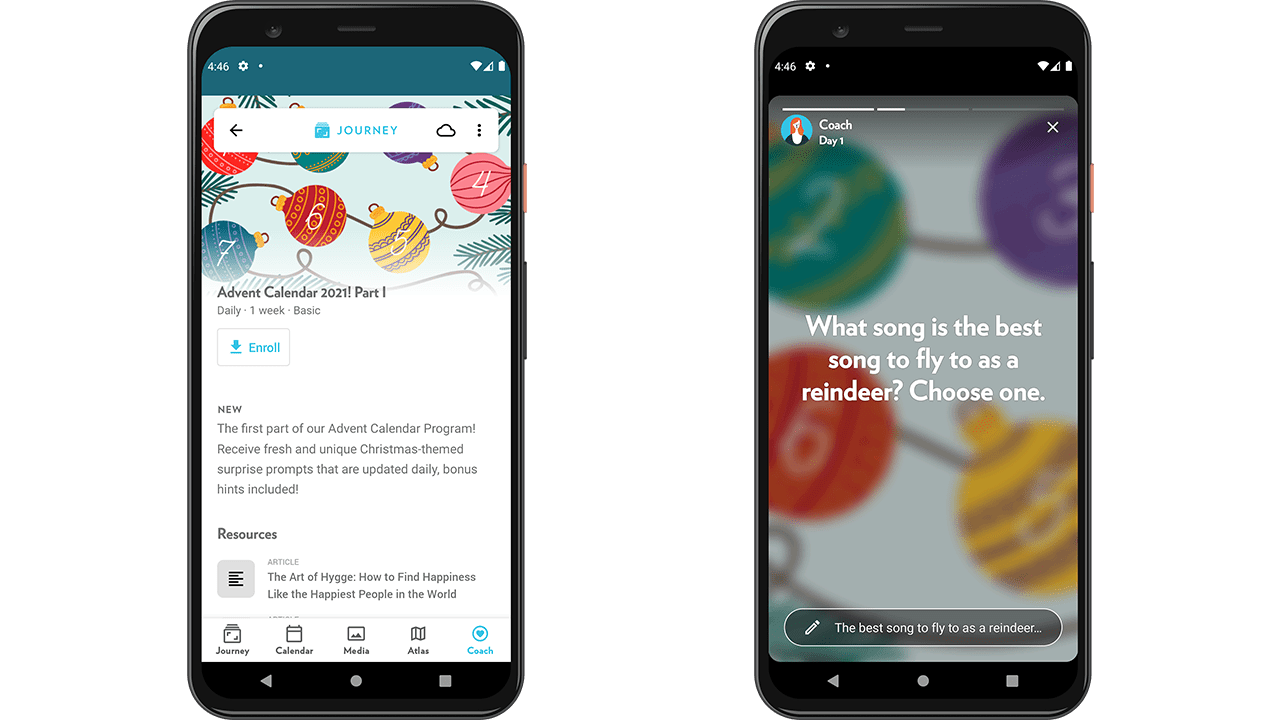 All you have to do is download the Advent Calendar Coach program, and we will even put out a new program every week, so keep an eye out!
---
We hope that this article has helped inspired you to make a self-care advent calendar of your own, or to give one a try!