There's truly no limits to what journals can be used for. We've looked at gratitude journals, reflective journals and even bible journals. Now, let's celebrate our artistic sides and take a look at what creative journals have to offer!
What is a creative journal?
Creative journals are essentially a place for you to store your creative ideas, practice your art and overall hone your skills. With it, you can keep your creative juices flowing and your motivation to create art going strong.
Anyone can start a creative journal! It doesn't matter whether you're pursuing art professionally, a hobby artist, or just someone who is interested in dabbling in art for the first time! It can even be a digital journal on your mobile devices if that's what you prefer.
The 4 benefits of starting a creative journal
1. Helps you get into the habit of creating
When it comes to making art, frequent practice is key. This applies to all kinds of art – writing, drawing, photography, filmmaking and so on. When you commit to starting and adding to your creative journal, you'll be getting in your daily or regular creative fix.
2. A place to brainstorm ideas
Running out of fresh ideas is a struggle that most creatives can relate to. We've all had those moments: sitting at your desk and staring blankly at an empty document or canvas. It can be horribly frustrating!
A creative journal can be an excellent place for you to messily brainstorm ideas if you wish. Scrawl out unfinished thoughts or scribbled doodles to your heart's content!
3. Helps you overcome perfectionism
Speaking of brainstorming messily, a creative journal will help you learn to embrace mess and imperfection. Often times creatives fall into the trap of always needing things to be perfect, and we get frustrated when our work doesn't turn out the way we want. But the truth is, art isn't perfect, and it certainly doesn't start off perfect!
With a creative journal, let yourself be messy! Eventually, you'll find that you'll slowly grow to embrace being messy and imperfection.
4. Capture ideas wherever and whenever
Have you ever had a spontaneous idea strike you out of nowhere, and you had no way to write it down for later? That's where a creative journal can come in handy! By keeping a creative journal on you wherever you go, you can always whip it out to jot down an amazing idea and look at it again later! You never know when a sudden stroke of genius can become your next hit piece.
The different types of creative journals
It's important to note that there are actually many different types of creative journals! Creativity knows no bounds, after all, so it makes sense that there would be no hard and fast rules on how a creative journal should look like.
To decide which type of creative journal you'd like to try, you first need to ask yourself: what do you want to get out of this journal? Are you looking for a place to dump ideas and brainstorm? Or are you looking for a place to hone and nurture your creativity? These questions will help guide you and shape your creative journaling journey!
1. Prompt journal
A prompt journal is a great way for artists to break free of an art block. When you have no fresh ideas, or just uninspired to create, following some prompts will force you to get those creative juices flowing again. This applies to all the different mediums of art – from creative writing to film writing and sketching or painting.
An entry for a prompt journal for a creative writer might look something like this: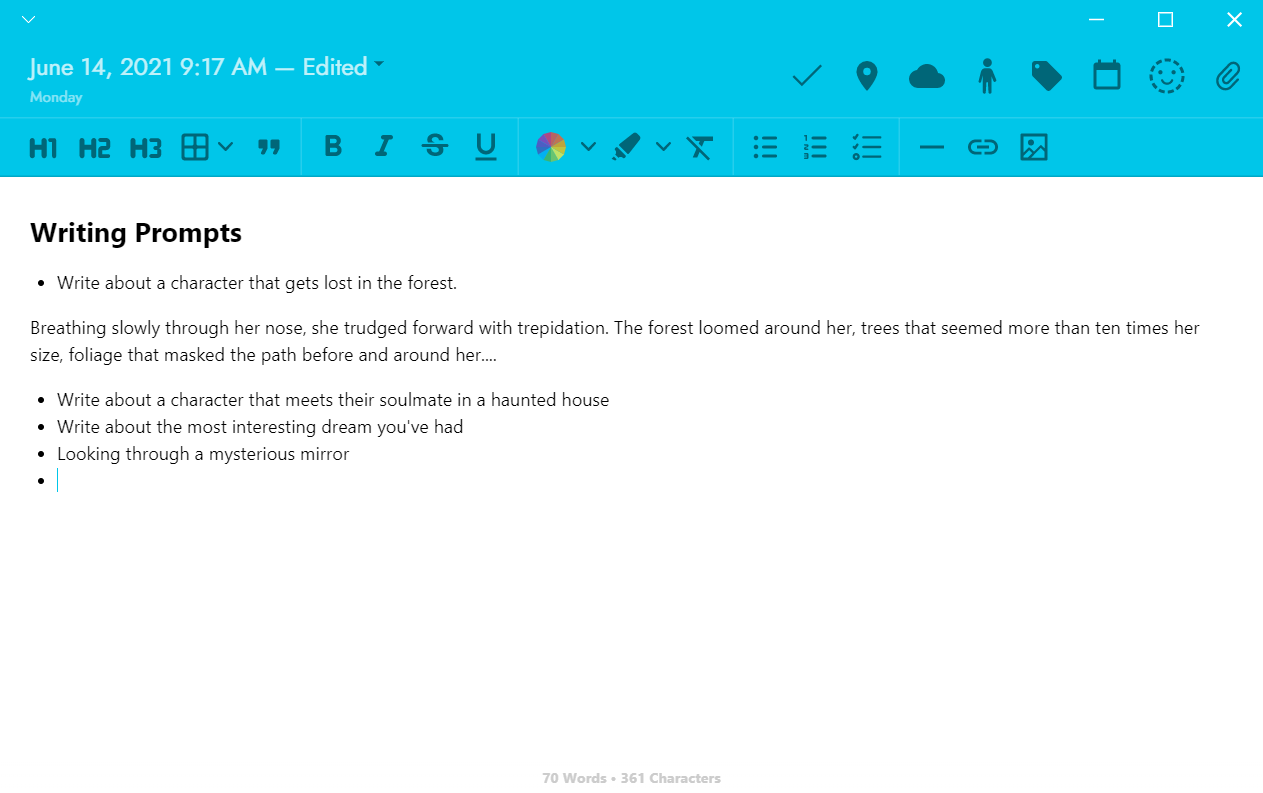 If you have no idea what prompts to add to your journal, the Internet has an almost endless amount for you to reference and save for a rainy day! You may also consider following online art challenges with daily prompts to your prompt journal.
2. Creative writing journal
Writers will likely benefit the most from a creative writing journal! This is where you can jot down any and all ideas that strike you, both complete and incomplete.
However, it may be quite a hassle to lug around a physical journal everywhere you go, just to catch a few wayward ideas. Instead, why not download a digital writing app like Journey onto your phone to use as your creative writing journal?
With Journey, you can write journal entries on your phone with just a tap of a button and keep everything organized with the calendar function! This way, you can create multiple entries across different days and still locate it easily.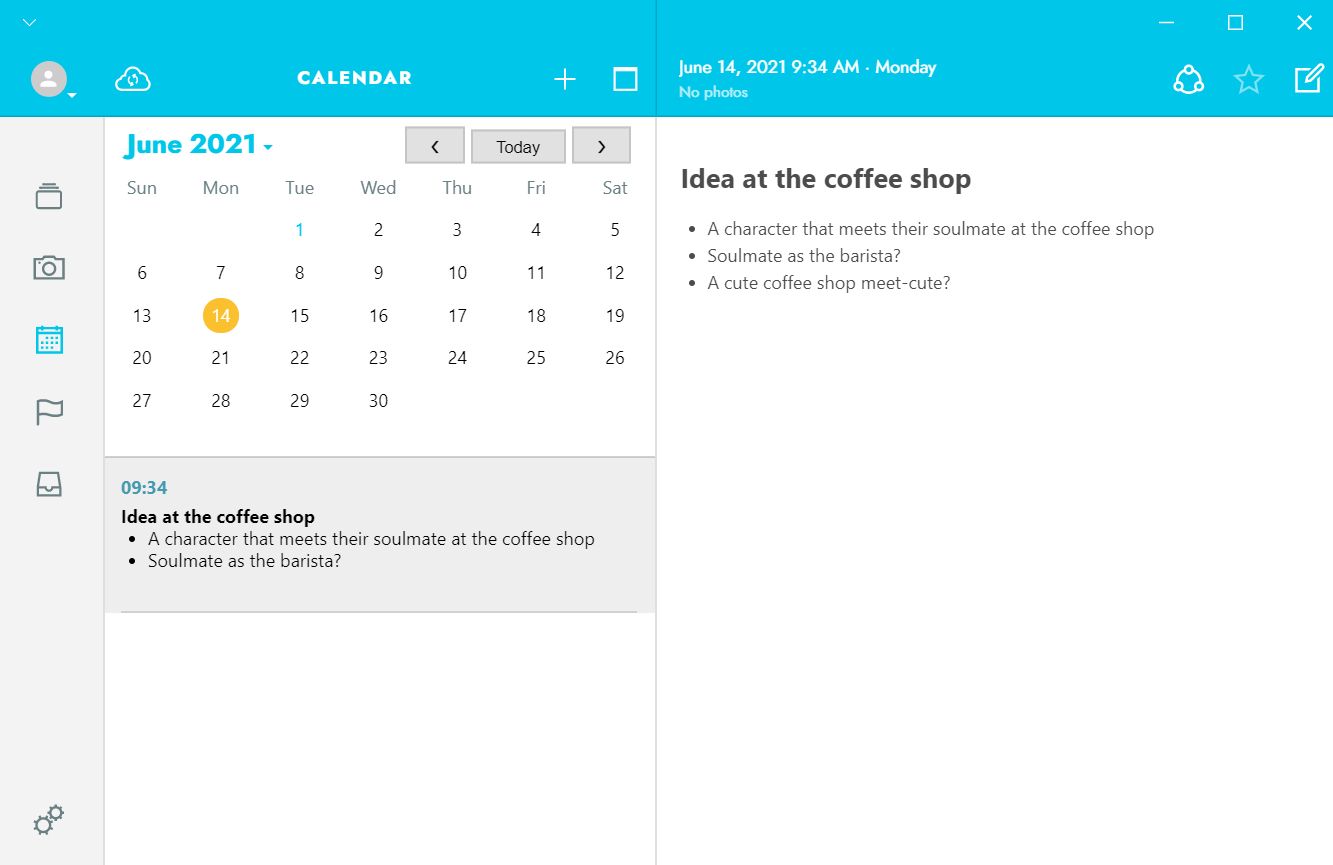 With the Atlas function, you can even add locations to your entries, so you can make a map of the places that have given you inspiration!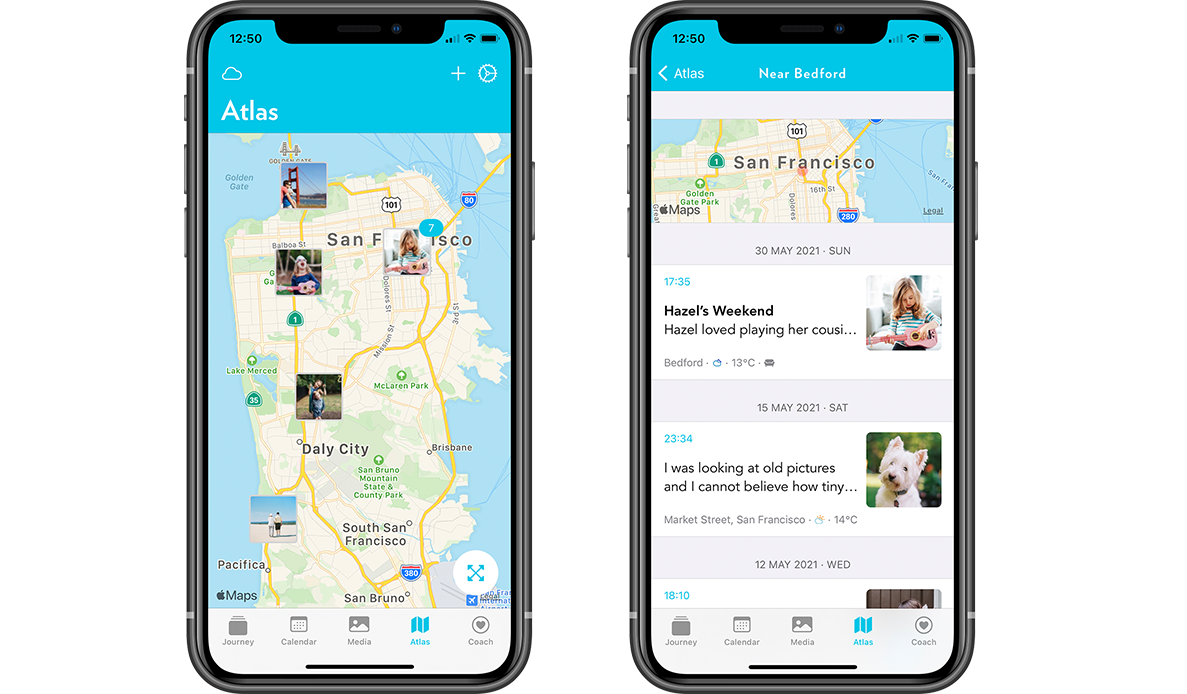 Furthermore, Journey's cloud sync feature allows you to easily access your entries on multiple devices, so your ideas can easily be transferred onto your workspace on Windows or Mac.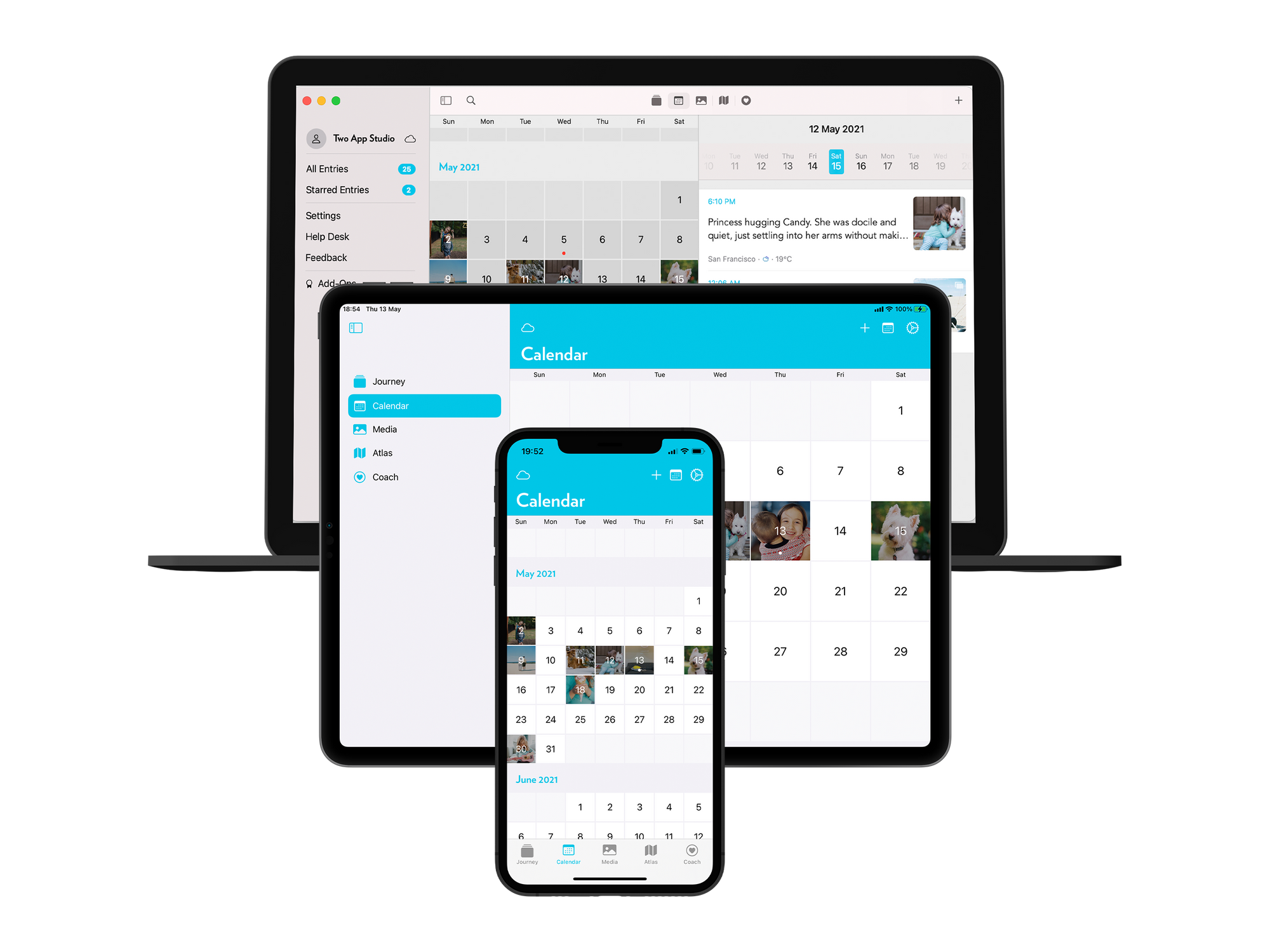 3. Art journal
Artists, too, need a place for them to scribble and draft out their pieces before putting their brushes to the canvas. For some artists, even their sketchbooks are saved for completed art pieces, so keeping an art journal is a place for your imagination to truly go wild. It will be a safe haven for all your work in progress and uncompleted pieces.
For artists, consider using Journey as a place to upload your sketches, both digital or traditional! Journey allows you to upload images to your journal entries, and can be previewed under the Media tab on your today page. So, whenever you've scribbled something on your phone, tablet or on a piece of paper, do save it and upload it to Journey!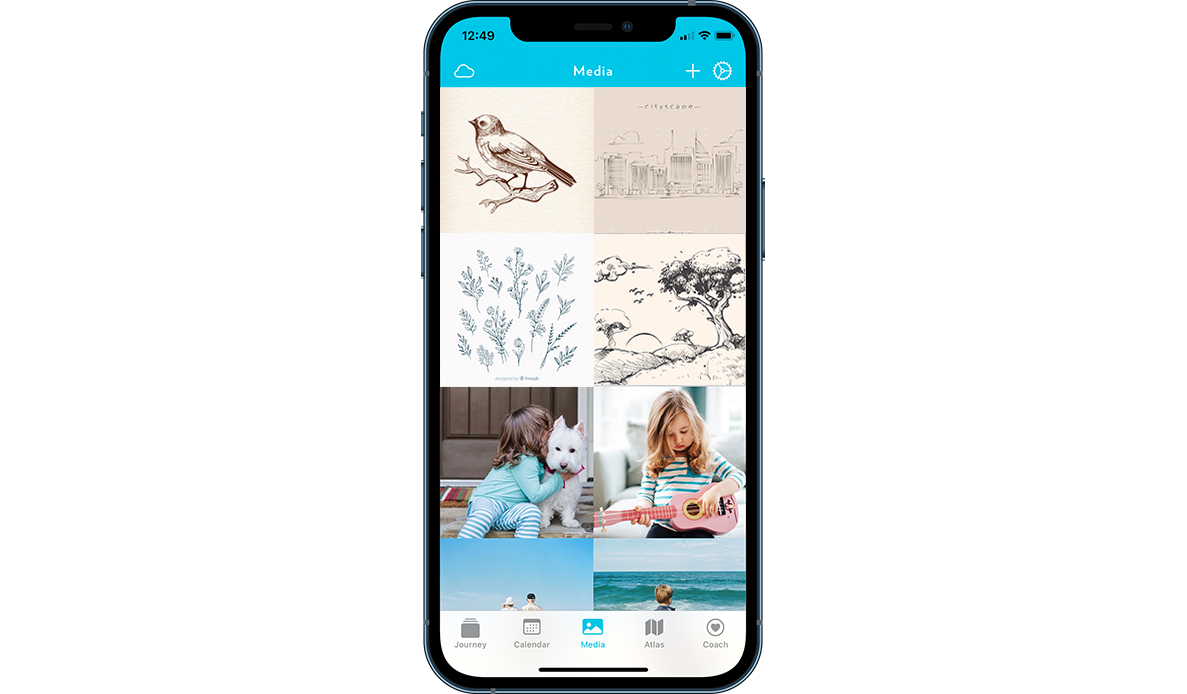 4. Scrapbook
Another way to get some artistic inspiration is by turning your creative journal into a scrapbook! This is where you can add everything and anything that inspires you – an art piece, a design from a magazine, a motivational quote – for days when inspiration and motivation runs dry.
You can even consider this a mini vision board! Take a look at how you can use Journey to create a digital vision board to motivate and inspire you.
5. A place for your thoughts and emotions
Some people also find comfort in being able to write down their hopes, fears and anxieties in relation to their artistic endeavors. Maybe you're feeling upset about how your screenplays have turned out these past few days, or you've been feeling anxious about a potential pitch. Let your creative journal be the outlet for these emotions.
---
Like we said earlier, there are no hard and fast rules as to what you can or cannot put into your creative journal. In fact, your creative journal can be a mix of all 4 options we've listed above and more! Simply let your creativity run wild and do what feels right for you.
Download Journey and start your creative journal today!