A pregnancy journey is an exciting and life-changing experience for any woman. If you're expecting a bundle of joy to come your way in due time, the next few months is undoubtedly going to be a period of many changes, as well as a time of anticipation for the arrival of your little one. During your nine months of pregnancy, you will experience a wide range of emotions, from joy and excitement to fear and anxiety. You will also through a variety of physical changes, from bouts of morning sickness to changes in your body.
What better way is there to keep track of this wonderful experience and life-changing time than to start your very own pregnancy journal? Read on to find out more about what a pregnancy journal is and more about the benefits of keeping one!
What Is A Pregnancy Journal?
A pregnancy journal is a diary that you keep during the course of your pregnancy to detail your experiences, emotions, milestones, and memories. From the excitement leading up to your first ultrasound to the nervousness you feel as you inch closer to your due date, it's a place for you to share everything you're feeling.

Photo by Aditya Romansa / Unsplash
A pregnancy journal will not only be a valuable keepsake for you and your family to look back on for years to come, but it will also be a healthy way for you to manage the wide range of emotions you may experience over the course of your pregnancy.
With your very own pregnancy journal, you have your own space to diarize your pregnancy week by week, from the first few weeks through to your baby's arrival. You would have a place to record all the details, big and small, about this journey of yours. It would be an opportunity to capture weekly growing bump photos and keep track of all the changes, challenges, emotions, thoughts and feelings that one experiences while pregnant.
You can keep just about everything about your special journey together in one place for your referral, document exciting milestone moments like your scans, keep important information for your doctor's appointments, and help you stay organized when you pack for things like your hospital bag or purchasing items for your nursery as you prepare for your new arrival.
Why Keeping A Pregnancy Journal Is Important
1. Help reduce stress and anxiety
Keeping a pregnancy journal can help to reduce stress and anxiety by providing an outlet for expressing feelings and emotions.
Moms-to-be, especially new mums, are often surprised by the range and intensity of emotions that they feel during their pregnancy journeys. Writing in a journal, a safe space, can give them a cathartic release when they are dealing with more difficult emotions such as sadness, anger, and anxiety. Journaling can be a helpful habit to cultivate to manage anxiety during pregnancy, or postpartum feelings of distress.
2. Track your progress and baby's progress consistently
During your pregnancy, you and your baby are changing every day. Better understand the weeks, months and trimesters of your pregnancy with Journey's Weekly Pregnancy Diary. Record new developments and milestones like your belly measurement, weight, changing emotions, and your cravings and aversions to keep track of the changes you're experiencing every week. Record each stage of your pregnancy and create a keepsake that you'll treasure forever.

Photo by charlesdeluvio / Unsplash
3. Provide a sense of control and empowerment
During a time of uncertainty, and when days and months start to blur together during pregnancy, journaling can help preserve how you felt during certain moments in time, and help you Looking back at journal entries can provide perspective and insights as your life changes over time.
4. Strengthen your bond with your spouse
To be able to write down all the memories in a safe place like your own pregnancy journal is not only for pregnancy tracking, but it is a also a great way to remember the special memories you and your spouse share like finding out, finding out what your cravings were, experiencing and rejoicing the first kicks, picking names together, and feeling your baby grow.
What You Can Record In A Pregnancy Journal?
1. Ultrasound appointment notes, pictures, and other medical records

Photo by Jonathan Sanchez / Unsplash
Take note of all the important information and details you need to present your doctor or OBGYN during your appointments. By recording all the important information in one place, such as your medical history, your family's health and genetic history, details about your last menstrual cycle, details from each ultrasound exam, and so on, you have access to all the information you and your doctor need for each hospital visit. You will never find yourself scrambling to collate your documents before and after visits.
2. Notes about your thoughts and feelings throughout your pregnancy
During pregnancy, you may experience dramatic mood swings. You may become more sensitive and possibly more nervous than usual. It's quite common to experience some fear when you become pregnant. Write about the feelings you're having, including your fears, hopes, and dreams for your child. A pregnancy is a really big identity shift, so it's good to slow down and really focus on self-care and reflection.
3. A record of your physical changes, such as weight gain, cravings, and mood swings
Use your journal to record your body's changes. It is understood that a woman's body goes through some major changes during pregnancy. But each body and pregnancy are still unique. You might enjoy some of these changes, or you might be concerned about others. Write multiple entries over time so you can reflect on them after your pregnancy is over.

Photo by 🇸🇮 Janko Ferlič / Unsplash
During your pregnancy, you and your baby are changing every day. You and your baby are hitting different milestones each week, and these should be celebrated.
4. Photos of your baby bump
Pictures speak a thousand words, and including many pictures in a pregnancy journal is a great way to capture special moments. You can take selfies as time goes along, or you can have someone take pictures of you and your loved ones, or your growing baby bump!
Include ultrasound pictures, pictures of places you have visited while pregnant, photographs of the development of your baby bump each week, and even pictures of your baby shower after having one.
If you're looking for a place to start your own pregnancy journal, look no further as Journey can provide the space and safety for you to collate important and meaningful photos during this time in your life. As an all-in-one pregnancy planner and pregnancy tracker, you have the space and tools to document your pregnancy in real time using any preferred device with Journey, and even spruce them by uploading videos, pictures, and voice notes.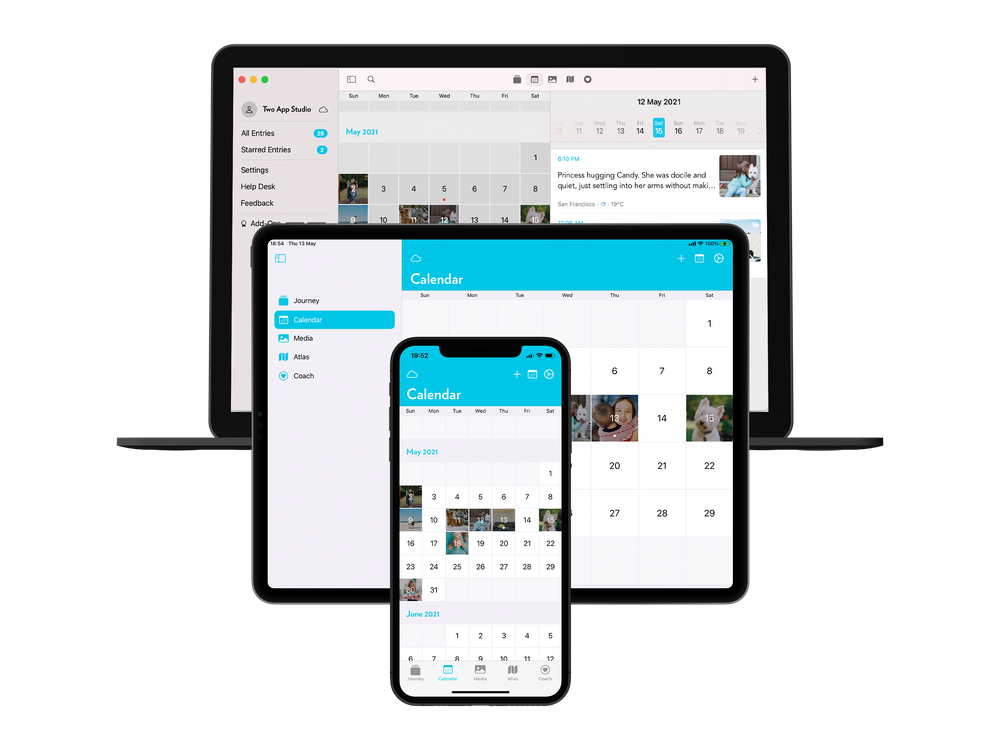 Using a digital diary like Journey has other added advantages as well. You may want to digitally share this special time in your life with loved ones who aren't nearby. With a digital journal, you could also explore the option of looking to connect with women who are having the same experiences as you!
5. Your Birth Plan
A birth plan is an organized way to plan to keep you and your doctor on the same page during labour so as to ensure fulfilling outcomes. Delivery is a very unique experience for each expectant mother, and what each mother wants her experience to materialize like is dependent on what she wants and is comfortable with. After researching on the delivery methods available, you can pick from the options and write them down.
With your choices and comfort as priority, outline what you would like to happen during labor and delivery by planning it out.
6. Your Nursery Plan

Photo by charlesdeluvio / Unsplash
A nursery is a separate room in the house that is specially meant for a baby. It is a place that you can fill with decor of your choice and nursery furniture to make your child feel safe, secure, and comfortable. For some people, creating a nursery is an important milestone and bonding activity that they take on with their spouses or family when they find out that they would be expecting a new bundle of joy in their lives.
7. Shared reflections with your loved ones
Your partner, family, and friends can also join in and add to your journal to provide their unique thoughts, feelings, and experiences. Let them leave messages or write letters for the baby. Put them in a special envelope and paste them in the journal, or if keeping an online journal, let them create their own posts in a shared page or section. This way, you can lean on the people you love for support throughout this journey as well.
8. Baby Shower ideas
A baby shower is a time to celebrate the birth of a new baby and 'shower' the mum to be and family with love and good wishes. Baby showers are also a perfect time to catch with your family and friends, and introduce the latest addition to your family to the important people in your life. With Journey's Baby Shower template, you can record details and keep photos of your baby shower to look back on with happiness in the future.
Plan things like the date, location, themes, and decor at your baby shower. Together with that, reflect on the kind of gifts that you would think would be helpful and make a wish list to share with your family and friends, and record special moments that happened during the baby shower in your journal as well.
Pregnancy Journal Ideas
Pregnancy Journey Templates
It is of no doubt that you will have your hands full taking care of your health during your pregnancy, and with the newborn once it arrives. It can be tough to keep up with habits like journaling during times like this. But there are tools available to make this more convenient and efficient for you.

Photo by pure julia / Unsplash
One such tool is journaling templates. Here are some journaling templates you could explore to reflect during this journey:
Record your baby statistics like weight, length, sex, heart rate, measurements and other important information to monitor your baby's health with your doctor. Take note of other key information such as the time of your appointment and your doctor's details for reference as well.
2. Weekly Pregnancy Diary Template
Record new developments and milestones like your belly measurement, weight, changing emotions, and your cravings and aversions to keep track of the changes you're experiencing every week. Record each stage of your pregnancy and create a keepsake that you'll treasure forever.
Before your due-date, take down key information like the contact details of the hospital you would be at, your doctor's contact details, and who would like to accompany you. In the template, plan for your birth type, the pain relief you would want to receive, and check-off a list of items you would want to carry with you as well. With a plan in place and your doctors and family at your side, you can look forward to a safe and comfortable delivery.
Brainstorm about the design style you would like, the colors you would like in the room, and make a checklist of the furniture you want to get. Reflect on what you're looking forward to in the process of building this space for your little one, and embark on the process of creating a welcoming space.
Write the date, location, themes, and decor at your baby shower by filling in the details in the template. Together with that, reflect on the kind of gifts that you have received, and record special moments during the baby shower.
Pregnancy Journal Prompts
If you're feeling a little lost about what to write about in your pregnancy journal for the day, here are some journaling prompts to help you get started with your entries:
My goal for today is …
I will not fault myself for...
What are 3 values my spouse and I want to inculcate in our child?
What is my happiest pregnancy memory and why?
What excites me the most about becoming a new mother/mother?
What advice do I have for other parents?
What am I ready to say goodbye to before becoming a parent?
What's a fond family memory I want to share with my child?
What's a childhood memory that brings me comfort?
What are three life lessons I want to share with my child?
What has surprised me most about being a new parent and why?
What are three things I need to stay mentally well as a parent?
What's my favorite lullaby and why?
---
A new baby is such an exciting time for everyone. Pregnancy is a different journey for every expectant or new mother. The experience is so personal and the 9 months can feel like such a long time but before you know it, your bundle of joy has arrived.
Pregnancy is a unique and wonderful journey that deserves to be documented. This journal is one that not only you will cherish forever, but you will be able to look back to remind yourself of how strong you have been!
Happy Journaling!