Traveling is an enriching experience that allows us to explore new cultures, meet new people, and create lifelong memories. While we may capture moments through photographs, it's equally important to document our travel experiences in a way that will enable us to relive them in the future. One fantastic way to do this is by creating your own travel diary online. In this blog post, I'll discuss the significance of travel diaries and how using Journey, a popular online travel journaling app, can help you create a unique and personalized travel diary.
Why Keep a Travel Diary?
A travel diary serves as a personal chronicle of your adventures, capturing not only the places you visit but also the emotions, experiences, and lessons learned along the way. Whether you are an avid traveler or embarking on a once-in-a-lifetime trip, a travel diary serves as a treasure trove of emotions, observations, and reflections. Here are a few reasons why keeping a travel diary is beneficial:
1. Memory Preservation
Memories can fade over time, but a traveler's diary preserves the details, allowing you to relive those special moments and emotions years later. It becomes a cherished keepsake that transports you back to the sights, sounds, and experiences of your travels.

Photo by Ian Schneider / Unsplash
2. Self-Reflection and Personal Growth
Documenting your travel experiences in a diary encourages self-reflection. It allows you to process your thoughts and emotions, reflect on cultural differences and similarities, and gain a deeper understanding of yourself and the world around you. It acts as a tool for personal growth and self-discovery.

Photo by Savvas Kalimeris / Unsplash
3. Capturing the Small Details
While photographs capture the visual aspects of your travels, a traveler's diary allows you to capture the small yet significant details. From the taste of a delicious local dish to a meaningful conversation with a stranger, these details add depth and richness to your storytelling.
4. Sharing and Connecting
A travel diary is not only for personal reflection but can also be shared with loved ones, friends, and even fellow travelers. It allows you to share your experiences, recommendations, and insights, creating connections and inspiring others to embark on their own travel adventures.
Creating Your Online Travel Diary
With the advancement of technology, keeping an online travel diary has become an increasingly popular and efficient way to document travel experiences. Online journaling platforms provide an easy and accessible way to share your adventures with friends, family, and even a wider audience. Creating an online travel diary allows you to incorporate multimedia elements such as photos, videos, and interactive maps, enhancing the storytelling aspect of your journey. Here's how you can get started:
1. Choose an Online Journaling Platform
There are several online journaling platforms available, and you should select one that suits your needs. One popular choice is Journey, an intuitive app that offers a range of features specifically designed for creating travel diaries.
2. Select a Theme or Template
Many online journaling platforms provide themes and templates specifically tailored for travel diaries. These themes can add aesthetic appeal to your diary and make it visually appealing. Choose one that resonates with your style and enhances your storytelling.
3. Incorporate Multimedia Elements
Online travel diaries allow you to go beyond text and include multimedia elements like photos, videos, and even audio recordings. Adding these visual and auditory elements not only enhances your storytelling but also allows you to capture the essence of your experiences.

Photo by Clarisse Meyer / Unsplash
4. Organize and Categorize
Use tags, categories, or folders within your online diary to organize your entries by location, date, or themes. This makes it easier to navigate through your diary and find specific entries or memories.
5. Share and Engage
Online travel diaries give you the option to share your entries with a select group of people or even publish them publicly. Sharing your travel diary with others allows you to connect, inspire, and engage with fellow travelers, and it can also provide a platform for tips, recommendations, and advice.

Photo by Priscilla Du Preez 🇨🇦 / Unsplash
Using Journey to Create Your Travel Diary
Journey is a versatile and user-friendly online journaling app that can be perfectly tailored to suit your travel diary needs. Here are some features that make Journey an excellent choice for creating your own travel diary:
1. Multimedia Integration
Journey allows you to effortlessly add photos, videos, and even audio recordings to your entries. This means you can visually capture the breathtaking landscapes, delicious meals, and memorable moments during your travels. You can also include audio recordings of ambient sounds, interviews with locals, or personal reflections to enhance your diary entries.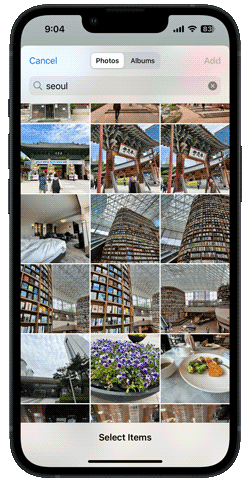 2. Geo-tagging & Mapping
One of the remarkable features of Journey is its ability to automatically detect your location and incorporate geotags into your entries. This functionality allows you to effortlessly keep track of the places you visit during your travels. By adding geotags to your entries, you can easily organize your diary by location and create a visual map of your travel route.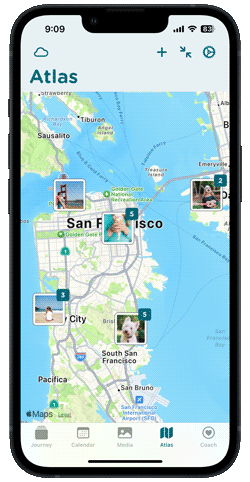 Not only does this make it easier for you to recall specific moments and places from your journey, but it also adds a new level of depth and context to your travel diary. With just a few clicks, you can instantly view all the entries associated with a particular location, immersing yourself in the memories and experiences of that specific place.
3. Multiple Devices & Syncing
Whether you prefer to write on your smartphone, tablet, or computer, Journey provides seamless synchronization across multiple devices. So, you can start writing on your phone and continue on your laptop without missing a beat.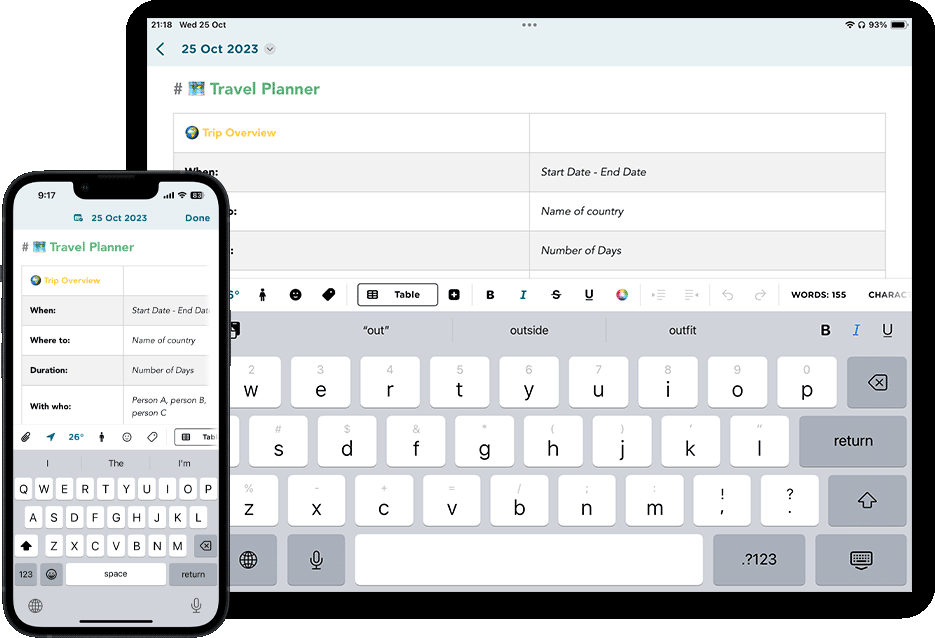 4. Privacy & Security
In the digital age, privacy is a growing concern for many individuals. Thankfully, the advancements in technology also include measures to protect our personal information. Journey recognizes the value of privacy and offers various privacy settings to ensure that you have control over who can access your diary. This means that you can choose to keep your entries private and only for your eyes, or share them selectively with close friends and family. If you are comfortable with it, you can even publish your entries publicly to inspire and connect with a wider audience.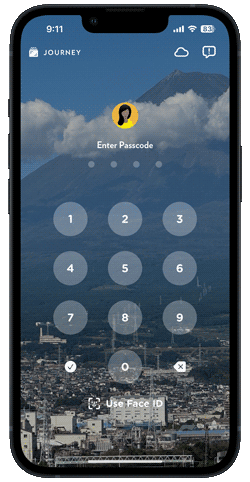 One aspect that further enhances the privacy and security of your online travel diary is the implementation of end-to-end encryption. This means that your data is encrypted on your device and can only be decrypted by the intended recipient, making it virtually impossible for anyone else to access your diary without your consent. With Journey's commitment to privacy and secure encryption, you can share your travel experiences confidently, knowing that your personal information is protected.
By offering these privacy settings and implementing end-to-end encryption, Journey empowers users to fully embrace the benefits of an online travel diary while maintaining control over their personal data. Whether you choose to keep your entries private or share them with a select few or the world, you can rest assured that your privacy is respected and your content remains secure.
5. Journaling Prompts & Templates
Journey understands that sometimes finding the words to express your travel experiences can be a challenge. To support you in capturing the essence of your journey, Journey provides a collection of travel journal prompts and templates. These prompts are thoughtfully designed to inspire reflection and offer guidance on what to write about.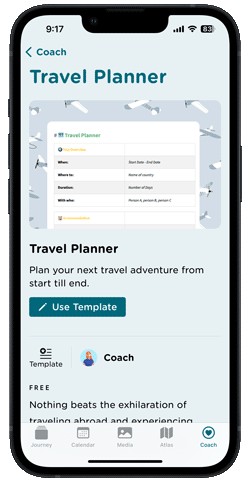 Additionally, Journey offers pre-designed templates specifically tailored for travel diaries. These templates provide a structure and format for your entries, making it easier for you to organize your thoughts and create visually appealing pages. From simple layouts to more elaborate designs, these templates allow you to customize your travel diary to reflect your unique style and preferences.
---
Creating your own travel diary online is an excellent way to document your adventures and create a lasting memory of your travels. Journey's user-friendly interface, multimedia integration, privacy options, and sync features make it an ideal platform for crafting your travel diary. So, whether you're a seasoned traveler or embarking on your first journey, start your online travel diary with Journey and enjoy the process of reliving your adventures for years to come.