Thanksgiving isn't typically thought of as a time for gift-giving. But that makes it even more of a special time to surprise your friends and family with a thoughtful gift.
Thanksgiving gifts are almost certain to let the people in your life know just how much they mean to you this holiday season. Thanksgiving is the perfect time to let your friends, family, and everyone else in your life know just how much you appreciate them. Add a sweet card penned with a heartfelt Thanksgiving greeting—or perhaps one of these thankful quotes—to really seal the deal on these thoughtful gifts.
After all, "thanks" is very much in the name!
Photo by Element5 Digital on Unsplash
Thoughtful, non-material gifts won't be thrown into a heap of holiday clutter, or go in the dreaded re-gifting pile. Yikes! More significantly, they'll create memories for family and friends to cherish and look back on. In a season that's all about love and giving thanks, thinking beyond material gifts can make your gifting go the extra mile and feel all the more special.
Read on to find a non-material present that would not burn a hole in your pocket and still perfectly reflects what the holiday spirit is really about!
What is Thanksgiving about?
Thanksgiving is a popular American holiday that is celebrated annually. It falls on the fourth Thursday every November, and makes up an important part of the country's culture.
It marks the start of the holiday season, which also includes Christmas and New Year.
Originally the celebration of the harvest festival, Thanksgiving has developed to be a day when people dedicate time to give thanks for perceived blessings. People all over the world spend the day with their family or a group of friends and give thanks for the things they feel fortunate to have in their lives. Celebrations also largely center around eating a large, hearty meal, which almost always includes turkey.
Photo by Pro Church Media on Unsplash
5 Non-Material Thanksgiving Gift Ideas For Your Loved Ones
1. Book them a class
Be it a fun dance class, an arts and crafts class, horseback riding, sports, or carpentry, purchase a class for a loved one or friend to help them enhance their skills doing something they love or want to learn.
Instead of gifting your loved ones with a physical or material gift, considering gifting them with an opportunity to embark on learning a skill that they've been interested in, or the experience of a class. Memories and experiences are priceless, and can be carried with them forever.
You could even consider going for the class together to spend some quality time together.
2. A photo album of shared memories
Photo albums help us both reminisce and to celebrate. Whether blank for them to get started on on their own, or already filled with photos, or even gifting them with a small disposable camera, a photo album helps create the story of one's life. Whether someone uses it to tell the story of a single event or the events of their life, this can become a treasured item for years to come.
From choosing the photos and designing the layout to use in creating a photo album for someone, up till the point that you share the album with the intended person, albums can bring so much joy. A keepsake photo album or empty scrapbook makes a beautiful Thanksgiving gift for your loved ones.
Photo by Fernando Lavin on Unsplash
What expresses how much your relationship means better than a book of shared memories, or the materials to start making one?
3. Arts and Crafts supplies
Gift your loved one with arts and crafts supplies as a fun and thoughtful idea for them to draw, paint, mould, or sketch. Fill a basket with supplies you know your family or friend might be keen to use!
If you're aware that they have explored their creative side and wish to still hone their craft, you can buy them fresh art supplies like watercolor paper, paint brush cleaner or a stylus pen as a sign of encouragement. On the other hand, more experienced artist friends and family may prefer to receive something to keep all of their supplies organized.
Even as adults, looking through blank journals and fresh pads of paper just feels inviting – like there's something that is just waiting to be created – so this gift is appropriate for anyone!
4. Homemade coupon books
What a delight it would be if your mom or dad could redeem a household chore coupon from you so that they would not have to do it? You carry out the chore for her, no questions asked!
More than grandeur gestures or expensive gifts, smallest things take up the most room in someone's heart. Put together a handmade coupon book for your parents that allows them to redeem errands and tasks on their to-do lists; from picking up laundry, making breakfast for the family, vacuuming the living room, or getting groceries. If they redeem a coupon with a chore or task that they would have had to complete, you or someone else in the family would have to carry it out instead.
Your parents would have probably not vocalized feeling tired or not having time on their hands to manage the responsibilities. But running errands for them or whatever you put in your coupon book gifts them with a little bit of breathing space and downtime.
5. Write a heartfelt gratitude list
Handwritten notes and letters would undoubtedly hold a special place in anyone's heart.
Make a gratitude list for your loved one by writing down a list of 10 things you appreciate and love about them as a gift this Thanksgiving. Take some time to think about the times they pulled you through adversities or tough times, and make your well-being a priority, and all the little and big things they do as a companion or family.
Photo by Kelly Sikkema on Unsplash
If you're constantly on the move, or have the tendency to misplace things, having a digital, mobile, or portable space to make gratitude lists will make making a gratitude list so much more convenient. Consider using Journey, a digital diary app that is equipped with multiple kinds of writing tools, to make a gratitude list whenever you want and wherever you want.
With Journey, you can write and read your gratitude lists across multiple platforms, including desktop, iOS, and Android.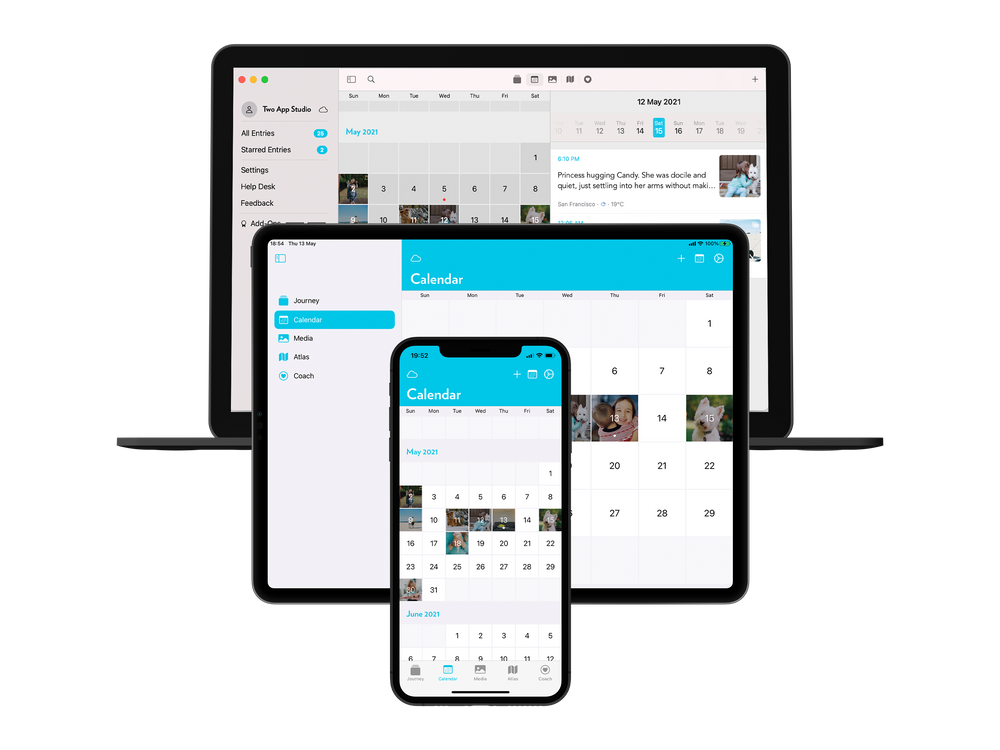 Journey also allows you to customize and personalize your writing in whatever way you, or your loved ones might fancy. In the "Notes" section of the planner, you can choose from 4 different types of layouts and start writing your gratitude list with your tablet pen.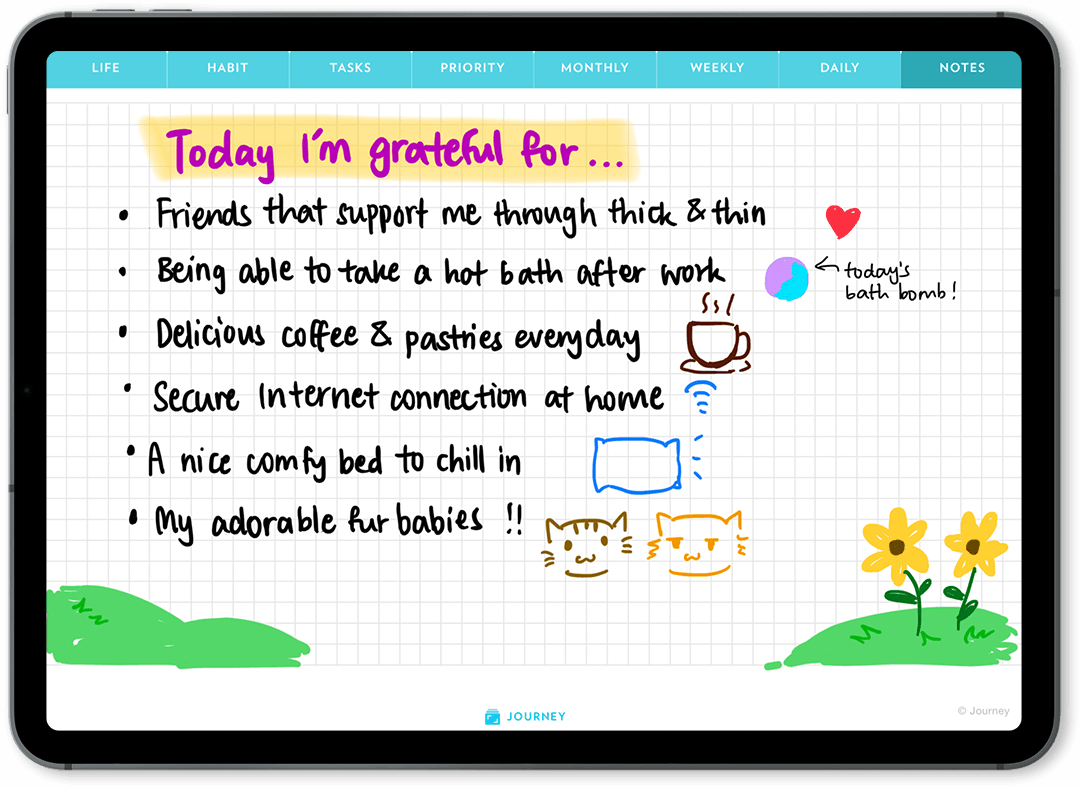 Putting together a collection of things that you are grateful for about them would not only remind them that they are valued, appreciated and loved, but also benefits you as it would help in your reflection on the positive things and relationships in your life that you can be thankful for.
---
This Thanksgiving, enjoy your hearty dinners and gatherings, but also spend some time to express gratitude for all the wonderful things around you in life.
In the midst of all the festivities and cheer, do also find some quiet time for yourself to reflect on the past year, or the little things you can be grateful for in your life thus far. There are multiple Thanksgiving Coach program on Journey Coach that offer step-by-step journaling guides to journaling. You can continue, or kick start a journaling habit especially with daily/weekly journaling prompts that can guide your reflection.
When it comes to your loved ones, you do not have to make grand gestures or move mountains to show them that you are grateful for them this Thanksgiving as well. Celebrating and appreciating them can come from the simplest of gestures. The options for a thoughtful Thanksgiving gift for your family and friends are truly endless, and these will definitely spread holiday cheer to your loved ones and beyond!
Happy Thanksgiving!