Have you ever kept a secret diary in your younger days? One in which you would pen all of your personal struggles and fears without the fear of judgment?
For most of us, having a secret dairy would have felt good and provided a sense of security. It was a safe place to be able to vent all of our thoughts and complicated feelings, and be able to empty our head and heart onto paper. You may have highly likely stopped using such a diary once you neared adulthood. But the concept and the benefits of penning your feelings still hold true.
Self-wellness and mental health tools are within reach for all of us. And one such tool is a journal. Writing for a few minutes a day may help you reduce stress, improve your overall well-being, and help you better understand your needs.
If you have yet to do so, put mindfulness in motion by journaling in 2023!
Definition Of Journaling

Photo by Content Pixie / Unsplash
Similar to the concept of keeping a dairy, journaling is the act of writing down your thoughts and feelings in order to understand them more clearly.
Keeping a journal allows you to keep a written record of our thoughts & feelings. It is a way to keep track of your everyday thoughts, emotions, and life, and gain emotional and mental clarity.
Journaling offers a wide array of benefits; from easing stress, figuring out what makes us tick and happy or upset, to sparking self-discovery. If you struggle with stress or anxiety, keeping a journal can be a great idea. It can help you gain a little more control of your emotions and improve your over well-being and mental health.
Benefits Of Journaling
One way that you could manage overwhelming emotion is by finding a productive and healthy way to express yourself. This makes journaling a helpful tool in managing your mental health.
Some of benefits of journaling include:
1. Managing your anxiety

Photo by Cosiela Borta / Unsplash
You can reduce symptoms of anxiety and depression with journaling. The act of writing down thoughts and feelings helps people understand themselves more and recognize what they need to improve. If you're apprehensive about talking to someone about your inner-most feelings, writing them out could be the first step forward instead.
2. Helping you prioritize problems, fears, and concerns
Journaling helps us prioritize, clarifies thinking, and accomplish our most important tasks with good time management. Putting our thoughts on paper enables the brain to organize our ideas and helps create a plan of action for our day. It helps us be more aware and intentional with how we decide to spend our time and energy.
3. Identifying and tracking any symptoms day-to-day to  recognize triggers and learn ways to better control them
When you have a problem and you're stressed, keeping a journal can help you identify what's causing that stress or anxiety. Once you've identified your stressors, you can work on a plan to resolve the problems and reduce your stress. If certain people, things, or situations trigger your anxiety, you can learn to spot them early and avoid them as much as possible. If the stressors are unavoidable, you can incorporate exercises like breathing or personal mantras to manage your reactions.
4. Identifying negative thoughts and behaviors
Negative self-talk and intrusive thoughts can be challenges in stress management. Journaling teaches you to recognize and organize your thoughts and shift from a negative to a more positive and forward-looking perspective.
5. Helping you re-discover yourself

Photo by Laurenz Kleinheider / Unsplash
Self-awareness is an invaluable gift. Knowing who you really are means that very little can upset your balance. You will know what you truly care about and what you should and can afford to of, which is a great stress management skill.
6. Providing an opportunity for positive self-talk
Using your journal for positive thinking exercises can help you shift your mindset, and overcome negative thoughts and emotions. You get a space to share positive thoughts and get in the habit of positive thinking in your journal.
Overview Of The Best Journaling App In 2023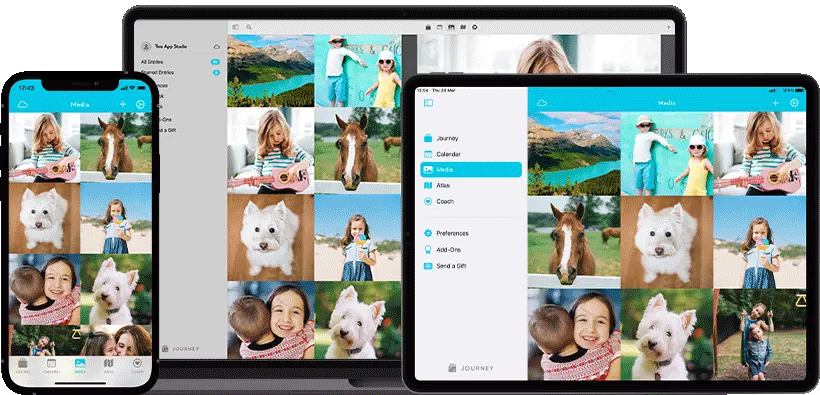 Introducing Journey
Journey is a multi-platform journal and digital diary app that is designed with the intention to keep your thoughts and memories private and last forever, and facilitate your reflections.
Journey is equipped with multiple kinds of writing tools, such as templates, coach programs, and plugins to guide you through cultivating the habit of journal and prioritizing your mental health and wellness.
Choose from a wide array of templates to manage your daily chores, plan your schedule, or track your daily habits, or simply brain dump your thoughts right before heading to bed into your digital diary app. At the very same time, enjoy being able to access your diary entries from anywhere and at anytime with Journey's cloud services.
These various writing tools allow you both the convenience of being able to pen your thoughts anytime you please, and also the security of keeping prying eyes away from your private diary entries and reflections.
Benefits Of The Best Journaling App in 2023
1. Improved Writing Skills
When you journal regularly, you get to develop and hone your writing skills through regular practice. Journaling allows you to explore new ideas, thoughts, and feelings. And breaking these down in your journal entries allows you engage with your critical thinking and translate them into words.

Photo by Estée Janssens / Unsplash
Another benefit of journal writing is having a place to formulate and record your ideas and thought processes. No matter what kind of journaling you engage in or what type of journal you keep, it's a great way to force yourself to start writing and engage in a process of self-improvement at the same time.
With the daily guided prompts on Journey, or as you cultivate the consistent habit of journaling, you get to practice writing free from the pressure of formal written pieces. You have the space and freedom to jot down whatever half-formed, unpolished ideas occur to you in the moment, giving you a little more courage to express yourself and the chance to hone your writing skills.
2. Increased Self-Awareness
Journaling can help you clarify your thoughts and inner-most feelings in an organized way. With time and consistent journaling, this can lead to better self-understanding knowing what makes oneself happy and confident. In the long-term, you will most definitely experience a dip in stress levels by writing about feelings and experiences in a safe space.
On Journey, privacy and security are of the highest priority. You can set up a passcode, Touch ID, Face ID, or Android Biometric to protect your journal entries. With the assurance that your reflections would be kept private, you can direct your time and energy into uncovering yourself and re-discovering the person that you are through the power of journaling.
3. Improved Memory
When you journal with intention or write things by hand, your brain processes it better and commits it to your memory. Journaling forces you to focus on a particular idea or thought. Because of the nature of memory and the brain, you are more likely to remember the things you focus on.

Photo by sarandy westfall / Unsplash
Setting daily or weekly intentions, creating to-do lists, using a habit tracker, or tracking your finances on Journey can help you be more mindful and intentional with your planning, how you delegate your time, and help you understand what kind of lifestyle you want to aim for. As you sit down to pen your thoughts and plans into your Journal, you give yourself the chance to listen to your own thoughts, wants, needs, and goals first and setting them in motion with concrete plans.
4. Engaging Your Creative Side
Since journal entries are personal pieces, you are less likely to feel pressure or aim for perfection. Allowing words and images to flow freely from your pen in a space that is free from judgment can help develop creative skills.

Photo by Clark Van Der Beken / Unsplash
Journaling is a way to practice creative skills like drawing and writing without exposing yourself to external criticism. With the freedom to customize your journaling interface and your diary entries on Journey, you can tap into your creative side and add some life and color to your everyday journaling. You are the only person to see what is in your journal, and therefore all you will see is progress and improvement that derives from meaningful reflection, and you can customize it any way you desire!
Features of Journey
1. A Simple And Easy-To-Use Tool
On Journey, there is a wide range of writing tools that you can explore to supplement and elevate your reflective experience. With journaling templates and plugins, you have bedrocks and specially curated tools that you can look toward for help.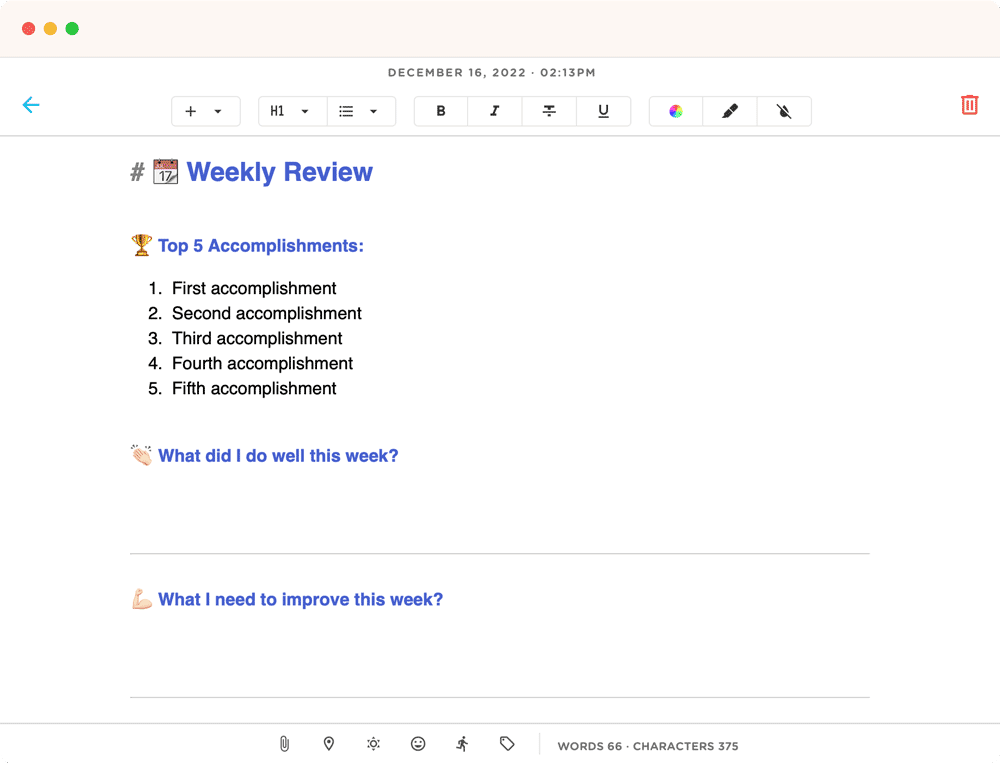 The plugins on journey span across a variety of uses; from being able to track your health with Apple Health, to being able to look back at your stories from a year ago, and accessing your own personal coach programs for guidance. These plugins serve as tools that can help you along your self-care journey.
2. Write Anywhere, Anytime

Photo by Becca Tapert / Unsplash
Journey stores your journal entries on Google Drive and keeps them up to date on your devices that are signed into Google Drive with the same account. You will be able to access the latest version of your journal entries, no matter where you made your last edit. The synchronization with Google Drive is automatic, as long as you are signed into your Google account.
You could even compose Journey entries via email and send it to your unique Journey.Cloud email address. Your entries will then be uploaded onto your online cloud immediately.
3. Explore Coach Programs & Journaling Prompts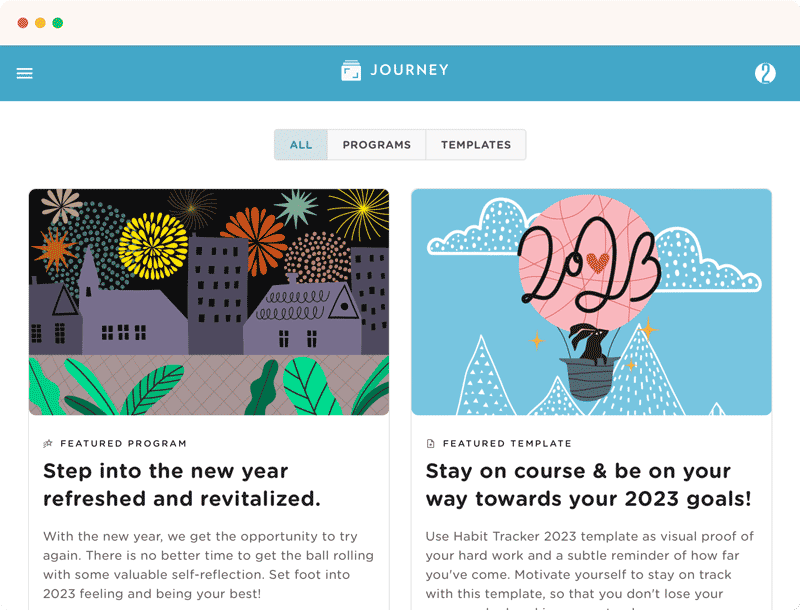 If you're new to journaling, you can try your hand at the wealth guided journaling coach programs on Journey Coach. There are guided journaling programs from multiple life coaches that you could choose from to reflect with; all belonging to a wide variety of self-care topics.
These topics range from journaling prompts about body positivity and self-love, to learning how to create healthy boundaries and practice mindfulness. Along with the programs, access relevant self-help articles and daily journaling prompts for you to answer on a daily basis.
4. Free-Write On A Daily Basis
On Journey, you can create as many journal entries in your Timeline as you like. There is no limit to the number of entries you can create, and you can feel free to write to your heart's content. Somedays, all you might want to do is brain-dump into your journal, and you have the space to do that on a digital diary app. Apart from that, you can also customize your digital diary interface and your journal entries however you wish to. Change the font family, font size, vertical line height, themes, time format and many other details to suit your liking.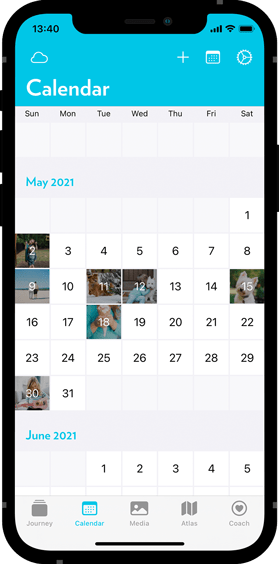 You can even spruce up your entries by adding photos, videos and audio attachments in your journal entries. There is no limit to the total media files that can be stored in the journal (as long as there is sufficient space in your device storage and Google Drive).
Summary Of Benefits
Journaling helps you practice gratitude by shining light on the small, but invaluable things in your life that you might not always acknowledge or recognize on a daily basis.
With Journey, you make way for mindfulness and social-emotional learning. These two cannot happen without personal contemplation, and journaling is a healthy and productive avenue of reflection. With writing tools such as guided journaling programs, prompts, plugins, multi-device access, multi-media tools, and others, you have the space and freedom to express yourself and gain mental and emotional clarity.